Rumor: Apple starts issuing iPad 3 build orders for March release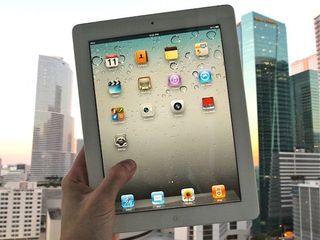 According to japanese news site macotakara, Apple has issued build orders to Foxconn and Pegatron for the iPad 3, which is expected to hit in March.
It has been rumored that Sharp will produce the new IGZO (indium gallium zinc oxide) iPad 3 panels, with a purported Retina display resolution of 2048×1536.
If Apple intends to stay
This falls in line with iMore's own expectation that Apple will plan a March or April release, and makes a lot of sense for them to stick to a yearly release cycle already in place.
Source: macotakara
Andrew Wray is a Salt Lake City, Utah based writer who focuses on news, how-tos, and jailbreak. Andrew also enjoys running, spending time with his daughter, and jamming out on his guitar. He works in a management position for Unisys Technical Services, a subsidiary of Unisys Corporation.
Worried about the conditions at Foxconn. They put up nets to prevent deaths by suicide, So surreal that many of our great electronics are made in such poor conditions. Recently workers threatened mass suicide because they were not getting paid by the factory. As a consumer and lover of all electronics I think more light should be shed on these conditions via social media.

OK so a week or two in now and finding the new iPhone 4 much featsr than my 3Gs. Multi tasking is great, the forward facing camera makes for easy self portraits/group shots and FaceTime is brilliant! I have installed the antenna signal fix and that all seems to be working well now, plus I will be signing up for my free case from Apple on the 22nd June. Thanks Mr Jobs

As long as I can get an iPad 3 in March for $599 for the 32GB, the conditions at FoxConn don't worry me too much. Someone has to make the stuff on the cheap so we can have decent prices. Unless you really want to do your part and boycott.

Now that is a great materialistic attitude. Doesn't matter how many people are killed or harm to the environment as long as you get your stuff for cheap. Not to mention that these jobs are being shipped over seas because thay can be made much cheaper under those conditions.

I'm just saying, if people really cared, they'd stop buying this stuff and shell out the higher amounts of money to buy thugs that are not made in sweat shops. Put your money where your mouth is, otherwise this is all just lip service.

*things, not thugs. Geez.

I keep being sent to dnfefreit sites and i can not seem to get to the download page can you send me some help ???my e-mail is

Prince will Quit... Foreverwww.musicwillchangeforever.com

Very eitxcing, the fact that they will have cameras on the front and the back opens up a lot of new options too. I just WISH that they would allow the iphone to go on Verizon already! I am not a fan of AT&T service.
Get the best of iMore in in your inbox, every day!
Thank you for signing up to iMore. You will receive a verification email shortly.
There was a problem. Please refresh the page and try again.