How to avoid Windows 10 upgrade problems with VMware Fusion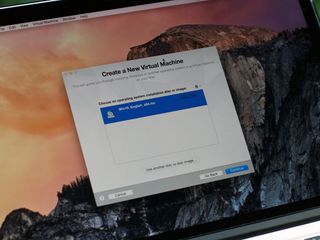 (Image credit: iMore)
For the most part it's a straightforward experience: VMware Fusion 7 offers a solid, predictable way to run Windows from your Mac safely, in a virtualized environment that's easy to quit out of and suspend when you don't need. Some Fusion 7 users have run into a problem upgrading to Windows 10. The good news is that it's really easy to fix.
Over at his own blog, VMware senior product marketing manager Michael Roy mentions the workaround.
That's right, download the .ISO image of the Windows upgrade: the disk image file Microsoft makes available for download (opens in new tab).
Make sure to have your existing Windows product key handy for activation.
Roy offers a bunch of other great advice, like take a Snapshot before installation, so you'll have a rollback point if you run into problems. And if you need to set up more than one virtual machine, Fusion Pro's clone feature can save you time.
VMware had some other news to share this week. They're offering 10 percent off the price of Fusion 7 ($62.99 for the regular version, $134.99 for the Pro version), and a free upgrade to Fusion 8 when it is released later this summer.
VMware isn't spilling the beans on Fusion 8, but they say it'll be enhanced for use with Windows 10.
If you're interested in running Fusion 8 ahead of time and can take a chance with preview software, check out VMware Fusion Technology Preview (opens in new tab). You'll get a look at what's to come in Fusion 8.
For more on Windows 10 itself, check out the in-depth Windows Central review
So here's my question. I'm considering installing Windows 10 on my iMac using either Fusion or Parallels (haven't decided which yet). This will NOT be an upgrade but a first time installation. I have no previous version of Windows installed to upgrade. How do I legally obtain a Windows 10 installation? All I see on Microsoft's website is about the free upgrade. Do I need to purchase Windows 10 somehow? Do I need to purchase and install a previous version of Windows first and then upgrade? What's the cost? How do I do this?

I believe that if you sign up to be a Windows Insider you can get it for free. The caveat is that you are basically a perma beta tester, and if any bugs come up you feel them first and hardest. They also get to collect telemetry about your install for finding and squashing afore mentioned bugs. Posted via my HTC One (M7)

You can buy Windows 10 directly from Microsoft.

Thank you so much. I ran around Microsoft's website looking and didn't see this. And to feel even dumber I now see it on Amazon too.

No worries. Microsoft buried it because most people are going to be upgrading and won't need to buy a new copy.

Hi Peter, I have Windows 7 on an old laptop that is not in use. Which download, from the link you've quoted, should I get if I want to install windows 10 on my mac? Appreciate any help, thanks.

When will Apple update Boot Camp to support Windows 10. I'm not currently able to dim my mbp backlit keyboard or adjust the volume using the keyboard? Sent from the iMore App

Do you have Apple's Boot Camp Support Software installed?

I have bootcamp installed for my Windows 7 install on the second hard drive in my Mac Mini I can boot to, but I wasn't sure if this same bootcamp will work if I upgrade to Windows 10?

Yeah. I've installed the Boot Camp Support Software. Volume and keyboard back lighting adjustments worked fine when using Windows 8.1 via Boot Camp. I'm sure Apple will provide updated software in the near future.

I currently have a Windows 8.1 Parallels VM that I plan to convert to VMWare Fusion. How do I dig up its product key?

AMCTheaters: Here's an article from How-To-Geek (haven't tried this): http://www.howtogeek.com/206329/how-to-find-your-lost-windows-or-office-...

Thanks for the instructions. Everything worked great. Only issue I have is when I enable shares it is not being mapped.
Get the best of iMore in in your inbox, every day!
Thank you for signing up to iMore. You will receive a verification email shortly.
There was a problem. Please refresh the page and try again.