How to make OS X Yosemite's menus dark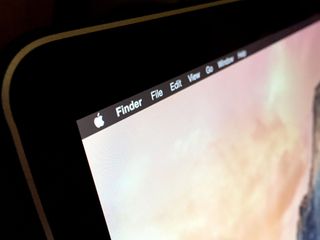 OS X Yosemite introduces the first major interface changes to OS X in more than a decade. Yosemite offers flatter iconography, a cleaner design and better typography more suited to the increasing number of Macs with Retina displays. One change Apple's implemented is an optional "Dark Mode" that inverts the color of your menu bar and makes the dock darker too. Here's how to get the most of it.
Many Mac apps, including some of Apple's own like iMovie, GarageBand and Final Cut Pro, emphasize darker interface themes. So do some well-known Mac apps like Adobe Photoshop. The reason why they use darker interfaces is easy to understand: The content you're working on is emphasized, rather than tools and user interface elements. It can be less distracting, which can improve productivity.
The menu bar and dock in Yosemite are translucent, but use white as their base color. Activating the dark menu option changes that base color to black. Translucency is still maintained, so Yosemite still retains its 3D, layered appearance. What's more, menu type is changed from black to white, and individual menus will retain the dark look too.
To make your menu bar and Dock dark on OS X Yosemite
Click on the  menu.
Select System Preferences...
Click on General.
Under Appearance, check the box in front of Use dark menu bar and Dock.
That's all there is to it. Both the menu bar and the Dock should now be translucent black instead of their more familiar translucent white.
If you've installed third-party menu bar applications, they may need to be updated for Yosemite before they look right in dark mode, so don't be surprised if you still see white menus until you've updated, or until the developers get on board with the changes Yosemite introduces.
Have any questions about Yosemite's new dark mode? Let me know in the comments.
Get the best of iMore in in your inbox, every day!
I just hope ios 9 will be a major UI change; and that will be Dark mode for apples apps; maps, settings, music, appstore, mail, itunes AND most important...iMessages! All these apps are so dominant white, and I know I'm not the only one who complains about the white point DESPITE the 'white point reduction' in ios 7! I wish apple used the UI in Facetime, the same in movies section in iTunes! Please, Apple.. Sent from the iMore App

I used aText and an RSS reader that need updating before I can use this.. looks nice otherwise.

I'm with you. OneDrive for me, and maybe Skitch. Skitch is workable. OneDrive just disappeared. 1Password looks great. Now, if we can get a tweak to have it go on at night, that would be sweet. Sent from the iMore App

Looks like Ubuntu Posted via the iMore App for Android

Agreed, but that is why I love this. I used to be a major Ubuntu fan, almost all through my undergrad.

There's a problem with the dark menu, which I just put on to check, not all of the 3rd-party icons switch to white. Some remain black and thus invisible.

Yeah, that's not a problem with the dark menu as much as it is with the third party app developers. Like I said, there are bound to be some anomalous looking things until they all get their ducks in a row.

While I like the dark theme, this is what's preventing me from switching to it. I think this weekend I'll be trimming my menu bar apps until they get updated. I have a bunch I don't really need anyway.

Loving the dark translucent look. With the Graphite appearance setting.

One of my favorite new features of Yosemite - A very pleasing view.

I must be missing something. How does this help? Genuine question. Not trolling or anything. Sent from the iMore App
Thank you for signing up to iMore. You will receive a verification email shortly.
There was a problem. Please refresh the page and try again.