Apple officially introduces the new iPad Air 2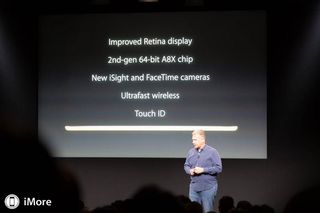 As expectations and rumors all pointed towards, Apple has today officially announced the new iPad Air at its special event out in Cupertino. The latest in Apple's full sized iPad line, the iPad Air 2 has the same visual feel as last years iPad Air but with a few added new tricks like Touch ID — and it comes in gold!
As you'd expect from an Apple product it's slim, and it's light. At just 6.1 mm thin the iPad Air 2 is the world's slimmest tablet. It's so slim it's actually 18% slimmer than even last year's iPad Air, and it's less than half as thick as the very first iPad. Inside is Apple's A8X chipset, brand new and created just for the iPad Air 2 and it's paired with the M8 motion coprocessor.
Round the back it has an 8MP iSight camera with 1.12micron pixels and an ƒ/2.4 aperture. The camera also boasts a burst mode for photos, timelapse and the ability to take 43MP panoramas. When it comes to connectivity, the iPad Air 2 sports 802.11ac MiMO wifi with support for up to 866 Mbps. There's over 20 bands of LTE at up to 150 Mpbs.
While the iPad Air 2 won't support NFC for payment at brick and mortar stores, owners will still be able to use Apple Pay through apps that support it via Touch ID authentication.
The display is now optically bonded with no air gap and an anti-reflective coating, part of the reason Apple was able to reduce the overall thickness. It's got 56% reduced reflectivity, which is the lowest value of any tablet on the market today.
The iPad Air 2 will also continue to boast sterling battery life, with Apple promising its standard 10 hours of use from it. Oh, and did we mention it comes in gold? Pricing for the iPad Air 2 starts at $499 and comes in the following configurations:
$499 - 16GB
$599 - 64GB
$699 - 128GB
We'll be going hands-on in a little while but in the meantime be sure to follow the rest of the event in our liveblog!
Apple Introduces iPad Air 2—The Thinnest, Most Powerful iPad Ever iPad Air 2 & iPad mini 3 Now Featuring Touch ID & Support for Apple Pay Within Apps
CUPERTINO, California—October 16, 2014—Apple® today introduced iPad Air™ 2, the thinnest and most powerful iPad® ever. Now just 6.1 mm thin and weighing less than a pound, iPad Air 2 features an improved Retina® display for enhanced contrast and richer, more vibrant colors, and better cameras for taking stunning photos and videos. Available in gold, silver and space gray, the new iPad Air 2 and iPad mini™ 3 offer Touch ID™ so users can unlock their iPad with just the touch of a finger and make purchases easily and securely within apps using Apple Pay™.¹
"iPad is a magical piece of glass that runs more than 675,000 apps specifically designed for it, and is thin and light enough that you can comfortably hold it all day; the new iPad Air 2 is packed with amazing new innovations, weighs less than a pound, and at just 6.1 mm is the thinnest tablet in the world," said Philip Schiller, Apple's senior vice president of Worldwide Marketing. "iPad Air 2 has a new Retina display with anti-reflective coating, second generation 64-bit A8X chip, all-new iSight and FaceTime HD cameras, faster Wi-Fi and LTE wireless, and includes the revolutionary Touch ID fingerprint identity sensor."
Engineered for unmatched portability and ease of use, iPad Air 2 offers a beautiful, precision unibody enclosure of anodized aluminum for durability and a solid feel. The improved Retina display features a fully-laminated design that brings images and content closer to the user's fingertips, resulting in an even more personal and intimate experience. A custom-designed anti-reflective coating reduces glare by 56 percent² for a clearer display in the office, the classroom or outdoors.
iPad Air 2 is powered by the new Apple-designed A8X chip, which delivers a 40 percent improvement in CPU performance and 2.5 times the graphics performance of iPad Air, and still delivers the up to 10-hour battery life³ users expect while working, playing games or surfing the web. Combined with Metal™, the new graphics technology in iOS 8, the A8X chip unlocks realistic visual effects comparable to the most advanced gaming consoles. iPad Air 2 also includes the M8 motion coprocessor that gathers motion data from the accelerometer, gyroscope, compass and an all-new barometer which senses air pressure to provide relative elevation.
Innovations to the iSight® and FaceTime® HD cameras in iPad Air 2 enable better photos and videos, with an 8MP sensor and advanced optics in the iSight camera to help capture rich, detailed images and add new features including panoramic in Photos, time-lapse video, slo-mo and 1080p HD video. The FaceTime HD camera now captures over 80 percent more light than iPad Air's camera, and features burst mode as well as HDR stills and video. With thousands of powerful apps that take advantage of iPad's amazing cameras and large Retina display viewfinder, iPad becomes a tool that can scan and annotate documents, help study the sky above and provide athletic performance analysis—all with just a tap.
iPad Air 2 delivers faster connectivity with 802.11ac Wi-Fi with Multiple-In-Multiple-Out (MIMO) technology for 2.8 times the Wi-Fi performance of iPad Air at data rates up to 866 Mbps.⁴ iPad Air 2 with Wi-Fi + Cellular integrates even more LTE bands and comes with expanded LTE for up to 50 percent faster cellular connections,⁵ plus support for other fast cellular technology around the world (DC-HSDPA, HSPA+).
Touch ID gives iPad Air 2 and iPad mini 3 users a simple and secure way to unlock iPad with just the touch of a finger, plus the ability to authenticate within apps to better protect logins and data. Touch ID can be used as a secure way to approve purchases from the App Store℠, iTunes Store® or iBooks Store℠, and with Apple Pay, when paying for physical goods and services within apps.
The new iPads come with iOS 8.1 including Continuity features across iOS 8 and OS X® Yosemite that enable all your Apple products to work together seamlessly. Handoff lets you start an activity on one device and pass it to another, and when your iPhone® is on the same Wi-Fi network, you can make and receive phone calls right from your iPad.
The iPad mini line has been updated to include iPad mini 3 with Touch ID and iPad mini with Retina display, now called iPad mini 2 and starting at just $299, is even more affordable. Both iPads feature a stunning Retina display, amazing A7 chip, 5MP iSight camera, FaceTime HD camera and ultrafast wireless. iPad mini is also available at its most affordable price, starting at $249.
Pricing & Availability iPad Air 2 and iPad mini 3 come in three gorgeous metallic finishes including gold, silver and space gray, and customers in 29 countries and territories can order online beginning Friday, October 17. Both iPads will be available starting later next week in the US, Australia, Austria, Belgium, Bulgaria, Canada, China (Wi-Fi models only), Czech Republic, Denmark, Finland, France, Germany, Hong Kong, Iceland, Ireland, Italy, Japan, Liechtenstein, Luxembourg, Macau (Wi-Fi models only), Netherlands, New Zealand, Norway, Poland, Portugal, Romania, Singapore, Slovakia, Spain, Sweden, Switzerland and the UK. Availability in Croatia, Greece, Puerto Rico, Russia, Turkey, United Arab Emirates and elsewhere around the world, will continue through the end of October with additional global availability in the coming months. iPads are sold through the Apple Online Store (www.apple.com), Apple's retail stores and through AT&T, Sprint, T-Mobile, Verizon Wireless, additional carriers and select Apple Authorized Resellers.
iPad Air 2 with Wi-Fi models will be available for a suggested retail price of $499 (US) for the 16GB model, $599 (US) for the 64GB model and $699 (US) for the 128GB model. iPad Air 2 with Wi-Fi + Cellular models will be available for a suggested retail price of $629 (US) for the 16GB model, $729 (US) for the 64GB model and $829 (US) for the 128GB model. iPad mini 3 with Wi-Fi models will be available for a suggested retail price of $399 (US) for the 16GB model, $499 (US) for the 64GB model and $599 (US) for the 128GB model. iPad mini 3 with Wi-Fi + Cellular models will be available for a suggested retail price of $529 (US) for the 16GB model, $629 (US) for the 64GB model and $729 (US) for the 128GB model.
iPad Air, iPad mini 2 and iPad mini, available in silver or space gray, are offered at now more affordable prices. iPad Air starts at $399 (US) for the 16GB with Wi-Fi model, iPad mini 2 starts at $299 (US) for the 16GB with Wi-Fi model, and iPad mini starts at $249 (US) for the 16GB with Wi-Fi model.
To complement the new iPads, a colorful range of cases and covers offer both protection and customization with iPad Air and iPad mini Smart Covers available in seven bright colors and Smart Cases for iPad Air 2 and iPad mini offered in five new elegant shades. Custom-designed polyurethane Smart Covers for iPad Air and iPad mini will be available for a suggested retail price of $39 (US) in black, white, blue, green, pink, yellow and (RED). iPad Air 2 Smart Cases are available in beautiful aniline-dyed leather in midnight blue, olive brown, black, soft pink and (RED) for a suggested retail price of $79 (US) with Smart Cases for iPad mini available in those same colors at a suggested retail price of $69 (US). Smart Covers and Smart Cases are available through the Apple Online Store (www.apple.com), Apple's retail stores and select Apple Authorized Resellers.
¹ Apple Pay is only available in the US. ² Over the previous generation iPad Air. ³ Battery life depends on device settings, usage and other factors. Actual results may vary. ⁴ Based on theoretical speeds, actual speeds may vary. ⁵ LTE is available through select carriers. Network speeds are dependent on carrier networks. Check with your carrier for details.
Apple designs Macs, the best personal computers in the world, along with OS X, iLife, iWork and professional software. Apple leads the digital music revolution with its iPods and iTunes online store. Apple has reinvented the mobile phone with its revolutionary iPhone and App Store, and is defining the future of mobile media and computing devices with iPad.
Get the best of iMore in in your inbox, every day!
Dear Apple,
Stop making devices so thin. How about giving us a bigger battery? Making it easier to hold? Thinner isn't better, it's just thinner. That is all

I agree totally, it seems like the only thing Apple has now is thinness and that's it?. Sent from the iMore App

Bigger battery would mean more weight. I'd rather have 10 hours and lighter vs. 15 hours and have the weight of the original ipad (for example). I however wouldn't mind a heavier phone with a longer battery life.

I would have loved an iPhone 6 with the thickness of the 5, or even the 4s. I prefer the size in the pocket. However, I ended switching back to a 6 Plus for the incredible battery life. I agree, I don't "need" a bigger battery in an iPad. However, thinner isn't always convenient. Also, thinner is not as sturdy.

Thinner is a design element.. I prefer thin to bulky. As far as battery life is concerned. I have no problems plus I think batteries won't really show much of an improvement no matter how large they are until battery technology improves.

Thank god for Apple pay online only and not in store with the iPad Air 2...

The moment you know the physical resolution, please let me know.

2048x1536
https://www.apple.com/ipad-air-2/specs/#mn_p

The same as the last three models. Sent from the iMore App

Are people really into the gold color? I can't think of anything more tacky. Maybe you can get some gold rope chains to wear and match your tacky iPad.

Gold is so tacky and ugly, why bother. Sent from the iMore App

I own a gold iPhone 6 and it's not tacky at all. You have to see the gold that Apple uses in person not from a photo. It's quite beautiful,

Yes it is!! Sent from the iMore App

When the trade press first broke rumors about the gold iPhone last year, word had it that it was primarily targeted for the Chinese market, which was getting an official carrier (China Mobile) for the iPhone for the first time. Bling has much more cachet in China than it does in the US. That also explains the gold aWatch on the cover of Vogue China. Apple will probably sell 10x more Watch Editions in China than they will in the States.

I wonder when Apple will finally go beyond 10 hours of battery life?

Never, because they keep wanting you to buy a new one every year??, NO THATS RIDICULOUS TO to assume that Americans are that DUMB??? Sent from the iMore App

Apple back to their scumbag ways. 16gb entry again.

I agree that is odd to still come out with a 16gb ipad and iPhone.

It should start with 32!!! Sent from the iMore App

It's a price point issue. Everyone has a choice. 16 is less expensive than 32..

no mention of an increase in RAM? thought that leaked pic of insides showed a 2gb ram? they need to up that ASAP, plus Tech Madness is right-get rid of 16gb. i dont keep crap saved on mine & had to delete what i do keep to install iOS 8 or to download an HD movies from itunes

I can't put words to how disappointed I am that they didn't update the iPad mini this year (well other than TouchID which should have been there *last* year). Otherwise it's EXACTY the same device. And what's with removing the rotation lock on the iPad Air, but not even mentioning the fact in the whole show? That's just dastardly. At least it's still there on the mini (for now). WTF are they thinking with that? I use the rotation lock all day every day, without it, the device would be an annoying POS.

Rotation lock has not been removed, just the physical button which isn't really necessary anyway. Just swipe up from the bottom of the display and use the rotation lock from there.

Update the Mini to what? It's a great device and now it has Touch ID and it has the M7 chip. . Don't know what else they could have updated.
Thank you for signing up to iMore. You will receive a verification email shortly.
There was a problem. Please refresh the page and try again.