Apple Pay brings NFC tap-and-pay to the new iPhone 6 and iPhone 6 Plus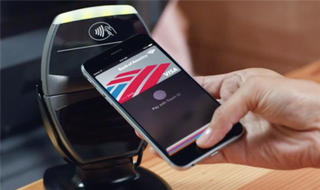 Apple has a new vision, and that is to replace your wallet with Apple Pay. With $12 billion spent via a plastic card every day in the US, they plan to begin with payment methods and using NFC, you'll be able to tap-to-pay using your new iPhone. This means we no longer will have to rely on the "vulnerable" magnetic stripe used on most credit and debit cards today.
Apple says this will work because they are focused on the user experience, while other companies have their own self-interests at heart. You'll simply hold your iPhone to a payment terminal, touch your thumb to the Touch ID sensor, and make your payment. Using what's called a Secure Element, all your data and information is stored securely and encrypted right in Passbook. You can import your existing cards from iTunes, and adding a new one can be done by shooting a picture.
Apple Pay will debut in the US, with MasterCard, Visa, American Express, Citibank, Bank of America, Capital One, Wells Fargo, and Chase as initial partners. Apple Pay payments will be accepted at Macy's, Bloomingdales, Staples, Subway, Duane Reade, McDonalds (even in the drive-thru), Walgreens, Whole Foods, Apple Store , Disney parks and stores and Toys 'R Us by Christmas.
I'm an RHCE and Electrical Engineer who loves gadgets of all kinds. You'll find my writings across Mobile Nations and you can hit me on Twitter if you want to say hey.
Google wallet yeeeah! Lol

Really ? 3-5 years after every other phone has had it... Really innovative, more like playing catch up...

The key to success in mobile payments is to bypass the carriers. Apple will succeed where Google Wallet and ISIS failed. Google Wallet failed because the carriers blocked it. ISIS failed precisely because it came from the carriers.

So Apple has finally pulled the trigger on NFC. That's good news. If Apple's market influence can convince merchants to open the floodgates on NFC payments, that will be great. I'm all for it. Now here's something that needs to be answered.... The carriers gave Google all sorts of grief over the "secure element" in Google Wallet-compatible phones. So much so that Google went to a Hosted Card Emulation technology to get away from the secure element debate. Does this "secure element" in the new iPhones mean that Apple worked out a deal with the carriers? Next item... Merchants that adopt Apple Pay (with POS NFC readers that have always been compatible with Google Wallet yet never turned them on or honored Google Wallet)... Will those readers now also allow Google Wallet transactions, or will Apple have worked some "drug deal" to be the exclusive tap-to-pay service? I wouldn't put it past Apple to do something like that. Call me a pessimist, but I just have a feeling there is something that Apple isn't revealing about their deals with these merchants. And how will the carriers react with their ISIS payment system? I hope everyone can play nice in the sandbox.

Jerry, if your listening this is the real information everyone needs, irregardless of OS.

The company I work for(retail) accepts ISIS but I always pay with Google Wallet so in theory it should work

NFC makes me want to get a new BlackBerry instead of a new iPhone. They've had NFC for years, and they also have cameras with more than 8mp... This Xmas season will be one with tough decisions.
Thank you for signing up to iMore. You will receive a verification email shortly.
There was a problem. Please refresh the page and try again.