Be King of the Sea with this week's Wallpaper Wednesday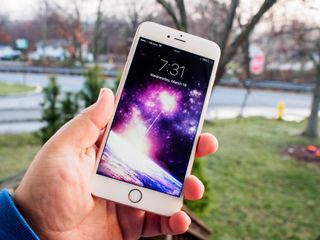 Wallpapers are important. They can give our phone a new feel, even if only for a little while. Some of us change wallpapers as often as we change shirts (sometimes to match), while some of us set one wallpaper and forget it, and that's a shame. A good wallpaper can be a pick-me-up, can remind us of better times (and upcoming times). They can show off what's important to us, be it a picture of the grandkids or an emblem of your favorite house in Game of Thrones. In an effort to brighten your screen, and maybe your day, we present an offering of wonderful wallpapers to grace your smartphone.
If you've got a wallpaper you use everywhere, share it in the comments below! We're always looking for something new. Now get your wallpaper picker ready and see what's in store this week.
Chain Links by obeyyourmaster
We forge the chains we wear in life.
Chain Links is a mesmerizing wallpaper, and it can symbolize a few different things, depending on the eye of the beholder. The chains are all connected, just as we all are connected in mysterious ways. The chains take more than one shape, just as the chains on our own lives take different forms. They also remind me a bit of the Olympic rings, and we should start hyping ourselves up for Rio soon, shouldn't we?
The Magic by Catalin-Geani
**We have slipped the surly bonds of Earth and touched the face of god…*
Sometimes in life we need a reminder that we're just tiny pieces of a much later world. While The Magic can definitely put things in perspective, the breathtaking wonder in this spacescape doesn't make us feel small. It just makes us wish that Spacex could take us up and let us see anything half this beautiful right now.
Someday by alicexz
Out of the sea… wish I could be…
This breathtaking scene is warm, inviting, and captivating. It just makes you want to turn on the soundtrack, forget the hassle of the human world for a few minutes, and savor all the whatchamacallits and thingamabobs in your collection.
The White Tree of Gondor by EchoLeader
The beacons of Minas Tirith! The beacons are lit!
We may not be getting any more Lord of the Rings movies for a while, but that doesn't mean we can't wear our Tolkien love proudly. This wallpaper is refined enough to keep on a work phone, even, but your fellow book-loving co-workers will recognize it easily enough. Besides, how often do you find blue leather wallpapers?
iMORE ONLY: EchoLeader has done some stellar wallpapers in the past, and he often includes both regular and Parallax-optimized versions of his wallpapers.
The White Tree of Gondor by EchoLeader
King of Atlantis by thelincdesign
Outrageous!!
That's right, I picked an Aquaman wallpaper. You know why? Because Aquaman's a badass. His skin is nearly impenetrable, he's as physically strong as Superman, he rules a vast kingdom with a large army, can control massive predators like sharks and killer whales, and he's got a trident. A trident! Yes, we're gonna get a taste of the Zack Snyder universe's Aquaman in a few weeks, but that's grungy Aquaman. And Aquaman can be awesome without being grungy. On that note, I'm gonna go watch some Aquaman and Atom shenanigans in Batman Brave and the Bold.
Get more iMore in your inbox!
Our news, reviews, opinions, and easy to follow guides can turn any iPhone owner into an Apple aficionado