#BeautyObsessed? Best tech coming in 2017 for beauty lovers!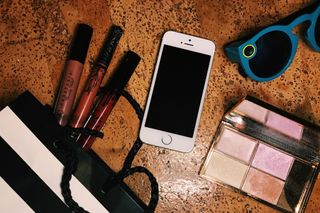 The beauty industry is a billion-dollar beast – this is nothing new – but amongst the most recently released, longest-lasting liquid lipsticks, mascara formulas, and groundbreaking contouring palettes, there's a plethora of tech that's pouring out of the pores of the beauty industry.
Whether you were at CES and had the chance to see some of the tech just as it's budding in the makeup universe or visited your local Sephora lately to try out the Color IQ from Pantone (opens in new tab), there's a lot of room for gadgets and gizmos alongside your brushes and Beauty Blenders this year.
Here are some of the best pieces of beauty tech that are coming in 2017 for beauty lovers and glam gurus alike!
Nurugo Derma
If you're someone who's super obsessed with monitoring your pore size, moisture levels, dryness, and the overall quality of your skin, then take a peek at the skincare game-changing Nurugo Derma.
The Nurugo itself is just a teeny-tiny UV camera that attaches directly to your phone, and from there, all you have to do is hold up the device to your face and start scanning. In a couple of seconds, a full report will appear on your phone screen, giving you a breakdown of your skin's status and quality.
Right now, all the Nurugo can do is scan your skin and tell you what's working and what doesn't, but in the future, the device will be able to recommend specific moisturizers, oils, and toners based on your skin-type and give it the help it really needs!
Withings Hair Coach
While some may argue that a smart hairbrush is a silly waste of money, the Withings Hair Coach has a few strong points as to why it's such an awesome beauty product (and subsequently why it won a CES innovation award this year!).
Designed through a collaboration between Kérastase and L'Oréal, the Withings Hair Coach allows users to get a full hair diagnosis by simply brushing through their luscious locks.
In fact, the Withings gives back a hair health analysis, straight to your phone, that measures dryness, damage, breakage, and tangling, while recommending a specialized routine and products for your hair style. You are even able to track your hair's health over time, meaning that if you dye your hair or bleach it, you can see how your hair's quality is affected by outside products.
The downside of this hairbrush? It's not out until fall of 2017, and it's like $200.
See at Withings (opens in new tab)
O'2 Nails
Imagine a world without nail polish: No more messing up your wet nails by accidentally running your fingers through your hair; no more having to almost pee your pants because you can't go to the bathroom because your nails are still drying; and no more tedious painting and struggles with nail art.
Sounds like something out of a science fiction movie, right?
Well with O'2 Nails, all you need is your iPhone, the portable O'2 Nails box, a high-quality picture, and a lot of creativity!
O'2 Nails claims that each cartridge of ink can paint and print up to 800 nails, but that depends on the intricacy of the design and the size of the nail.
The printer itself is set to sell around $780, but it's unfortunately not available for online order yet, so your dreams of having the Sistine Chapel on your middle fingers are just that — dreams (for now).
iDerma Facial Beautification System
If you've ever gotten a facial or looked into getting a facial from a professional spa, you'll know how insanely pricey they can be. Being able to give yourself a spa-quality facial at home is ideal, but unless you have deep enough pockets to pick up buckets and buckets of GlamGlow (opens in new tab) from Sephora every month, it's hard to keep on top of your facial routine.
That's why I was so pumped to see iDerma unveil its Facial Beautification System, which is designed to give users all the benefits of a high-priced photofacial at home!
The system – which combines over 140 red and infrared LED light therapy lights – works by covering the entire face & targeting troubled areas on the skin to reverse and improve the visible signs of aging by stimulating deeper cell regeneration. The goal? To leave skin refreshed, clear, and feeling tight and toned like a facial at a spa.
While it's important to note that the iDerma Facial Beautification System is still an Indiegogo campaign (that's surpassed its goal already), it's worth it to mention that it's been spoken about highly by fashion mags like GQ, Vogue, and Allure, making it a beauty product to keep your eye on in 2017.
Dyson Supersonic
If there's one company that knows how to make truly beautiful, futuristic, insanely high-quality products, it's Dyson – but you don't typically think about the brand when it comes to beauty. Well, at least not until the Dyson Supersonic was unveiled — AKA the most modern and functional hairdryer to ever grace the market!
The Dyson Supersonic actually shouldn't even be qualified as a hair dryer. It was completely redesigned — the motor is one quarter the size of a standard hair dryer motor, and the weight has been redistributed in the handle for more comfortable blow-drying and styling.
The Supersonic took over 4 years and 103 engineers to develop, and in the process of testing what type of airflow and temperature adjustments work best with human hair, the company actually created a global hair tress shortage.
All in all, the Dyson Supersonic is a truly remarkable beauty product, with easy magnetic attachments and settings that are simple to use for anyone of any styling skill level. The only downside? The price tag. While most hair dryers may set you back $60 bucks, this sleek machine will cost you around $400.
See at Dyson (opens in new tab)
Moist Sense II Hydrometer
If you're someone who suffers from chronic dry skin, struggles with eczema, or just has a hard time keeping your skin moisturized throughout the winter months or while you're traveling, then keeping a Moist Sense II Hydrometer in your makeup bag could be a savior for your skin.
The Moist Sense uses precise sensors to check your skin's moisture level anywhere on the body. All you have to do is hold the Moist Sense on your skin, give it a second or two, and you'll get a 0-99 moisture rating in an instant.
If you get a reading between 0-50, then the corneal layer of your skin lacks moisture, meaning that your skin is super dry and that dead cells may have accumulated on it. If you get a reading between 50-99, then your skin has a healthy amount of moisture, and your skincare routine is probably on the right track to keeping things happy and healthy!
You can pick up one of these little guys online for around $130, but if you wanted to try it out before picking it up, give your local Sephora a call! The infamous black and white beauty store has started rolling these out in it skincare sections so employees can help accurately put together a moisturizer, mask, toner, and cleaner regimen for their customers!
See at Natural Healthy Concepts
How are you incorporating tech into your beauty routine?
Is there a makeup product that's changed your life recently? How about one that runs on batteries or has to be plugged in?
Let u know your biggest tech-y makeup secrets in the comments below!
Get more iMore in your inbox!
Our news, reviews, opinions, and easy to follow guides can turn any iPhone owner into an Apple aficionado
Cella writes for iMore on social and photography. She's a true crime enthusiast, bestselling horror author, lipstick collector, buzzkill, and Sicilian. Follow her on Twitter and Instagram: @hellorousseau