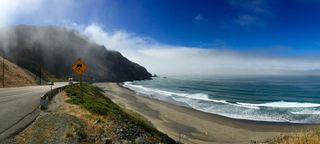 Counting days and pairs of socks so that I can get through the trip — pretty standard stuff. Packing that suitcase hasn't changed a lot for me in the last 20 years.
But as I pack to go on a week-long trip with my family next week, it struck me: I may be a whiz at packing clothes and bathroom supplies, but I am a huge ball of stress when it comes to packing my technology. What gadgets are in my bag — and what's loaded on those gadgets — is the thing that consumes me in the days before I take a big trip.
Loading media for vacation
The new "packing for vacation" is loading media on your devices for vacation. Too often, vacation destinations suffer from slow, unreliable, or nonexistent Internet, so it's usually wise for the tech savvy traveler to load up on stuff (especially huge media files) before you go. If you're flying, you've also got your time on the airplane to think about, since that's not a place you're going to find high-speed Internet.
It used to be that I'd make sure that my music library was synced to my iPod or iPhone. These days, I'm an Apple Music user, but the same rule applies: While I'm still on fast Wi-Fi at home, I'll be sure to download favorite albums and playlists for offline listening. (I generally always carry many hours of podcasts around with me, but if I'm feeling short on those, I'll switch to Overcast and download another half-dozen episodes of Hello from the Magic Tavern.
Packing video is trickier than audio, but it's a lot less tricky than it used to be. Yes, I still have to sync some non-DRM movies and TV shows from my Mac via iTunes, but I've also got a lot of stuff that I bought on iTunes that I can download directly from the cloud. What's made this entire category more convenient is that now both Netflix and Amazon Prime Video allow you to download shows for offline viewing. (Netflix doesn't offer everything for offline download, but a large selection — including many of Netflix's originals — are available.)
Next up is deciding how I'm going to watch video when I get to my destination. If it's all on my iPad Pro's 12.9-inch screen, all I need to do is pack a headphone splitter. But for this particular trip, we'll be staying at least some of the time at a rented house with a big flat-screen TV. If anyone's going to provide entertainment for Movie Night, it'll probably be me — so I'll need to figure out how to do that.
I could pack my Apple TV; even if all I'm doing is using AirPlay to play movies from my iPad, it might be worth it. I've got an Amazon Fire TV Stick, which is a pretty great little device but doesn't support AirPlay — so I could only bring it if I had a great deal of confidence in the speed of the Internet at the house. (I don't.) I could also bring an Apple HDMI-to-Lightning adapter and just connect my iPad to the TV to play videos. That's probably the easiest approach, so it's likely to be what I'll do. I'll also probably pack an HDMI cable too... just in case.
Reading is easier: I'll download a few books to my Kindle and a bunch of comics to my iPad — both purchased ones via Comixology and 12 offline issues from Marvel Unlimited.
How extreme is my vacation?
Another decision point I make before any trip is the question of how much work I'll be doing — and what kind. These days, very few of us are able to entirely unplug and do no work when we take a vacation. I'm trying very hard for this vacation to not partake in any major work, which requires that I do a whole lot of it in advance. A So here's my plan: For this trip, I'm not going to bring a Mac. I'll bring my iPad Pro and an external keyboard just in case I need to write something; I'm even loading a podcast onto my iPad Pro for me to edit on my flight — strangely enough, there is no better place to edit a podcast than on an airplane!
You need to take the tools with you that you might require when you're there. For a lot of people, that still includes a Mac. Sometimes it does for me, too. But I think I can do without, at least for a week.
Plugs and dongles and chargers
My HDMI-to-Lightning adapter won't be the only one I bring with me on my trip. There are four people in my family and seven iOS devices among us; that means charging — and lots of it. I currently have a compact travel power brick that includes two USB ports along with three standard power plugs; in the past, I've considered buying one of those gadgets that's just a bunch of USB ports for us to charge all our devices with, though I haven't yet picked one up.
Fortunately, our iPad chargers can charge our iPhones — so I don't anticipate bringing seven charging cables. We should be able to get by with four, more or less. I'm sure we'll make it work — but it's always a consideration when I'm packing for every trip. The family's not happy if our devices have no charge.
These days, of course, I also need to remember to bring my Lightning-to-headphone adapter, just in case I want to listen to music with wired headphones on my iPhone 7. (I may bring my AirPods with me on the trip, but I'd rather use my in-ear headphones on the airplane, just for their sound-blocking properties.)
As I write this, I've got about 36 hours until my plane takes off. Not a single swimsuit has been stuffed in a suitcase yet, but on the tech side, I'm already preparing. Once I've got my movies loaded and my Lightning cables stowed, counting out pairs of underwear will be no trouble at all.
Master your iPhone in minutes
iMore offers spot-on advice and guidance from our team of experts, with decades of Apple device experience to lean on. Learn more with iMore!