Best jailbreak tweaks for power-users: JellyLock7, SwitchSpring, Activator, and more!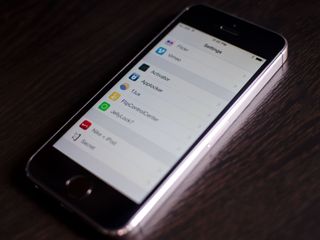 iOS 7 does what Apple wants it to do, and that's fine for most people most of the time. If you're a power user, however, and you want to go beyond the base functionality, if you want tweak things to make them even faster and more convenient, then that's where jailbreak comes in. But which jailbreak power-user tweaks are the absolute best?
JellyLock7
Why you can trust iMore Our expert reviewers spend hours testing and comparing products and services so you can choose the best for you. Find out more about how we test.
JellyLock7 puts up to five of your most used apps right on the Lock screen of your jailbroken iPhone or iPad. You can also remove the stock Camera icon on the Lock screen if you'd like. Just tap on the circle on your Lock screen and the apps you've configured in JellyLock7 will fan out. Slide your finger to any one of them to launch it. Of course you can customize whether or not JellyLock7 can bypass your passcode lock in Settings.
If you want to make better use out of your Lock screen, JellyLock7 is a must.
Activator
Activator has been around just as long as jailbreak and it's still one of the very first things many veteran jailbreakers install. Essentially Activator lets you set gesture based shortcuts in any manner you'd like. Whether you want double tapping on the status bar to launch into the quick reply section of BiteSMS or something else, the possibilities are endless. It's powerful, yet simple to use.
If you want more gesture based actions than you can shake a stick at, look no further than Activator.
SwitchSpring
Anyone who is jailbroken is familiar with having to respring an iPhone or iPad in order to apply changes. SwitchSpring gives you an easy way to do that right through the multitasker, but even more important, it lets you quickly close out all apps with a single gesture. Much more convenient than having to close them out a few at a time.
If you like to kill apps from multitasking regularly, SwitchSpring lets you do it much faster than stock iOS 7 does.
Applocker
Applocker is great for anyone who has kids or simply has files they don't want others accessing. You can choose to lock down apps so they can't be deleted or opened without a password, lock down whole folders, Home screen layouts, and much more. For iPhone 5s users, there's even Touch ID support.
If you want to keep your stuff away from prying eyes or have an iPhone or iPad in the house that needs better parental controls, Applocker is a must have.
FlipControlCenter
FlipControl adds lots of functionality to Control Center by way of even more toggles. You can customize what appears in settings and even drill down to separate items showing on the Lock screen. Don't like the quick launch apps and toggles that are natively in the bottom of Control Center? No problem! FlipControlCenter lets you change those up too!
If you want complete control over Control Center and what's in it, FlipControlCenter is what you want.
Your picks?
Have you found any jailbreak tweaks that don't necessarily add functionality but make iOS 7 easier and more convenient to use? Let me know in the comments!
Get the best of iMore in your inbox, every day!
iMore senior editor from 2011 to 2015.
I would have to say CCControls is superior to FlipControlCenter for Control Center modifications

Alright, you asked for my picks so here it goes. I do have Activator, JellyLock and FlipControlCenter. I don't use the first two much, but the last one I use a lot. I love that I can use 10 toggles with it, and use 5 app icons instead of 4. I also like the 'Stately' theme it comes with, and use CCLoader to remove the separator lines. Regarding the app switcher + respring, I prefer Purge and RePower. Purge allows me to remove all apps by holding down on any app preview, and RePower adds 'Reboot' and 'Respring' sliders after the standard 'Power Off'. RePower even allows you to change the 'Reboot' slider to a 'Safe Mode' slider. I don't use it 'cause its kinda redundant. As for security, I try to make my iPhone very secure. For one, I prefer Asphaleia than AppLocker. It allows for much more functionality, and has a nicer UI; by locking access to apps, RePower sliders, and rearrangement of apps via Touch ID or a 4-digit passcode. It's also $1 but only if you have BioLockdown; which I also use to lock down Contol Center toggles and Settings panes from unauthorised access. I keep all of the preferences managed by using PreferenceOrganiser7, which condenses my all Cydia tweaks' settings panes under one umbrella, and AppStore & Social ones under their respective umbrellas.

Here are mine: Activator, Gridswitcher, Fancy, SwipeSelectionPro, Virtual Home, Purge, NoSlowAnimations, Ikeywi2, BioLockdown, Cccontrols.

I would add some more:
1/ BiteSMS app. Great SMS/iMessage replacement with fantastical Quick reply and convert to ascii feature.
2/ Predictive Keyboard

I included all these in my best jailbreak apps post. I wasn't looking at additional features, just ones that make existing iOS tasks easier and more fluid.

I love JellyLock7! I have Kik in it and it's set to bypass the passcode. Essentially lets me reply to messages from the Lockscreen, which I've been wanting to do with Kik for a long time. Can be configured this way to work with any messaging app.

How on earth could you make that black iphone silver?

Mine: Browser changer, Retinapad(stretches apps designed only for iPhone to fit your iPad as if it were designed for it ), cydelete (delete cydia apps in jiggle mode), password pilot. And I used to use fleksy enabler to change my keyboard but missed the iOS keyboard soon after.

For me, I would include the following: 1. WeKillBackground (closes all active apps)
2. AnyAttach or AttachForEmail (both allow you to add files when composing an email)
3. SB Settings (for those of us not using iOS 7)
4. BTStack Mouse (allows you to pair two BT devices and use a BT Mouse - absolutely essential for an iPad)
5. iFile (file manager)
6. Zypher (coolest multitasking method where you swipe to switch apps and close them) Aside from Zypher and maybe iFile, I can't really live without the other tweaks. I guess I could get away with iFile if iOS had a way of attaching files aside from pics and videos to an email. And iOS 7 did improve multitasking enough where Zypher isn't a must have anymore. But I can't believe Apple hasn't added some of the other tweaks.