Best Samsung Phone You Can Buy in 2022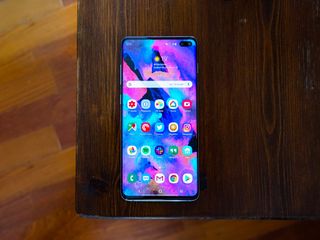 Samsung is the king of Android smartphones, so it should come as no surprise that it's one of the best places to look when you're considering buying Android phones. We've tried and tested each of its fantastic devices and one stood above the rest: the Galaxy S10+, Samsung's newest premium flagship that is the current must-buy.
Our Pick: Galaxy S10+
You can always trust iMore. Our team of Apple experts have years of experience testing all kinds of tech and gadgets, so you can be sure our recommendations and criticisms are accurate and helpful. Find out more about how we test.
When 2019 began, Samsung had been playing it safe for a couple of years, opting to deliver incremental updates over all-encompassing changes. However, that changed quickly with the announcement of the Galaxy S10+, its latest and greatest smartphone.
To understand that conclusion, all you have to do is look at the phone. It looks absolutely stunning thanks to a glass design fused together by a thin aluminum frame. As has been custom with Samsung displays, the panel cascades over the edge to create an impressive effect that Samsung calls Infinity Display. Unlike last year's model, this one runs from edge to edge, with no discernible bezel at all. That is all thanks to the new pill-shape cutout on the top right corner that houses the front-facing camera.
Then there's the most powerful specs you can find in a phone: a Snapdragon 855 chip and up to 12GB of RAM. This makes Android 9 Pie with One UI run ultra smooth without any hiccups or stutters to note. It's the best software experience Samsung has ever delivered on a phone. The Galaxy S10+'s specs crescendo with the new triple-camera system that stays with the times. It offers a standard 12-megapixel (MP) wide lens, a 12MP telephoto lens, and a 16MP ultra-wide lens. The kind of versatility you get from the camera cannot be put into words. Taking photos becomes fun once again.
Attaining this will not come cheaply. The Galaxy S10+ is one of the most expensive Android phones you can buy, especially if you get the most powerful version. Though the new display design is futuristic, some may not appreciate the pill-shaped cutout, which is considerally bigger than on the other S10 models. All that is subjective, however, and doesn't do enough to diminish this complete package.
Galaxy S10+
The most complete phone
Reasons to buy
+
Stunning 6.4-inch display
+
Gorgeous hardware
+
Powerful specs
+
No bezel
Reasons to avoid
-
Expensive
-
Pill shaped cut-out is annoying
By all accounts, the Galaxy S10+ is the best Android phone with the best specs, camera, design, features, and the stunning Infinity-O display.
Best Value: Galaxy S10e
Piggybacking on the trend to deliver a value flagship device, Samsung unveiled the Galaxy S10e alongside its more expensive siblings earlier this year. The Galaxy S10e presented Samsung the opportunity to deliver a device that offered most of the flagship features you'd expected from a Samsung smartphone with a few innocuous compromises that drive down the price.
So what exactly do you get with the Galaxy S10e? An edge-to-edge 5.8-inch display, Snapdragon 855 processor, up to 8GB of RAM, and up to 1TB of internal storage (with microSD card expansion). Not impressed yet? How about a premium glass and metal body, reverse wireless charging and a 12MP dual-camera with an ultra-wide angle lens?
At that point, it sounds like you're getting a premium high-end smartphone. That's because you are — just not the best of the best. Samsung cut corners with the lower-tier display, though it's only truly obvious to display snobs, and you lose out on the triple-lens camera, so no telephoto lens here.
There's also the oddly-placed fingerprint scanner (it's on the side vs. the front) and the thicker bezels around the display, but those are not deal breakers. In fact, most consumers will take those compromises to get a phone that costs way less than $1,000.
Galaxy S10e
Size doesn't matter with the Galaxy S10e
Reasons to buy
+
Powerful specs
+
Beautiful OLED display
+
Dual-camera system
+
Cheaper than actual flagships
Reasons to avoid
-
Weird fingerprint scanner placement
-
Slightly bigger bezels
Samsung bypasses its tradtional two flagship Galaxy S launch and introduced a third option with the Galaxy S10e that is a fantastic value.
Best Large Screen: Galaxy Note 9
Dating back to its inception, the Note line has been Samsung's go-to large screen phone. With the Galaxy Note 9, the display size was upped to 6.4-inches. However, there is also another thing the Note 9 has going for it beyond its expansive display: the S-Pen.
There's more to a large display that its sheer size. You have to take advantage of it and Samsung created the Galaxy Note 9 to do just that. With the S-Pen you can jot down notes or use it as a camera controller for perfect group selfies. It creates an experience that can truly be enjoyed on the big display.
Beyond sheer size, the Note 9 display looks utterly amazing. At 6.4-inches and with an AMOLED panel, content just looks beautiful — vivid and full of detail. Samsung included its Infinity Display with the cascading effect that delivers a true premium display.
There are drawbacks with the Note 9. It is a year old, which means its processor and camera are last year's versions. You also don't get the true bezel-less experience Samsung's newer phones deliver. However, these are minor grievances that can be easily overlooked especially considering its price has reached value levels. Overall, the Galaxy Note 9 is still the best Samsung phone you can buy if display is the most important selling point.
Galaxy Note 9
There's just something about the S-Pen
Reasons to buy
+
Spacious 6.4-inch display
+
Impressive hardware
+
S-Pen
Reasons to avoid
-
Older processor
-
Older camera
-
Bezels on the display
Don't dismiss the Galaxy Note 9 just because its older, especially if you're into big displays and the S-Pen.
Best Compact Size Galaxy S10
Full transparency: the Galaxy S10 barely missed out earning our choice for the best Samsung phone. The real kicker is that it was only because it has a smaller display — a difference of only 0.3-inches. Aside from that, the S10 and the S10+ are basically the same phone. So with all things moot, we decided to go with the S10+ because bigger displays are most people's preference including mine. But if you value a slim and compact body, the Galaxy S10 is the better choice.
With the Galaxy S10, Samsung introduced its new true edge-to-edge display with the camera cutout embedded into the display. This means the footprint of the body is smaller than ever, yet you still get a 6.1-inch Super AMOLED display. And boy, is it a gorgeous display.
The only difference between the S10 and S10+ ends up being a benefit for the smaller version: the front-facing camera. Samsung added a depth sensor to the S10+ selfie camera leads to a bigger cutout that looks a lot bigger and takes up more of the display.
Like its bigger sibling, the Galaxy S10 won't be cheap. It costs a pretty penny and is blessed with the Bixby button that is borderline useless. Those are just minor bumps though. The Galaxy S10 is still a must-buy device.
Galaxy S10
The best Android has to offer in a smaller package
Reasons to buy
+
Beautiful display
+
Gorgeous hardware
+
All the features
+
Extra sensor in front-facing camera
Reasons to avoid
-
Expensive
-
Slightly smaller display than S10+
-
Unnecessary Bixby button
The Galaxy S10 just narrowly missed being the best, but it's still a great Samsung phone. It just comes in a smaller package.
Most Affordable: Galaxy S9
Samsung flagships have never been affordable for the most part and that still remains true today. A brand new Samsung device will costs you well in the $800 or $900 area and might reach $1,000 with the right configuration. However, if you wait a year, you can nab a fairly new Samsung device like the Galaxy S9 for under $500.
Yes, there are other options out that are even more affordable, but they don't come anywhere close to offering the feature set the Galaxy S9 does. In fact, even affordable devices like the Pixel 3a fail to match all of its features.
What features are those you may ask? Let's start with the hardware. The body is made of glass and metal that feels quite substantial and paves the road for wireless charging, something "budget flagships" mostly fail to include. Below the front glass panel lives a 5.8-inch Super AMOLED display that looks fantastic. On the back you get the 12MP camera that still holds up and a super fast fingerprint scanner.
We recognize that it is a year older, which means the processor and the camera won't be the best in its class and future software updates may be somewhat limited. Saying all that, we'd still recommend that Galaxy S9. You just won't find this kind of value in a smartphone for under $500. Trust us; we searched and we couldn't find it.
Galaxy S9
For those looking for an affordable flagship-level device
Reasons to buy
+
Affordable
+
Great Samsung build
+
AMOLED display
Reasons to avoid
-
Older specs
-
Single camera
-
Limited future updates
The Galaxy S10 is a special device, but if you aren't looking for the best and most expensive phone, the Galaxy S9 might be for you.
Bottom line
All things considered, Samsung has a very healthy line-up of smartphones that cover every segment in the consumer market. Want something that offers the best? Samsung definitely offers that. Want something that's more affordable? You can get that from Samsung's flagship from yesteryear.
However, if you want the most complete Android smartphone right now, there is no other option but the Galaxy S10+. Samsung hit it out of the ballpark with this phone. It comes with the premium elegence its smartphones are known for, but it exceeded expectations by creating a next-gen display that looks absolutely breathtaking. Seeing a display run from corner to corner with no dicernible break via an ugly notch is really something to behold.
Credits — The team that worked on this guide
Master your iPhone in minutes
iMore offers spot-on advice and guidance from our team of experts, with decades of Apple device experience to lean on. Learn more with iMore!