Best Screen Protectors for Nintendo Switch in 2022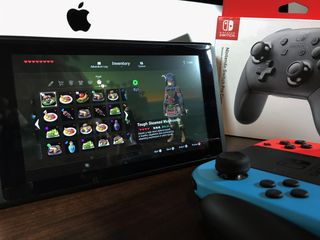 (Image credit: iMore)
The Nintendo Switch is a great, portable device, but that portability means it's more susceptible to damage. Just moving it in-and-out of its dock can cause scratches on your screen, especially if you aren't placing it in a docking position as carefully as possible. And even when you're not using TV mode to play, carrying your Switch around makes it prone to scratches, scuffs, and drops, especially if it's not in a case. You're going to want to protect that screen with a screen protector, so here are the best ones available that we've found.
A screen protector is necessary
The Nintendo Switch screen is made out of plastic, so it's super prone to scratches, scuffs, and other damage. Picking up a screen protector (and preferably the tempered glass king) is necessary to ensure you keep your Nintendo Switch screen as flawless as possible.
The Orzly tempered glass screen protector (opens in new tab) delivers super-thin protection for your Nintendo Switch screen. It also features rounded corners and isn't going to shatter if you accidentally drop your Switch.
Another great option that we like is the amFilm screen protector (opens in new tab) because it's easy to install and is quite durable. And while it's thicker than the others, it doesn't interfere with the touch sensitivity of the Switch itself.
If you prefer to have the thinnest screen protector possible, then you can't go wrong with the Maxboost PET screen protector (opens in new tab). It's the thinnest one mentioned in this collection, so it definitely won't interfere with touch sensitivity, and the oleophobic coating means fewer smudges to clean. What's not to love?
Jen Karner is a VR Specialist with a taste for all of the weird things. She's usually found playing the latest time-waster on her phone or tablet, when she's not wrecking aliens on her PlayStation VR.
Get the best of iMore in in your inbox, every day!
Thank you for signing up to iMore. You will receive a verification email shortly.
There was a problem. Please refresh the page and try again.