Best third-party uses for Animoji and Memoji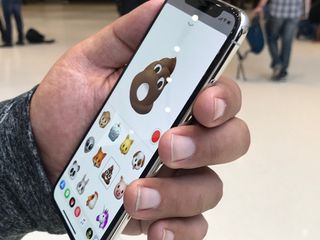 If you haven't seen an Animoji before, then you're seriously missing out:
Right now the feature is only available for the iPhone X, but even if you're someone who doesn't have one, you can still enjoy all the perks that Animoji has to offer as a QuickTime movie clip that can be shared anywhere.
Here are a couple of creative uses you can get with the power of Animoji!
PS: Have you heard of Memoji? It was just announced at WWDC 2018, and it's essentially Animoji but with an avatar you can customize to look like you, so all of these rules also totally apply to Memoji!
Apple occasionally offers updates to iOS, iPadOS, watchOS, tvOS, and macOS as closed developer previews or public betas (opens in new tab). While the betas contain new features, they also contain pre-release bugs that can prevent the normal use of your iPhone, iPad, Apple Watch, Apple TV, or Mac, and are not intended for everyday use on a primary device. That's why we strongly recommend staying away from developer previews unless you need them for software development, and using the public betas with caution. If you depend on your devices, wait for the final release.
The power of Twitter compels you!
Why you can trust iMore Our expert reviewers spend hours testing and comparing products and services so you can choose the best for you. Find out more about how we test.
The majority of us can agree that Twitter is pretty great (remember when that rogue ex-Twitter employee deleted Donald Trump's Twitter account on their last day? Good times!), but it can get a bit stale if you're used to scrolling through your timeline all day.
With Animoji and Memoji, you can tweet and retweet your thoughts using a mouthpiece that's more than just text: it can be a chicken talking about the latest sports scores, a unicorn complaining about the weather, or even just a nonsense post through the face of an adorable little fox.
Let Animoji turn your Twitter timeline from dull, boring text posts to interactive portraits. Plus, wouldn't you rather watch a cat scream about politics than read another one of the Donald's Tweets? I'd even be inclined to follow him if he did some Animoji stuff… Just sayin'...
Attention Instagram: It's not you, it's me… as an alien...
Breakups are hard.
Real, real hard.
As someone who just got dumped over the phone after 6 years of bliss(?), I would have much rather preferred him send me a bunny rabbit Animoji that told me I was insane: I feel like that would have softened the blow a bit.
In all seriousness, Animoji can be used to defuse some pretty tense situations: whether you're in a fight with your best friend, are looking to ask a difficult question to a boss or coworker, or even just want to break up with your girlfriend of 6 year's it's okay I'm TOTALLY NOT BITTER.
Even using Animoji or Memoji to announce sad news or react with sad news on Instagram and Twitter can maybe soften the blow if something is particularly upsetting.
Obviously use some discretion when you're using an Animoji in a tense situation. For example, if someone's parent has died, maybe it wouldn't be the best to send them a monkey Animoji saying "I'm so sorry for the sudden loss of your father. He was a good, good man".
Might make things a bit weird at the funeral.
Forget sexting: Try Animoji-ing
So you've finally met that special someone and you've decided it's time to take it to the next level: sexting (before you say anything snarky, I'm a millennial, so I already know I'm trash), and let's face it, sexting through iMessage can be super uncomfortable and awkward if you don't know the person very well or if you have no idea what you're doing.
If you're someone like me who prefers to go the funny route rather than the straight-up sexy route, it might be a good idea to send them a dirty Animoji of an alien asking what type of panties they're wearing; this is super easy to do with iMessage as you can just send it like a regular movie clip! Not only will they get a good laugh out of it, but if they never text you again, then it wasn't meant to be, bro.
Of course timing is the most important factor in these things, and knowing the other person's sense of humor…
Your favorite film quotes have never been cuter
Everyone has a favorite film, and more importantly, a favorite film quote. Whether you're obsessed with older movies or love a good modern superhero flick, there's probably a line in one of those movies that's stuck to you in some way.
… So why not say it with Animoji or Memoji?! Start a Reddit thread with your favorite film quotes said as different Animoji, start a Tumblr that chronicles all the best quotes from your favorite TV shows through your Animoji, and so, so much more!
Imagine hearing your favorite Apocalypse Now quotes through an adorable little bunny rabbit, or hearing "SHOW ME THE MONEY!" being screamed by a purple unicorn.
Look up your favorite movie moments on YouTube and start Animoji-ing them to the max, then post your best results on Twitter!
Scream
Life is stressful? Scream as an alien.
Work sucks? Scream as a fox.
Boyfriend dumped you? Scream as a bunny.
Totalled your car? Scream as a unicorn.
Scream. Express yourself. Go nuts. It's totally not you — it's just your Animoji or Memoji getting its frustrations out.
Then go scream on Facebook, Instagram, Twitter, Reddit, Tumblr: you name it. Someone, somewhere will be screaming along with you and will hit that reblog button.
How do you Animoji?
Is there a specific thing you love to use Animoji or Memoji for? Maybe you've considered proposing to your significant other via a monkey face or announcing your first born child with a screaming unicorn?
Let us know how you've been using — and how you've been thinking about using — Animoji in the comments below!
Get the best of iMore in your inbox, every day!
Cella writes for iMore on social and photography. She's a true crime enthusiast, bestselling horror author, lipstick collector, buzzkill, and Sicilian. Follow her on Twitter and Instagram: @hellorousseau