BlackBerry announces iOS support in enterprise service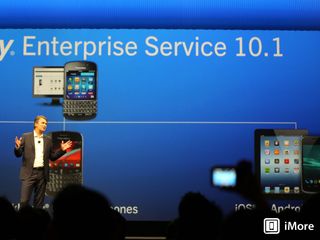 If you can't beat 'em, join 'em - that's the message from the BlackBerry Live conference in Orlando, Florida this week. The company has announced BlackBerry Enterprise Service (BES) 10.1 to extend security capabilities for iOS devices.
BES 10.1, which is now available for download, lets users manage BlackBerry smartphones as well as iOS and Android devices. But a previously announced feature, now in testing, will extend iOS support even more. "Secure Work Space" is a new function of BES 10.1 that provides a secure corporate connection for iOS and Android devices, without requiring any specific configuration changes to the device. Secure Work Space works using apps that BlackBerry plans to release through the App Store which includes secure e-mail, calendar, contacts, tasks, memos, browsing and document editing.
BlackBerry is currently testing Secure Work Space in closed beta and plans to release the feature.
You can get more details about this week's BlackBerry Live events at CrackBerry.
Now BlackBerry only has one differentiating feature.
The Chiclet keyboard.

Are you drunk? does apple have a cross platform mobile business management system? Blackberry is clearly looking way past hardware sales. There is just as much, if not more money to made in services and software. There's alot of money to made in there business model.

I think this hurts Good the most. If companies are deploying BB still, this is a way to allow email, chat, etc. as well.
Get the best of iMore in in your inbox, every day!
Thank you for signing up to iMore. You will receive a verification email shortly.
There was a problem. Please refresh the page and try again.