Brace yourself for Season 6 with our Game of Thrones Wallpaper Wednesday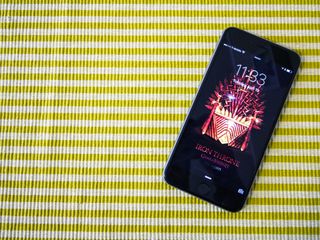 Wallpapers are important. They can give our phone a new feel, even if only for a little while. Some of us change wallpapers as often as we change shirts (sometimes to match), while some of us set one wallpaper and forget it, and that's a shame. A good wallpaper can be a pick-me-up, can remind us of better times (and upcoming times). They can show off what's important to us, be it a picture of the grandkids or an emblem of your favorite house in Game of Thrones. In an effort to brighten your screen, and maybe your day, we present an offering of wonderful wallpapers to grace your smartphone.
If you've got a wallpaper you use everywhere, share it in the comments below! We're always looking for something new. Now get your wallpaper picker ready and see what's in store this week.
Winter Has Come by James Bousema
A number of things come to mind in this beautifully macabre scene. It's lonely at the top. The road to the top stomps over a lot of bodies. But mostly to my mind what comes to mind is blood. That's a whole lot of blood. Like put-the-Red-Wedding-to-shame whole lot of blood.
Winter Has Come by James Bousema
Iron Throne by jjfwh
The Iron Throne is the subject for a lot of wallpapers, but this surprisingly simple symmetric wallpaper pulls me in somehow. And this deviantart user has a whole gallery of poster-type wallpapers for us to showcase our House pride with.
The Old Houses of Westeros
Another series of wallpapers with German-style crests on parchment backgrounds stirs something within me. I dunno if it's just how I was trained by Harry Potter or if it's the helmets atop each crest (look at the Magneto-style helmet for House Martell!!), but if you've got to wear a House crest into battle -- or work, more often work -- it's hard to go wrong with these beauties, originally from reddit.
Baratheons by Looksnookem
While deer are not my favorite animals, the ones used in the iconography for Baratheon house are just the most majestic animals on the show (and that quite possibly includes the dragons). And this illustration of a Baratheon stag, quite possibly with magical powers judging by the aura surrounding it and its glowing white eyes, is the most majestic I've come across yet. I look in those glowing eyes and I've never believed harder in OURS IS THE FURY.
Game of Musical Thrones
Game of Thrones is a show with a lot of doom, gloom, death, destruction, blood, guts, and other soul-crushing endeavours. (Thank you, George R.R.Martin!) Sometimes you just have to laugh in the face of that much shock, awe, and occasional horror of this show or you're just gonna start bawling. The idea of all the House animals playing musical chairs with the Iron Throne just makes you want to laugh, and we need those laughs after another bloody, bloody episode. As an added bonus, you can buy a dashing t-shirt with the same design so that you can show off your nerdiness and help fellow fans laugh off [redacted] getting [redacted] in Sunday's episode.
Get more iMore in your inbox!
Our news, reviews, opinions, and easy to follow guides can turn any iPhone owner into an Apple aficionado