Can you play Nintendo Labo VR Kit with a controller?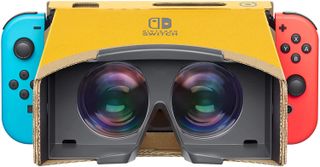 Can you play Nintendo Labo VR Kit with a controller?
Best answer: You might not be able to use your Nintendo Switch controllers to affect the gameplay directly, but they are required in the props. The controllers serve as a way to detect the motion of your movements and determine how the simulation reacts. Until we see more gameplay videos from Nintendo there is no sure way of knowing if the exposed buttons on these kits will be used during gameplay.Amazon: Nintendo Labo VR Kit - Variety Pack ($80)Amazon: Nintendo Labo VR Kit - Starter Set + Blaster ($40)
When you first open your Nintendo Labo kit you'll find a lot of cardboard, stickers, rubber bands, and other materials you need to build your prop. Building the prop is half the fun and takes a bit of time, but its a pretty cool way to get everyone hands-on and creative with the experience. After the prop is built there are sections for you to insert your Joy-Con controllers.
As you can see in the picture above, the Toy-Con Blaster controller has two slots for the Joy-Con controllers. The controller on the top of the prop does have exposed buttons, but we're not sure if that's going to be used directly with the gameplay or not.
The example photo of the Labo VR Blaster being used shows both of his hands occupied by the handle of the gun and the stabilizer under the barrel. Since we have no refrence to the buttons being used there is no sure way to give a definite answer if they're going to be relevant or not.
I assume any of the buttons on the exposed Joy-Con should control if the blaster fires, or how you would get to the menu screen, but there's still a chance the controls will be entirely motion-based.
Each Labo VR kit will work differently
Every Nintendo Labo kit works differently than the other and the Labo VR kit is no exception. While the Blaster may use buttons for in-game controls, that doesn't mean the other ones will too. The concept of the Nintendo Switch using VR is still incredibly new and I'm excited to see how it manages to make everything work.
As we see more gameplay and get more information we'll be sure to update you as soon as possible. Check back in with us to stay up to date! In the meantime, here's where you can pre-order your Nintendo Labo VR kits.
Revolutionize your Nintendo Switch
Nintendo Labo VR Kit - Variety Pack
Get the most out of your pre-order

The variety pack for the Nintendo Labo VR pack comes with the Toy-Con Camera, Toy-Con Elephant, Toy-Con Bird, Toy-Con Wind Pedal, Toy-Con VR Goggles, and Toy-Con Blaster. It's everything you need to have the full VR experience with your Nintendo Switch.
Not sure if you want the whole kit?
Try out the starter kit for the Nintendo Labo VR. It comes with everything you need to get a taste of the type of gaming experience you would with virtual reality technology on your Nintendo Switch. If you end up loving it you can always get the expansion packs later!
Nintendo Labo VR Kit - Starter Set + Blaster ($40 at Amazon)
The Starter Kit comes with the Toy-Con VR Goggles and the Toy-Con Blaster. Experience VR with your Nintendo Switch and, if you end up loving it, check out the expansion packs that will release at a later date!
Master your iPhone in minutes
iMore offers spot-on advice and guidance from our team of experts, with decades of Apple device experience to lean on. Learn more with iMore!
Essa Kidwell is an expert in all things VR and mobile devices who can always be found with an Oculus Go, a Pixel 2, and an iPhone 7+. They've been taking things apart just to put them back together for quite some time. If you've got a troubleshooting issue with any of your tech, they're the one you want to go to! Find them on Twitter @OriginalSluggo or Instagram @CosmeticChronus.