Catch a new Pokémon wallpaper!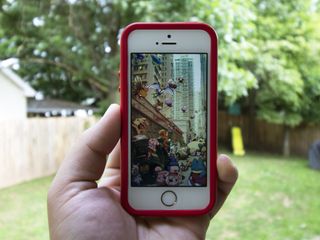 Wallpapers are important. They can give our phone a new feel, even if only for a little while. Some of us change wallpapers as often as we change shirts (sometimes to match), while some of us set one wallpaper and forget it, and that's a shame. A good wallpaper can be a pick-me-up, can remind us of better times (and upcoming times). They can show off what's important to us, be it a picture of the grandkids or an emblem of your favorite house in Game of Thrones. In an effort to brighten your screen, and maybe your day, we present an offering of wonderful wallpapers to grace your smartphone.
If you've got a wallpaper you use everywhere, share it in the comments below! We're always looking for something new. Now get your wallpaper picker ready and see what's in store this week.
Wild Pokémon Living in the City by Ninja-Jamal
There are Pokémon living all around us...
Okay, maybe they aren't quite this plentiful in the city, and maybe we only have 140 Pokémon from Kanto right now, but it'd be nice to image all these Pokémon are sitting in an alley, waiting for us right now. Especially that Snorlax in the back. Or that poor Jigglypuff that just needs a hug... Don't cry, Jigglypuff! I'll sing with you!
Wild Pokémon Living in the City by Ninja-Jamal
There are 3 teams that players choose from once they reach Level 5 and are eligible to fight in the gyms. Team Mystic, aka Blue Team, has picked up some Game of Thrones style lore, which has spread like Articuno's Blizzard across reddit and the rest of internet. They know no team but the Bird in the North, whose name is Articuno!
Moltres by Tharalin (Team Valor)
Team Valor can be a bit intense. It's the team that focuses on strength, and defines itself by it. Their emblem and their bird is Moltres, their 'Lord of Light'. If you see a circle of Pokémon GO trainers who shout "FIRE AND BLOOD!", that would be Valor. It's an intense team, but maybe you've got what it takes...
Moltres by Tharalin (Team Valor)
Zapdos by MrRedButcher (Team Instinct)
There is no shelter from the storm...
Yeah, Instinct may not be quite as popular as Valor or Mystic, but can we all agree that the Zapdos above is freaking terrifying? And a legendary bird that commands lightning is not the kind of bird you want to mess with, because unlike the water-hating Moltres or the temperature-challenged Articuno, Zapdos could be anywhere... just waiting to short out your phone when you finally corner that Pikachu. ZAP! NOOOOOOOOOO!
Zapdos by MrRedButcher (Team Instinct)
Entei Flat Design by ibeagra
While we're stuck with Kanto right now, I have faith that we'll get a more expanded Pokemon world soon. And when it comes, I will climb a volcano to find myself an Entei. Entei is best legendary. (But what about Lugia?) ENTEI IS BEST LEGENDARY.
Entei Flat Design by ibeagra{.cta .large}
Aha I will use that team mystic wallpaper for sure