CES Day 0 round-up: Samsung, Sony, Huawei, Pebble, and more!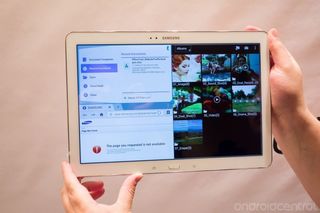 #ceslive — Day 0
presented by
January 6th
CES officially kicks off on Tuesday, January 7th, but when it comes to the big press announcements, Monday's the day. Today saw press events from Sony, Audi, Samsung, Huawei, LG, and more. The day wasn't short on drama or hilarity, nor new product announcements. Lots of TVs, lots of phones, lots of tablets, and an impending avalanche of smartwatches and fitness trackers. CES hasn't even officially begun yet, but let's dive in! (Tomorrow we'll have a podcast to go here as well — CES crazy!)
1
19
44
January 7
AT&T's new sponsored plans
After years of threatening to do it, AT&T is finally pulling the trigger on corporate bandwidth payments and the rug out from under net neutrality. AT&T's new Sponsored Data plans will see the carrier charging companies for your data instead of you — a website that's signed up for Sponsored Data should not count against your monthly data limit. A good move? Maybe. Maybe not. But things are changing.
Audi's new headlights are lasers
Self-driving cars and laser-lighting headlights
Audi had the first of two press events, with the second scheduled for Tuesday morning. The pre-CES extravaganza included the miniaturization of the computers needed to build a self-driving car from something that filled a trunk to something you could easy hold in your hand. There's still a lot of legal red tape to be cleared, but the technology is something like 90% there — especially with all the sensors that come attached to modern cars.
The crazier announcement from Audi, however, was there new Laserlight headlights. Utilizing a combination of reflected and refracted lasers with more traditional LEDs, Laserlights are simultaneously brighter and more efficient. These don't face hurdles so great that it'll be years before we see them, but they're still not coming tomorrow. Nor is the gorgeous Audi Sport Quattro concept.
Audi shrinks self-driving computers, makes lights out of freakin' laser beams
Huawei Ascends
Time for take two on the Ascend Mate
Huawei was proud to proclaim that they've staked out the #3 position in smartphone sales globally, though they're still well behind the leaders of Samsung and Apple. But it's an impressive achievement nonetheless.
The Ascend Mate 2 is a featured-packed 6.1-inch smartphone. Behind the decent but unfortunately 720p panel one would find an absurd 4050mAh battery. It has so much juice that Huawei engineered it to be able to output power to other device that need charging. Huawei estimates an insane 3.5 days of battery life with normal use. Considering that the Ascend Mate 2 has an "okay" screen and a low-power processor, squeeze a few extra hours out of a bigger battery shouldn't be all that surprising.
Huawei announces the Ascend Mate 2 4G
HomeLink, fitness, and smarter TVs from LG
Connect your life with LG, webOS rises
LG's smartphone line-up wasn't that much of a surprise. The LG G Flex, a phone we've known about for some time, got announced for AT&T, Sprint, and T-Mobile in the United States. That's it.
Where things got interesting was in LG's wearables department, with the unveiling of the Lifeband fitness tracker slash notification displayer and a pair of heart rate-monitoring Bluetooth earbuds. Both are high tech, but neither are cheap. They also have washers and refrigerators that can text you like a person. "What's up, fridge?" "Nuthin'. You?"
Where things got really interesting was with the long-awaited unveiling of webOS for LG TVs. In the year since LG bought webOS from HP, they've completely retooled the interface and built what is at this point looking like the best smart TV operating system. Not that the competition's been stepping up their game in this department recently. Because they haven't.
LG announces Lifeband Touch fitness tracker, Heart Rate Earphones
Pebble grows up with Pebble Steel
The same Pebble as before, but in a better case.
Last week we showed you our trip to Pebble HQ and gave you a behind-the-scenes look as to how Pebble came to be. It's a fascinating story, but we knew coming in to the new year that we should probably expect a follow-up of some sort. And that's what we got, a sense.
Pebble Steel is the new version, which actually contains the same display and internals as the already-available Pebble. But as the name implies, this one comes in a steel casing and ships with both a leather band and a matching steel one. Preorders are up now for $250.
Wrist-First: This is Pebble
Pebble announces the Pebble Steel in Black Matte and Brushed Stainless
Hands-on with the Pebble Steel and new partner apps [video]
Samsung's tablets go all Tab Pro
The 800lb gorilla has some tablets they'd like you to see.
The really big thing at CES this year happens to be really big TVs. And for some reason they all got bent during shipping. Wait, what, they're supposed to be like that? Huh. Anyway, Samsung unsurprisingly went all out on the TVs, with sets ranging all the way up to an absurd 105" curved display.
But we know what you really care about are the mobile technology bits. And Samsung didn't let down there either, with a new range of tablets: Galaxy Tab Pro. What makes the Tab Pro so Pro are the internals, which have received a much-needed update from even this year's disappointing Tab lineup. Additionally they Tab Pro line will sport 2560x1600 displays on the 8.4-, 10.1- and a new 12.2-inch tablet.
Also, Michael Bay's teleprompter broke and he just couldn't handle it.
Michael Bay storms out on Samsung at CES 2014
Sony goes all out
TVs and cameras and smartphones, oh my.
It's CES, so Sony had they usual complement of new bright, beautiful, and expensive televisions on site. We can't afford any of them, but some of the other stuff Sony announced, that's a possibility.
First things first, Sony spat out a new smartphone: the Xperia Z1 Compact. The Z1 Compact takes all of the amazing internals of the Xperia Z1 and shoehorns them into a smaller phone. The screen size drops from 5-inches on the Z1 to 4.3 on the Z1 Compact. Sony also announced the Z1s, which is a lighter and T-Mobile-bound version of the Z1.
Sony's also jumping into the wearables market with two efforts. The first is the Lifelog app for smartphones, which is capable of tracking your movements using the built-in accelerometer. The second is the Sony Core, which almost seems like a FitBit Flex in that it's a small USB dongle that slots into a wristband that you wear around to track your motion. Unlike Fitbit and the little Flex sensor, Sony plans on creating a whole range of Core-compatible accessories to fit your undoubtedly busy lifestyle.
First look at the T-Mobile Sony Xperia Z1s
Eyes on the Sony Core, its first entry into the wearable technology space
4K and a Chromebook from Toshiba
Playing both ends of the field.
There's no denying that Toshiba's a company that's seen better times. But they're not ones to let their history get them down, to the future they say. To that tune, Toshiba had two new portable computers to show off, and they fall squarely on opposing ends of the spectrum.
On the lightweight side you'll find the Toshiba Chromebook, a $279 laptop running, you guessed it, Chrome OS. It's lightweight, powered by a decent Intel chip, and has a 16GB SSD ticking away inside.
Turn the dial up to insane and you'll find the Tecra W50, a laptop with an obscene 15.6-inch 4K display, outputting at 282 pixels per inch. It's insane. And the W50 is also kind of on the thick side — 4K doesn't come cheap, price or processor-wise.
Toshiba unveils its first Chromebook effort at CES
Get more iMore in your inbox!
Our news, reviews, opinions, and easy to follow guides can turn any iPhone owner into an Apple aficionado
Derek Kessler is Special Projects Manager for Mobile Nations. He's been writing about tech since 2009, has far more phones than is considered humane, still carries a torch for Palm, and got a Tesla because it was the biggest gadget he could find. You can follow him on Twitter at @derekakessler.