Circles for iPhone and iPad review: A beautiful memory game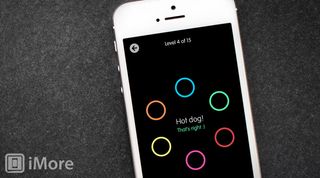 Circles for iPhone and iPad is a gorgeous memory game, similar to Simon, that tests your ability to repeat a sequence of lighted circles. You can play alone or challenge your friends to a battle to see who out-memorizes who.
The premise is simple: you are presented with up to six circles, each a different color and with a different sound. For your first turn, a sequence of two lights will light up and it's your job to repeat that sequence. For each turn, an additional light is added to the sequence. You simply continue playing until you make a mistake.
That's the basic idea, and fun even as is, but Circles takes it a step further with multiplayer gameplay and weapons! There are three different weapons you can use against your opponents: Lightning, which speeds up the playback, Twirl, which will rotate the circles after playback, and Blackout, which removes sound and color from the circles.
As you play the game, whether it's alone or against an opponent (except Practice mode), you earn coins that can be used to purchase weapons and chances. You can also buy coins with real money as in-app purchases.
The good
Beautiful design
Soothing sounds
Adds a new twist to the classic Simon memory game with Lightning, Twirl, and Blackout
Gives encouraging words when you pass a level
Multiplayer through Game Center
Earn coins to buy weapons and chances
iCloud support
The bad
The bottom line
Circles is a fantastic little game. It's challenging and good for your brain. I love that you can play against your friends and attack them with weapons to make it more challenging to win. I have a terrible memory and tend to be fairly horrible at these types of games, yet I still enjoy Circles… I'll just keep it to myself what my max number of taps is… what's yours?!
Get the best of iMore in in your inbox, every day!
Former app and photography editor at iMore, Leanna has since moved on to other endeavors. Mother, wife, mathamagician, even though she no longer writes for iMore you can still follow her on Twitter @llofte.
I remember this moment a long time ago when an aunt made an observation on how good my memory was after I had recalled a couple of details that day.
Well, that was honestly the last day that I remember anyone ever stating that as somehow my memory has worsened over the years. Perhaps it does have to do with the fact that I stopped reading novels as much as well as got more involved with casual gaming than I did with strategic and mind-tickling ones.
Trying this one out for sure! Might be fun to challenge the mind after all thus time :)

I used to love Simon. I just hope with the in-app purchases you can actually still get somewhere in the game without having to grind yourself to death...or memory failure. In-app purchases are a tough choice for me as a 49 year old casual woman gamer. Not many things appeal to me because I just don't have the patience (nor probably the memory..lol) to grind through a game. The Room Pocket was the first game I ever finished on my phone...where are more like that one? Till then, I may just give this one a shot for old times sake! Thank you Devs!

You definitely do not need to buy any in-app purchases to enjoy or advance through this game.
Thank you for signing up to iMore. You will receive a verification email shortly.
There was a problem. Please refresh the page and try again.