Comic: Terrible Parenting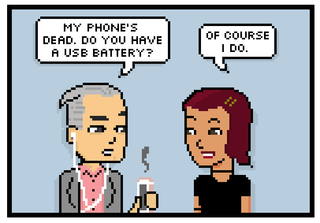 Happy Saturday, iMore! Because Rich is awesome, he's letting us run some of his Mac-themed comics from the Diesel Sweeties archive on weekends. Bonus comics, woo! We hope you enjoy.
Read more comics from the Pixel Project on iMore.com.
Get the best of iMore in your inbox, every day!
Pixel lover and cartoonist. Still have my original Apple IIgs. See more at clango.org or follow him on Twitter @rstevens.
Title should have been... Comic=Terrible

Sometimes these are pretty funny, unfortunately this one wasn't. Keep them coming I enjoy reading them.

Considering the mediocre battery life on the 6S (the Plus is OK though), she shouldn't be giving him that look. Posted via the iMore App for Android

What mediocre battery life? Mine's just fine. Of course the 6s Plus is better. It has a bigger battery.

The Plus has good battery. The 6S has been reviewed to have mediocre battery...just like the Galaxy S6. Posted via the iMore App for Android

I wouldn't call it mediocre. I get a full day of heavy use through the working week. Over the weekend I get a full two days of normal usage. I don't use some of the battery hogging apps like Facebook though.. Sent from the iMore App

My 6s smokes the battery life of my S6. I get at least 6 more hours of USABLE battery life out of my iPhone than I ever do out of my Galaxy...I don't even bump up my 6s during the day. Posted via the iMore App for Android

That's good to hear because I'm having a tough time choosing. I want to return to a smaller easier to handle phone but I keep hearing this mediocre battery life talk. The problem is, when they say it's mediocre they don't really help me know how poor it must be. Posted via the iMore App

These are never funny. Why do you keep forcing us to view these?