The Competition: Hands on with the BlackBerry 9550 Storm 2 "Odin"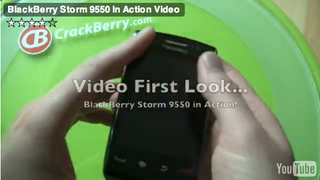 CrackBerry.com's Kevin got his hands (and signature green coffee table) on RIM's next-generation touchscreen BlackBerry, the Storm 2, aka 9550, aka "Odin". And his early thoughts?
the hardware is much nicer
the click screen is more user-friendly
the operating system is basically the same
Is 2/3 enough? Says Kevin:
TiPb was pretty tough on the original Storm, though so were many BlackBerry faithful (it was basically cast as the Vista of Smartphones, after all). Any chance the Storm 2 will turn the touchscreen form factor around for RIM? Anyone see it as a threat to the iPhone 3GS and iPhone 3.0? Or is it still about RIM providing that diversity to people who want the BlackBerry experience, and would never consider another device, touchscreen or no touchscreen? And if it disappoints, will RIM still lay the blame on consumer expectations in a post-iPhone world?
Rene Ritchie is one of the most respected Apple analysts in the business, reaching a combined audience of over 40 million readers a month. His YouTube channel, Vector, has over 90 thousand subscribers and 14 million views and his podcasts, including Debug, have been downloaded over 20 million times. He also regularly co-hosts MacBreak Weekly for the TWiT network and co-hosted CES Live! and Talk Mobile. Based in Montreal, Rene is a former director of product marketing, web developer, and graphic designer. He's authored several books and appeared on numerous television and radio segments to discuss Apple and the technology industry. When not working, he likes to cook, grapple, and spend time with his friends and family.
RIM need to overhaul the Blackberry OS eventually. I got stuck with a BB the other day, I was nearly ripping my hair out by lunchtime - it was just painful in every aspect compared to my iPhone.
I do however like Blackberry Messenger, and also the proprietary way RIM push emails out - is a MASSIVE battery saver compared to how the iPhone does it. So if email is still the main concern, the Storm beats out the iPhone in my opinion!
The iPhone of course slaughters it pretty much everywhere else :p
Until push the "non" Blackberry way, doesn't totally and utterly destroy battery life - or until batteries are so powerful it no longer matters... The Blackberries will have an important edge over ALL competitors.

I kinda felt bad for Kevin when the OS was apparently slow and most of all when the screen didn't switch. I know it's a "beta" but RIM needs a new fresh OS. Please innovate something new as following Apple's footsteps just relegates you to second place. To me it looks like the new Storm is pretty much the same as the old with minor changes.

I had a storm for about 6 months and said enough was enough. I switched to the 3GS. So far i am very happy i switched. I love BB becuase of the email push as mentioned earlier, but hate pretty much everything else about the Storm. Battery pulls daily. I was impressed coming from a WM smartphone to a BB, but now i see why Apple is far superior and much more fun.

Also the problem with the Storm 2 is that if they change too much then they admit that the first one was a huge piece of crap. If you ever get on crackberry.com and read blogs on the new storm, Verizon customers are furious that they designed a new phone rather than fix the original. Betrayed by Verizon??? NEVER!!!

Agree with Dustin.
I had a Storm since release until about two months ago, and it's about the biggest POS that RIM has ever released (and I've had pretty much every model since 1999).
The click screen is an exercise in frustration, and I cannot believe that they've screwed up the Storm 2 the same way...

I had a Storm for a few months and it's the main reason I bought an iPhone. So I have to thank RIM for creating a device that sucked so badly it made me buy an iPhone. :)

I know people who played with an iPhone then a Storm 1 and chose the BlackBerry. I admit that it would nearly take hell freezing over for me to get a non-BlackBerry, that being said I know people who have tried the iPhone and now swear by the Storm. I think it is quite amusing the way people see things. I used an iPhone and I would rather go back to the razor...

I have a Storm 1 and I have to agree with the above comments. I am in business and I wanted a touch screen phone that had speed and quality. I used a curve 8310 for about two years and really liked the various features that were available. Tethering, MMS, Flash on Camera, Blue tooth connectivity on devices other than head phones. Of course this was before many of the apps were written for the iphone. I tried an iphone 3g and was dissapointed that many of these features were unavailable. Rim definitely needs to provide a much cleaner software o/s and apple needs to incorporate more business apps. Dont get me wrong, I love the iphone for its slick interface and clear images. But I also love the various business aspects that I need while I am out working in the field as a IT support tech. I guess we cant have the best of both worlds yet.

I think it's rather hilarious to think that if one device is great that everything else has to be garbage. Facts are fact...the Storm was rushed...9 months and several software updates later my BB Storm is just fine. at&t service is horrible in my area so an Iphone really isn't an option. I like the Itouch so I'm sure the Iphone is great at what it does. Personally, I wouldn't want to purchase a device that I can't insure or replace the battery but hey, that's just me. I also like being able to send and receive MMS which is another reason I wouldn't want the Iphone...

I had an Iphone and loved everything about it except for the crappy batter life. But I couldn't deal with the crappy AT&T service. If the Iphone comes to Verizon, ATT will go bankrupt. Hopefully the Storm 2 is more tolerable. I tried the Storm 1 in the store and couldn't deal with how slow and buggy it was. I still have my 8830 without a camera and I have been waiting for a good phone to come out. I even tried the new Tour for 2 weeks and took it back because the trackball started to stick. I guess every phone has its issues and we have to figure out what bs is tolerable for us.

I am a Blackberry faithful and when I first got my Storm, it would reset about once a week at first, then turned to about once every day, then to about 4 to 5 times a day. An update fixed that. Next was the sluggish OS, this caused me to missed almost every call I received!!! Another update fixed that! As far as email...the phone is great....and thanks to the updates..my Storm is better than tolerable now!! I have never owned an Iphone, but I am a big texter and I tried out the texting on the phone and had way too much trouble with the on screen texting...maybe my fingers were just to fat....maybe the letters were just too bunched together... I thought that screen-click interface for the Storm was GREAT...TO EACH HIS OWN!!

love my new 9550. great touch screen, much better than the first 1. i've had it for a couple days now and I love my new unlocked mobile phones. easy to use, practical. Me and my partner love ours for the fantasy football and web browser. on our long trips the gps comes in handy and the games keep us busy. much better than our old unlocked blackberry phones. also got our blackberry unlock codes and htc unlock codes for free! my wife loves hers for the camera and video recorder to catch the kids and their cute moments! the web browser is quick and the processor is much faster. got our last couple unlocked mobile phones at unlockthatphone.com 2 thumbs way up.

Hey There. I found your weblog the use of msn. That is a really neatly written article. I'll make sure to bookmark it and return to learn more of your useful information. Thank you for the post. I'll definitely return.
Get the best of iMore in in your inbox, every day!
Thank you for signing up to iMore. You will receive a verification email shortly.
There was a problem. Please refresh the page and try again.