How to create and share digital flash cards on your iPhone and iPad [App for that]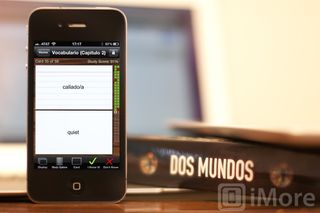 Our challenge this week was to find an app that would allow my parents, who are taking a Spanish class together, to create flashcards of vocabulary that could be shared on two iPhones and one iPad. With the Spring semester well on it's way and the first round of tests approaching, my parents surely are not the only our student readers that looking for ways to be better, more efficient studiers.
With over half a million apps for just about everything, you'd figure there'd have to be at least one in the App Store for this. But with so many apps, it can be hard to find the one you want. That's where we come in. We're sorting through the App Store and we're going to help find just exactly the app for that.
App for that: gFlash+/gFlashPro - Flashcards & Tests
gFlashPro has turned out to be the perfect solution. First, you create a spreadsheet with Google Docs where one column is the vocabulary term, and a second column is the definition -- or in my parents's case, the English and Spanish versions of the words. Each row in your spreadsheet then gets transformed into a flash card after you connect gPlushPro to you Google account and download the spreadsheet. Since the flashcards are tied to Google, they are easily shared on multiple devices. If you wanted, you can even share the Google documents with your classmates, so that they, too, can download the flashcards for studying on the go.
There are two version of this apps: gFlash+ and gFlashPro. The former is free to purchase and supported by ads. gFlashPro is ad free and includes addition features like the ability to Delete, "forget", and move cards in the deck. You also get free access to more than 50 million cardsets from Quizlet and StudyStack.
gFlash+, free - [App Store link](http://itunes.apple.com/us/app/gflash?at=10l3Vy&ct=UUimUdUnU13221 -flashcards-tests/id286531709?mt=8&at=10l3Vy&ct=d_im)
gFlashPro, $3.99 - App Store link

(opens in new tab)
Thanks to my parents for the question. Anyone else have any App for That suggestions for them? Let them — and all of us — know in the comments below.
Having trouble finding what you need in the app store? Head on over to our App for That Forum and let us know what you're looking for. The iMore community will do our best to find you just the right App for That!
Former app and photography editor at iMore, Leanna has since moved on to other endeavors. Mother, wife, mathamagician, even though she no longer writes for iMore you can still follow her on Twitter @llofte.
There has got to be a better, non-google docs solution out there...

I use AnkiMobile. It's an SRS app. It doesn't use Google anything, syncs with the Anki desktop apps, and supports formatting of the card content. The iOS version is very expensive, but it is free on almost every desktop OS I've seen it on.
http://itunes.apple.com/us/app/ankimobile-flashcards/id373493387?mt=8

The standard for flashcards is Quizlet.com . There are several apps that you can upload quizlet data into. You can probably already find the vocabulary for most Spanish books. Be careful to check spelling though.
The app I use is flashcards.

Hey! Someone in my Facebook group shared this website with us so I came to check it out. I'm definitely enjoying the information. I'm book-marking and will be tweeting this to my followers! Great blog and superb design.

Higgins, the genius behind Project Life, introduced us to her friend Claire, who suffered a life-changing injury. Claire already struggles with a developmental disability, and

I just like an iphone. My home is in Melbourne. Is there a way I could win just one? I found this website : www.stopnget.com/win-an-iphone-4s/ Could it be legitimate? What do you think?

Fantastic post, very informative. I wonder why the opposite experts of this sector do not understand this. You should proceed your writing. I am confident, you've a great readers' base already!|What's Going down i'm new to this, I stumbled upon this I've discovered It absolutely useful and it has aided me out loads. I hope to contribute & aid other customers like its aided me. Good job.
Thank you for signing up to iMore. You will receive a verification email shortly.
There was a problem. Please refresh the page and try again.