Documents to Go Goes Premium, Adds PowerPoint, Gmail Support for iPhone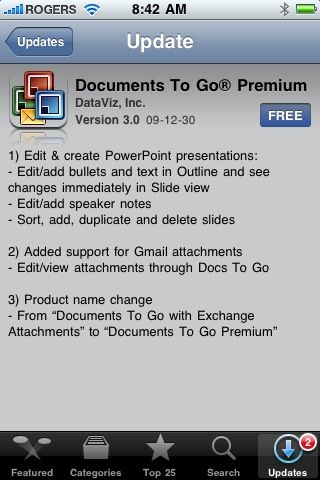 Documents to Go with Exchange Attachments is all grown up, has changed its name to Documents to Go Premium, and now offers support for PowerPoint and Gmail attachments for iPhone and iPod touch:
Edit and create Microsoft Office PowerPoint presentations
Edit/add bullets and text in Outline mode (changes reflected immediately in Slide view)
Edit/add speaker notes
Sort/add/dupe/delete slides
Edit/view Gmail attachments
About the only thing missing is a dedicated, multi-app accessible file repository on the iPhone akin to what the photo app does for images. Get working on that, would you Apple?
Meanwhile, if you try out Docs to Go's new PowerPoint or Gmail features, let us know how they work for you!
Get the best of iMore in in your inbox, every day!
Rene Ritchie is one of the most respected Apple analysts in the business, reaching a combined audience of over 40 million readers a month. His YouTube channel, Vector, has over 90 thousand subscribers and 14 million views and his podcasts, including Debug, have been downloaded over 20 million times. He also regularly co-hosts MacBreak Weekly for the TWiT network and co-hosted CES Live! and Talk Mobile. Based in Montreal, Rene is a former director of product marketing, web developer, and graphic designer. He's authored several books and appeared on numerous television and radio segments to discuss Apple and the technology industry. When not working, he likes to cook, grapple, and spend time with his friends and family.
What photo app are you talking about that allows you to organize your pics in folders on the iPhone?

It doesnt show as a free upgrade for me

@Demon
That's because the headline is misleading: 'Documents to Go Goes Premium'
In fact Documents to Go with Exchange Attachments Goes Premium. Nothing has changed with the actual Documents to Go app.

I hope they are planning to apply these changes to the $4.99 version. Not everyone needs Exchange support, but Gmail attachments and PowerPoint are critical.

I just purchased this program because of the ability to access Gmail attachments. Unfortunately, there is nothing on Dataviz's website, or in the program help, which explains how to set this up. Anyone have it working? If so, how?

Sean:
You set it up as an Exchange account - using m.google.com as server and then your Google or Google Apps account settings

It didnt work with gmail on the 31st, when updated. This morning, it worked yupeee. Althought there are 1 week old emails with word and excell attachements, it won't see those, only the ones which are coming from now on. It's still ridiculously limited as functionality, no footnotes, no tables, etc.
Anyway. Still a long way to go until the iphone will become mission critical.

yes Mathias is absolute right. I too purchased the premium version on the 31st and was furious that I couldnt find any info on how to set up the gmail feature. Was about to call dataviz tomorrow to give them a piece of my mind. Then I thought let me use the exchange set up but with google settings and it went though but i got the server wrong. Came here saw Mathias gave the correct server, tried it and Bangg. Smack Dab it works. Tested it to confirm!!!!

I keep getting an ssl error when I try to sync. Any of you had that issue?

Dataviz support is terrible. No instructions on setting up gmail. Never heard back from them. Found instructions after doing a google search. You have to set it up in exchange. As someone said, it only reads gmail with attachments. It would be nice to have all gmail so you can reply back to coworkers with attachments. Readdle Docs came out with a major update that has email support before docs to go. I wonder if this forced dataviz to do something. Seems like they were trying to make documents to go for every device out there, and not focus on improvements to the orginal program.

Thank you all! m.google.com works for me!
However, it keeps giving me 0xb error!
What is going on?

This is a long shot but is there any way to upgrade for the regular Docs To Go to Docs To Go with Exchange/Premium?
Reason being, when i purchased Docs to Go, i wasn't aware that there was a separate application with Exchange Support. Exchange unfortunately is pretty critical for me. So is there any alternatives or do i have to fork out the whole sum for the Docs to Go Premium and waste the money i paid for the initial Docs to Go?

hey Michael, for the ssl error...I had the same one, then I realised that the server was set to m.gmail.com instead of m.google.com After changing to m.google.com it worked without ssl error message.Hope it helps.

Hi Kenny - contact Apple iTunes support and explain that you didn't realise there were two versions and that you purchased the wrong one. So long as this was recent and you ask nicely they may be helpful and refund you the original cost... they did for me but they did state that this was a one of.
Dataviz still haven't answered a query I emailed them about upgrading - so 10/10 for iTunes support :-)

Hi,
Firstly to get the Documents To Go to work with iPhone you will need to setup a Google Mail account (or MS Exchange) which I use purely as a document exchange, then follow the simple steps below. I can confirm it unleashes the full smartphone power of the iPhone.
The following is pasted from the excellent support as I see a few punters are having difficulty. It took me only 5 minutes (including setting up a Gmail account) and I'm useless with computers!
(During the setup when you get to the bit Add New Account change the default heading from Microsoft Exchange to Gmail. Then follow the rest of the steps as below and get downloading, editing, saving and sending.)
From the Dataviz website support:www.dataviz.com/handheld/support/documentstogo/iphone
Gmail & Exchange Attachments* This functionality requires 'Documents To Go Premium' and is not available in the non-Premium 'Documents To Go' version. Description
'Documents To Go Premium' also supports downloading email attachments into Documents To Go. The attachments can be viewed or edited. You can also reply or forward to an existing email with an attachment. You can also create a new email and attach a file and send it off directly from within Documents To Go.
To use the email attachment features of this version, you must be using either a Gmail email address ( i.e. yourname@gmail.com ) or a Microsoft Exchange server for your email service; email services such as Yahoo or others are not supported.
Top
Setup (Gmail)
To setup the Gmail attachment support in this version, please follow these steps:
1. Open Documents To Go on your iPhone/iPod touch.
2. Tap the Settings button in the upper left corner.
3. In Settings, select the "Add New Account" option under the Microsoft Exchange area, and input the following settings:
Server: m.google.com
Domain: google
Username: your gmail.com email address
Password: your gmail.com password
SSL: ON (on by default)
4. After entering your Settings, you are ready to sync

Ok, so I get it finally, Thank you!

Here is the deal that I have for you today. Get a custom website, read the niche selection secrets, select an income source, plug in the traffic source, and finally just let the breakthrough software go to work. Check it out for yourself... http://tinyurl.com/88ql79f
Thank you for signing up to iMore. You will receive a verification email shortly.
There was a problem. Please refresh the page and try again.