Documents by Readdle now available for iPhone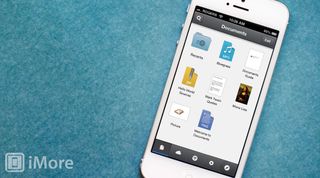 Documents by Readdle is now available for the iPhone. Now a universal app, Documents lets you read Office documents, annotate PDFs, edit text files, listen to music, look at photos, and more. Across the bottom of the screen, there are four sections, along with access to the built-in web browser. Documents stores all of your files, from music to PDFs, and you can move files from Documents to iCloud by tapping the "Edit" button and selecting which files to move.
The Network section allows you to add and access different online storage options like Dropbox, Google Drive, and SkyDrive. It also allows you to access devices on your local network, which allows you to transfer files to and from Documents. Finally, the Settings tab gives you fine control over how you view and manage documents, as well as browser options.
Speaking of the browser, it's accessed by tapping the compass icon next to the Settings tab. You can use the browser to download files directly to Documents, and you can specify which folder they should be downloaded to. You can control the user agent of the browser in Settings. By default, it's set to iPad Safari Mobile, but it can be changed to anything from Google Chrome and Firefox to Internet Explorer.
Documents by Readdle is free, so if you're looking for an app that can put all of your documents in one place, go ahead and try it out.
Get the best of iMore in in your inbox, every day!
Joseph Keller is the former Editor in Chief of iMore. An Apple user for almost 20 years, he spends his time learning the ins and outs of iOS and macOS, always finding ways of getting the most out of his iPhone, iPad, Apple Watch, and Mac.
Certainly not complaining about a free price tag, but how do they support their company and products? Mainly, for myself, I hope their are no ads robbing my screen space with this app. Any insight anyone could provide would be appreciated. Thanks.

I didn't notice any adds and it's a fantastic app. My only issue is that you can't edit your documents, but they may be holding out this feature for a paid version.

Using it for a while with iPad have not noticed ads. iPhone version looking good.

Incredible, this is the only place in the world where people actually complain about free stuff.
Stop being so skeptical and just try the damn thing

People have reason to be skeptical. These app makers aren't working for hundreds of hours on an app for free. They're making money somewhere. Is it from an up front cost? In app purchases? Selling ad space? These aren't all that bad and (IMO) legitimate ways to make money. Where it gets into dangerous territory is if they're mining data from you without your knowledge to sell to others (contacts info and browser history, etc) as their revenue source. I'm still dismayed that the App Store does not display what permissions an app is requesting before you install it. Android has had this for years, giving a line by line breakdown exactly what an app can and can't do with your phone. Nonetheless, I've installed this app and will give it a shot.

That makes sense. I don't have any iOS device but I like to read some articles here now and then.
As an adroid user I wasn't aware that you are not able to know which permissions a certain app has.

Yea. I swapped back to iPhone 4. You really tend to miss the simple things. You also can't see how many times an app has been downloaded. This is a great way for me to see if it is worth downloading sometimes. All we see are reviews. That being said, this app is awesome, but I am too, worried about how they make their money. I do not know if they are data-mining me.

No, in iOS you know exactly what permissions an app has because you have to grant them manually the first time an app requests them. Permissions can be toggled on and off at any time categorically within Settings. Don't remember which apps you granted, say, location info for? Settings>Privacy>Location_Services There you can toggle access for each app or all. Regarding Documents by Readdle, works well and it's beautiful. I think their money is made from other products the offer which can integrate with Documents, such as PDF Expert which is also good.

Ah, I was not aware of that. I learned something new today. Was that app that caused a stir some time back because it was mining your contacts shown in the Privacy>Contacts section, or was it hidden? Forgive me I don't recall the name of the app. Edit: found the app in question was called Path. Under the current version of iOS, if you go to Privacy>Contacts, would it show that it was trying to access your contacts?

Exactly! I rather like iOS's organization for permissions and notifications, too. In Android, all those settings are buried within each app's settings. If you had 100 apps installed, it could take an hour to go through every one; Messy. That said, I am a fan of Android, even compiling my own ROMs for years. But I switched to iOS a few months ago and now prefer it.

I'm in the exact same boat as you, my friend (well, didn't compile the ROM's myself, but did enjoy using CM 10.1). Just got tired of !@#$ing around with the phone just to make it work with the latest OS (or to just work, for that matter) vs. having a phone that just worked out of the box.

Anyone noticed ReaddleDocs is no longer available? and how do the 2 compare with each other?

Glad to see this come to the iPhone. I used this on my iPad. Readdle make some great apps ( PDF Expert, Scanner Pro) glad to see on the iPhone.

I tried to click on "Fee: Download Now" in the iMore iPhone app and it took me nowhere. Is there a bug in your app?

Readdledocs was the former product that was superseded by this one. For all intents and purposes they are "the same"

Honestly never heard of this app as I don't own an iPad. I will try this out and love that it syncs with iCloud. There have been a few occurrences where I needed a certain document from home while on the go.
Thank you for signing up to iMore. You will receive a verification email shortly.
There was a problem. Please refresh the page and try again.