Dropbox announces new developer tools, Mailbox integration coming soon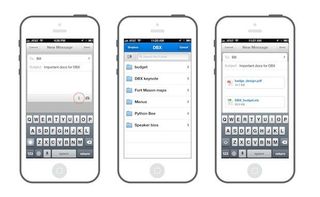 Dropbox is currently hosting their inaugural DBX developer conference, and has announced a couple of interesting items already. First up is the new "Dropbox Platform," a suite of tools for developers to utilise to access Dropbox data across different devices and operating systems. Better still, the new Datastore API will provide the ability to sync contacts, to-do lists, oh, and game states.
Google announced a cross-platform gaming tool back at Google I/O, but we'll certainly welcome another. Dropbox is available in some form on every major mobile OS, plus Mac, Windows and Linux, so the possibilities are far and wide. One forthcoming example of some of the new Dropbox tools is their recently aquired iOS app, Mailbox, which will soon be able to send file attachments from your Dropbox account right within the Mailbox app. No word yet on when it'll be rolling out. What do you guys think? A step forward for cross-platform syncing?
via Engadget
Get the best of iMore in your inbox, every day!
Man, I like the idea of Dropbox syncing on everything, but I don't like the security breaches that Dropbox seems to always have issues with. I've put my cloud files on Google Drive not because it's better integrated (varies from app to app), but for the lack of security issues we've heard of from Google (unless, that is, they're just not telling us) compared to Dropbox.