Dropbox to shut down Mailbox and Carousel apps in early 2016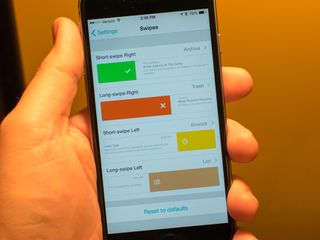 Dropbox is closing the doors of two of its standalone apps, Mailbox and Carousel. The Mailbox email app will shut down first on February 26, 2016, while the photo and video gallery app Carousel will end on March 31, 2016.
Dropbox acquired the Mailbox app in 2013, and later launched Carousel in 2014. In a blog post, the company made the decision to shut down both apps as part of their plan to increase "our team's focus on collaboration and simplifying the way people work together." It added:
The company has set up an FAQ page to help Mailbox users prepare for the shutdown. Carousel users will still be able to check out their uploaded images on the Photos tab views on the Dropbox website and on the Dropbox mobile app.
Source: Dropbox
Get more iMore in your inbox!
Our news, reviews, opinions, and easy to follow guides can turn any iPhone owner into an Apple aficionado
I have been writing professionally about technology and gaming news for 14 years.
I would say it's even more evident now that Dropbox are moving towards the corporate market ... Sent from the iMore App

Sooooo.... what does everyone think about Apple Photos now? I moved to dropbox because I was able to manage the actual files and not worry about Apple doing it. Now with Dropbox shutting Carousel down, I'm worried that they might eventually get rid of the main product. Also, I didn't mind paying them $10/mo to encourage development of their apps, but now, I'm not so sure.

I never had a problem with Apple's Photos app / service. It's integrated into OS X and iOS, supports non-destructive edits and third-party extensions, manages storage on its own... I only wish the iCloud Photo syncing on WIndows was better, and that Apple would release an app for Android, for that cross-platform goodness.

Photo management and upload is pretty important for any cloud storage product, so I'm sure Dropbox is going to continue to improve that functionality. It was always a bit weird to have it split across two different apps. Mailbox never seemed like a good fit for Dropbox. It was never clear what benefit it offered to users of their main service (the only one that makes money), and they didn't seem to have any idea what to with it.

Mailbox is a really nice mail app, if Dropbox don't want it I hope someone else picks it up

It's not open source, and Dropbox owns both the app and has hired the team, so that can't really happen.

Oh I moved all Photos into Apple Photos, upgraded to 50GB iCloud storage and never looked back. It works wonderfully and seamlessly for me. I have an iPhone, Mac and iPad so it is the most comfortable option.

Google Photos backs up all my photos. Unlimited and free. Don't need anything else to do that. The mail app from Dropbox was ok but honestly there are many that are better. These services shutting down is no skin off my teeth. Sent from the iMore App

Can someone recommend a good mail app to replace Mailbox? I primarily use gmail and outlook addresses and am looking at some alternatives to those native apps that can allow for both addresses to be used in the same app. TIA.

Try Outlook, it's really good Sent from the iMore App

I've tried it and it is, indeed, okay. Probably one of the better ones on iOS. However, it doesn't have the same "archive to list" functionality that Mailbox has. I find this essential, because I like to just be able to open up my "Work" list and see all work emails, no matter which account they come in on. Does anybody know of an app that supports something like that, plus the snooze functionality? Or, at the very least, a gesture workaround for either Mail.app or Outlook?

You can edit what the swipe left and right gestures do in Outlook on iOS: https://www.dropbox.com/s/lidis96zj1368ie/File200720520... is how it looks on my 6S Plus

I had it and went back to Mailbox because my snoozes would never work I'm Outlook. It is a function I heavily rely on.

CloudMagic Sent from the iMore App

Spark and Boxer are some good ones.

+1 on Spark. Love it Sent from the iMore App

Agreed on Spark. Great app.

I tried Spark for a while. Ultimately, I think I just don't get along with mail apps that attempt to do the thinking/sorting/organizing for me. Maybe I'm just old fashioned. I like to do the sorting myself (except for spam mails, obviously) and would just prefer an app - Dispatch in my case - that allowed me to that as efficiently as possible.

I've used Dispatch as well. Very nice. Though they will never support "push" notifications, I think adding a fetch option would be useful. I couldn't get use to the background refresh. Didn't seem timely enough for me.

+! Spark. And iPad and OSX apps are due soon.

I have been using Spark by Readdle. It now has Exchange support. I like it so far. In the future there will be an iPad app. Right now it works on the iPad, but it's the 1x style. Sent from the iMore App

try "Inbox" from Google..

I use inbox and outlook apps. The interfaces are easy and task oriented. Sent from the iMore App

I loved Mailbox when it first came out, but when they dropped support for Yahoo mail,and then kept saying "more accounts will be available later" over the course of two years (and after the Dropbox acquisition), I figure the end would come soon. Too bad - the app was pretty useful for awhile.

Spark by Readdle is an excellent mail app.
I never used Carousel, didn't like the way it showed images from all folders in Dropbox, so I use Unbound where you set the default folder. Prior to that I used Loom which was a very promising app, until it was bought by Dropbox, who never incorporated its best features into Carousel, so what was the point in that? Sent from the iMore App

Good quote from The Loop's Shawn King, "I never used either product in part because of this. I've been around long enough to see dozens, if not hundreds, of services come and go. I rarely rely on new services (but I often test them out) simply because, to paraphrase Dorothy in The Wizard of Oz, "Products come and go so quickly around here." I may be too old and jaded but I think my time is too valuable to constantly be flitting from one new service to another, only to have the owner shut it down, sometimes with very little advance notice."