Epic Games releases Unreal Engine 4-based Epic Zen Garden demo for iOS 8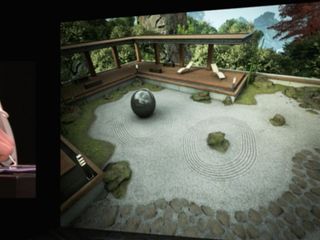 Epic Games has released its Epic Zen Garden demo for iOS 8 users, a few months after the game developer showed off the Unreal Engine 4-based graphics demonstration at WWDC 2014 in June.
The free demo is set in a Japanese zen garden which has a number of interactive elements but isn't really a game. Epic Games states:
If you have installed iOS 8, what do you think of this example of high end graphics via Unreal Engine 4 and Metal?
*Free Download now (opens in new tab)
Source: Epic Games)
I have been writing professionally about technology and gaming news for 14 years.
I tried this out on both my iPhone 5S and iPad Air and was very underwhelmed. I was expecting smooth frame rate, incredible detail, and free flowing camera. You get none of the above.
Maybe I'm expecting too much, but from the demos at WWDC and the iPhone event, it made Metal out to be so much better than OpenGL. Even the rendering in Zen Garden isnt that great.
These are PS2 level graphics...

Installed on iPad 4, crashes at launch.

Crashing every time I open it Sent from the iMore App

Crashed for me on launch (iPad 3). Even after turning off the iPad and restarting. (Yes I have installed iOS 8 - which otherwise seems fine so far).

iPhone 5. Crashes on launch.

Is there anything I'm supposed to do to get it working on my iPhone 5s it's never worked and still isn't working Sent from the iMore App

Epics zen crashes instantly when I load up on ipad 4th gen.... But works on iphone 5s

App crashes right after launch...i have an iPhone 6 plus and closed out of all other apps to no avail
Thank you for signing up to iMore. You will receive a verification email shortly.
There was a problem. Please refresh the page and try again.