Evernote's Scannable turns your iPhone or iPad into a scanner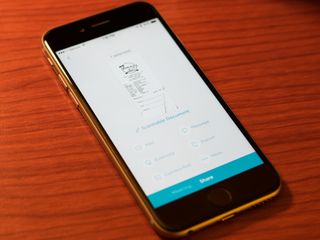 Evernote has just released Scannable, a new app that turns your iPhone or iPad into a scanner. Like other scanning apps, Scannable can scan your physical documents to your device, and the app will even recognize different types of documents.
The app will produce the clearest scans possible. Your scanned documents are automatically cropped and enhanced for best results. Scannable can recognize documents like receipts and business cards. Details from business cards will be used to create new contacts, complete with LinkedIn data and a photo. These contacts can then be added to your device's contact list.
You're not limited to sharing with Evernote with Scannable. You can choose to send your documents to other services, as well as sending them with email, messages, or saving them as photos. You also have multiple ways to scan. In addition to your device's camera, you can also use the ScanSnap Evernote Edition scanner, which you can control through Scannable via Wi-Fi.
Scannable is a universal app, rolling out now on the App Store.
Joseph Keller is the former Editor in Chief of iMore. An Apple user for almost 20 years, he spends his time learning the ins and outs of iOS and macOS, always finding ways of getting the most out of his iPhone, iPad, Apple Watch, and Mac.
I like Evernote - Finally a company that hasn't gotten greedy with in-app purchases and still give away cool stuff.

My only question is: what format does the scan become? Does it use the .pdf format? Does it use a proprietary format? Are they simply saved as photos?

Its free - try it. what have you got to lose?

I know, lol. My natural first reaction to this article was to ask, though. I'm definitely going to try it later.

I looks like it is a JPEG.

How can you tell by looking at it?

Does anyone know of an app similar to this that you can save as a pdf I really need that feature Sent from the iMore App

I've used ScannerPro (I believe they have a free/lite version) by Readdle with great success. Can save to various cloud places (Dropbox, iCloud, etc) and saves in PDFs.

+1 for ScannerPro, and there is a lite version. I use it all the time for work and does .pdf and supports uploading to cloud services as was mentioned. Worth the money for the full version if you use it a lot. Sent from the iMore App

I use jotnot pro, really like it. Use it to send faxes when I'm on the road, you have to pay for faxes but it comes out cheaper than using a truck stop machine. It will let you email .pdf for free Sent from the iMore App

For PDF, my recommendation would be Scanbot. It shares an almost similar UI to Scannable. I find it easier to use than Scanner Pro (my only use Scanner Pro is in cases when I'm required to fax a document which fortunately is becoming a rarity). It also had built in OCR (not the greatest but capable nonetheless). Sent from the iMore App

i use an app called TinyScan to scan into .pdf and it works well. you can give that a shot

Turboscan is free and works really well

Yet another scanning app to an already myriad of options.
I use Scanbot which, with a paid upgrade allows OCR.
Works well for my needs and supports WebDAV which allows me to backup to my NAS, amongst other cloud backup options. And Evernote too. So hey, one less app to clutter my home screen.

I also use Scanbot because of the OCR - great for scanning newspaper articles or excerpts from books and turning them into text notes. Most scanners create a PDF but can't process text or recognition is poor. From the description it sounds like this new app has OCR and Evernote is usually good with that so I may give it a try. https://blog.evernote.com/blog/2015/01/08/scannable-new-mobile-scanning-...

Edit: no, the app seems to recognise text, e.g. for creating a new contact, but there appears to be no way to extract it. You can share via iMessage but only the full scan, not the text. Back to Scanbot, Prizmo and Pixter.
Thank you for signing up to iMore. You will receive a verification email shortly.
There was a problem. Please refresh the page and try again.