Facebook buying Whatsapp... for $16 billion!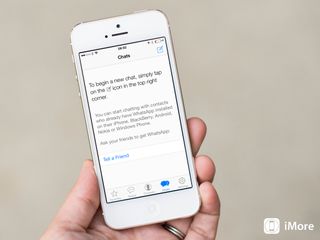 Facebook has just announced that they're buying the popular instant messaging (IM) app WhatsApp for an incredibly cool 19 billion-with-a-b dollars. That's $4 billion in cash, $12 billion in shares, and $3 billion in restricted stock for the founders and employees that'll divest over the next 4 years. So why is Facebook spending all this money on WhatsApp and what are they getting for it?
Facebook, of course, has their own popular IM app, Facebook Messenger, just like they had their own photos platform before they bought Instagram. Like Instagram, WhatsApp will remain its own app, and be run independently from Facebook. That will either maintain options or fragment resources, depending on how you look at it.
There's also a huge overlap between social networks and instant messenger apps in general. Arguably, social networks rose from older instant messenger apps, then went full circle and became them, at least in part. IM is huge business, hot business, and growing business. Many companies never see their replacement — or obsolesce — coming. Facebook seems intent on not making that mistake and clearly have the bank account to back it up.
The problem with trying to buy your potential replacements in the market is that it's infinitely expensive. There's always the next maybe-big-thing coming. Will WhatsApp end up really being worth $16 billion to Facebook, especially in a volatile market that includes other major players like Line, WeChat, BBM, and many more?
Time will tell, but read the full press release below and tell me what you think...
Update 1: WhatsApp blog post is now live.
Update 2: Mark Zuckerberg has posted about the deal now as well.
Facebook to Acquire WhatsApp
Acquisition accelerates Facebook's ability to bring connectivity and utility to the world Leading mobile messaging company will continue to operate independently and retain its brand WhatsApp co-founder and CEO Jan Koum to join Facebook Board of Directors
MENLO PARK, CALIF. – February 19, 2014 – Facebook today announced that it has reached a definitive agreement to acquire WhatsApp, a rapidly growing cross-platform mobile messaging company, for a total of approximately $16 billion, including $4 billion in cash and approximately $12 billion worth of Facebook shares. The agreement also provides for an additional $3 billion in restricted stock units to be granted to WhatsApp's founders and employees that will vest over four years subsequent to closing.
WhatsApp has built a leading and rapidly growing real-time mobile messaging service, with: Over 450 million people using the service each month; 70% of those people active on a given day; Messaging volume approaching the entire global telecom SMS volume; and Continued strong growth, currently adding more than 1 million new registered users per day.
The acquisition supports Facebook and WhatsApp's shared mission to bring more connectivity and utility to the world by delivering core internet services efficiently and affordably. The combination will help accelerate growth and user engagement across both companies.
"WhatsApp is on a path to connect 1 billion people. The services that reach that milestone are all incredibly valuable," said Mark Zuckerberg, Facebook founder and CEO. "I've known Jan for a long time and I'm excited to partner with him and his team to make the world more open and connected."
Jan Koum, WhatsApp co-founder and CEO, said, "WhatsApp's extremely high user engagement and rapid growth are driven by the simple, powerful and instantaneous messaging capabilities we provide. We're excited and honored to partner with Mark and Facebook as we continue to bring our product to more people around the world."
Facebook fosters an environment where independent-minded entrepreneurs can build companies, set their own direction and focus on growth while also benefiting from Facebook's expertise, resources and scale. This approach is working well with Instagram, and WhatsApp will operate in this manner. WhatsApp's brand will be maintained; its headquarters will remain in Mountain View, CA; Jan Koum will join Facebook's Board of Directors; and WhatsApp's core messaging product and Facebook's existing Messenger app will continue to operate as standalone applications.
Upon closing of the deal, all outstanding shares of WhatsApp capital stock and options to purchase WhatsApp capital stock will be cancelled in exchange for $4 billion in cash and 183,865,778 shares of Facebook Class A common stock (worth $12 billion based on the average closing price of the six trading days preceding February 18, 2014 of $65.2650 per share). In addition, upon closing, Facebook will grant 45,966,444 restricted stock units to WhatsApp employees (worth $3 billion based on the average closing price of the six trading days preceding February 18, 2014 of $65.2650 per share). As of February 17, 2014, Facebook had 2,551,654,996 Class A and B shares outstanding plus approximately 139 million dilutive securities primarily consisting of unvested RSUs. The Class A common stock and RSUs issued to WhatsApp shareholders and employees upon closing will represent 7.9% of Facebook shares based on current shares and RSUs outstanding.
In the event of termination of the Merger Agreement under certain circumstances principally related to a failure to obtain required regulatory approvals, the Merger Agreement provides for Facebook to pay WhatsApp a fee of $1 billion in cash and to issue to WhatsApp a number of shares of Facebook's Class A common stock equal to $1 billion based on the average closing price of the ten trading days preceding such termination date.
Facebook was advised by Allen & Company LLC and Weil, Gotshal & Manges LLP; and WhatsApp was advised by Morgan Stanley and Fenwick & West, LLP.
Webcast and Conference Call Information
Facebook will host a 30-minute conference call to discuss the acquisition at 3:00 pm PT / 6:00pm ET today. The dial-in number for the call is (866) 751-3284 (toll free) and (973) 935-8772 (international), conference ID: 2907041. The live webcast of the call can be accessed at the Facebook Investor Relations website at investor.fb.com. Facebook uses the website http://investor.fb.com as a means of disclosing material non-public information and for complying with its disclosure obligations under Regulation FD.
Following the call, a replay will be available at the same website. A telephonic replay will be available for one week following the conference call at (855) 859-2056 or (404) 537-3406, conference ID 2907041.
Get the best of iMore in in your inbox, every day!
Rene Ritchie is one of the most respected Apple analysts in the business, reaching a combined audience of over 40 million readers a month. His YouTube channel, Vector, has over 90 thousand subscribers and 14 million views and his podcasts, including Debug, have been downloaded over 20 million times. He also regularly co-hosts MacBreak Weekly for the TWiT network and co-hosted CES Live! and Talk Mobile. Based in Montreal, Rene is a former director of product marketing, web developer, and graphic designer. He's authored several books and appeared on numerous television and radio segments to discuss Apple and the technology industry. When not working, he likes to cook, grapple, and spend time with his friends and family.
This is a joke, right? Posted via the Android iMore App!

The headline says 19 billion but the article says 16. Sent from the iMore App

My mistake, I missed something. 19 it is! Sent from the iMore App

16, 19 -- what's the difference? :)
Golly, I cannot believe there's any merit to this acquisition. Should Apple buy BBM for $20 bill?

I've been saying that. In addition, they should also swoop in a grab TW cable.

The difference... just a measly $3 billion.... :| The same value of the entire market capitalization of all of BlackBerry.

What's 3 billion, right? I found that in my tuxedo jacket! Sent from the iMore App

put that back in your pocket. I got it this time. You get the next $3 billion. Let me get it from the bathroom. I was using them for toilet paper.

BBM4ALL!!!! Sent from the iMore App

Looking at what Nokia or Motorola went for, and considering BB could not even get a bidder to offer $5 bn... and all these companies had real customers paying real money for real products and real assets... I can't wrap my head around that.

Buying it to get back all the FB users who bailed.

wtf ! Koum no, no we don' t sell WhatsApp... liar!

That's ridiculous! Sent from the iMore App

Who cares? Viber, BBM are still here.. For Iusers iMessages.. But it's sad, one more great app will be ruined, and full with ads after some time.. :-)

They just wanted user data. Sent from the iMore App

New Social WebSite where you can Promote your Web or any type of Business.
Sell and Buy all type of products . Find new Providers and Suppliers.
In all Europe, America, World. Our Web Site is Global. (120+ countries)
For more info watch this 3 min Video.
http://www.youtube.com/watch?v=cacYxSZ4cDg

I think it's a smart move for Facebook. The younger audience is what Facebook wants. It was the same with Instagram and now with Whatsapp's popularity. Personally the problem I have using these IMs is that it's another app to launch. I would rather if someone was big enough to approach Apple and have their messages tie into iMessage. I don't want to launch another app. I just want to go into the native messenger and send messages. Facebook, BBM, Whatsapp all from messages. Sent from the iMore App

Sounds like you need to get a BB10 device! ;) For real, the "Hub" does just what you're talking about.

In europe whatsapp is very popular, not only by young people. Nearly everybody I know and has a smartphone is using whatsapp. I have a lifetime account, I'm curious what facebook will do with it.

Viber is more popular.I have a lifetime too in WatsApp :-)

5 years ago, they used something else. 5 years from now, it'll be something else. Nothing I'd want to spend billions on securing.

Never used whateverapp. And Facebook just gets more worthless as we go.

There should be a law that anytime a buyout happens, 10% goes to a charity. That's just pointless FU money.

I love what'sapp, such a good app. Dropping a pin in Whatsapp is so much better than in iMessage. I wish someone would dominate this market so we can all use one app, like sms.

The valuations remind me of this old onion article: http://www.theonion.com/articles/aol-acquires-timewarner-in-largestever-... Sent from the iMore App

No kidding!! I see a lot of people going back to BBM. After all that app is still very worth it and secure, and keeps getting better (yeah I'm talking about 2.0). I guess I'll have to make my family migrate from Whatsapp to BBM (again) over time lol.

I normally wouldn't say a thing about Berry, But I remember another company that everyone threw out the window with the bath water. Everyone said they were dead because they marched to their own drummer...

I guess they are never dead until they are, this world is hard to predict in some aspects, unlike what some people think. Anyway, I'd like to see people giving BBM a serious second chance. Maybe now is the time. Sent from the iMore App

WTH!!! Sent from the iMore App

A smart Guy always think in Smart Way ""never Ever Compete to Competitors, Just purchase the competitors"" as what bill gates Say and the Facebook is doing the same Business, $19 billion is no much worth of Facebook, as It is believe that this is one month income of FB.
Another thing that FB trying to overcome from GOOGLE the major Search Engine, lets say the Digital Marketing such as Boost to SEO is getting Some new things with more advance one.
Ref - technocrab

Another one bites the dust. Does anyone remember when success meant becoming self-reliant, being your own boss, all that? Now it's as if these kids just start companies so that they can get bought up and still have to work for someone else. #oldandoutoftouch

Every happier using HushHushApp, independent and secure. My info is not for sale!

I figured it out. Whatsapp must come with a copy of Flappy Bird.

Remember when AOL bought ICQ for 400 million?..This is going to be 40x funnier..

Facebook the biggest joke as far as a company and investment goes.
They are nothing more then VAPOR ware and a Ponzi Scheme all rolled into one. Zuckerberg has shown mankind exactly what PT said several years ago. Investors look for the next big thing to get rich quick off of. As with many of the NOW TECH whimsy stocks/investments like twitter, there is no commodity, or product, just 1s and 0s. Worthless. Just trivial crap gobbled up with the mindless to think they're on the hot button to wealth. There are "BlueChip," and then there is "BULLSHIT."

I would be watching BB.
I get the feeling they are the Apple of the now time. Remember when Apple was the dying company that couldn't seem to get anything right, or so we were told. Slow growth is better than no growth, and RD always tends to trend on the successful in the future and not the now. Their faithful have and are faithful. Facebook is losing people like rats on a sinking ship.
Their bread and butter market, the teens are leaving in droves. And grandma just doesn't have anyone to poke anymore.

actually this has been posible for a while now. peekepeek.com integrated facebook and whatsapp a while ago

Yeah well, peekepeek will allow you to chat on a pc but this acquisition will probably mean much more than this

Last year it bought Snapchat , now WhatsApp , What Facebook is trying to do… Is Facebook the future of Cloud based messaging? http://www.cbronline.com/news/social/facebook-snaps-up-whatsapp-for-whop...

Great news validating real time / OTT communication market and it being disrupted with new technology. No need to be a Cisco / Microsoft / AT&T to build powerful social / business communication technology anymore. There is a number of emerging platforms such as QuickBlox http://quickblox.com/, Twilio, TokBox etc enabling you to build functionality such as WhatsApp / Viber / Skype / FaceTime literally in days. We shall expect to see more success stories from the likes of WhatsApp.
Thank you for signing up to iMore. You will receive a verification email shortly.
There was a problem. Please refresh the page and try again.