Facebook for iOS updated with official support for iOS 7, doesn't really look any different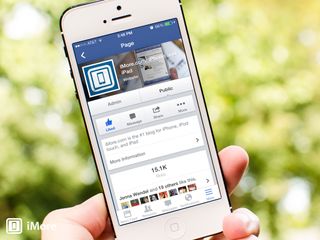 The Facebook for iOS app has just been updated with official support for iOS 7 and brings with it a few sparse interface and design changes. Mainly a new menu bar with a new way of accessing the navigation menu and a few other tweaks. Other additions include a few new languages.
While some design elements have been overhauled, actual interface changes are few and far between. Aside from a new menu bar and navigation panel, many users won't notice too much of a change to their main timeline and other sections of the app. The bigger news is probably the addition of a few new languages including Czech, Finnish, Polish, Swedish and traditional Chinese. A new gesture has also been added for iPhone only that allows you to tap the bottom of your screen to quickly access messages and notifications.
Other than that, there's not too much new. If you notice any other changes, let us know in the comments!
Get more iMore in your inbox!
Our news, reviews, opinions, and easy to follow guides can turn any iPhone owner into an Apple aficionado
iMore senior editor from 2011 to 2015.
Honestly, I'm so disappointed with Facebook.. the ONLY feature I wanted in an iOS7 Facebook update is to support the new background update/refresh feature, and of course they didn't touch anything like that, they just have to play around with their own interface giving us no new benefits.. real bummer..

I completely agree. When they announced the background refresh feature at WWDC, I immediately thought of Facebook and how nice it would be to see a notification, open the app, and not have to wait 15 seconds (1st world problem) for the notification to catch up, within the app. I sincerely hope this feature is in the next update, and that it comes soon.

With iOS 7 you can use Siri to post an update to your wall without logging in to facebook!

Yeah but Siri to me still seems kinda buggy yes it does a little more but that damn voice annoys the crap out of me so I changed it to the mail voice but still to me does not compete with Google Now!

I'm not sure how this looks the same, because it does. They flipped the navigation, removed the slide right and notifications are now at the bottom. Its going to take a bit to get used to the new layout and how to access information.

I think it looks much better than the old, much cleaner. Sent from the iMore App

I find it's a bit more cluttered. Not a fan of what they did at the bottom. I much liked to switch between pages via the left menu that was previously there. Now, i think it's just taking up real estate. Otherwise, i do like the re-design.

Great they made the actual screen/view that matters smaller by adding a bottom bar!!! Wtf Facebook?

my facebook has always had a bottom bar. and no one else had that... it was weird.

My facebook always had a bottom bar too, on an iphone 5, since last 3 months.

They had 2-3 months since the betas of ios 7 and this is all they can come up? I'm disappointed, out of all the apps updating to ios 7 this was the app I was mostly looking forward to.

Who's the genius at Facebook that approved the bottom bar navigation? The iPhone already suffers from a cluttered view due to Facebook's larger than average header, now that they added the bottom bar, there's even less viewable content.

This is weird. So mine updated, but I don't have the bottom bar. Instead, my Friend Requests, Messages and Notifications still appear at the top of the page in the blue banner. Menu button on left, chat on right. iOS7 version for sure, updated keyboard and blue banner goes under the top banner on the iphone.

Screenshot? I had the new interface with a bottom bar ages ago, in iOS 6 style!

I don't have the bottom bar either. It still has everything on the top.

I have the same issue and now with 6.6 update i got the new iOS 7 style until i close the app. wft facebook?

Its very weird. My wife Ipod 5th Gen had the bottom bar, while my Iphone 5 still have everything on top. Both already on IOS7 and updated to the latest version

i thought it would have the background updating like the other apps... the worst part about the new update is it doesnt show via ios when you post a status, now all you see is via mobile... biggest disappointment

Hi I recently upgraded to ios7 now the facebook app doesn't work on it, I continually get a blue screen with the loading icon, iv deleted it and reinstalled it but t no avail... Any help appreciated... Not overly computer savy...

That's weird, I just posted an identical post then read yours! Did you manage to get Facebook working since?

Can anyone help?? I logged out of my Facebook app the other day and have not been able to log back in since! There is just a blue screen with the little turning wheel. It won't do anything no matter how long I leave it. I've tried deleting and reinstalling the app several times but to no avail. I have also tried switching my phone on and off. Any help would be much appreciated!

Having the same issue. Did you ever work it out? The uninstall/reinstall dance does nothing. Tried erasing and downloading and syncing from laptop instead of downloading from app store. Nothing works. Probably going to try and do factory reset on phone if it doesn't clear up...