Facebook Messenger: Everything you need to know!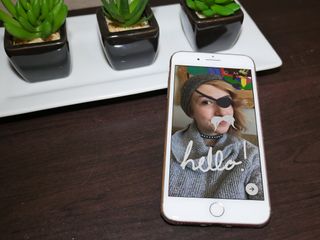 If you're someone who uses the Facebook mobile app constantly on your iPhone, then the natural peanut butter to that jelly would be downloading Messenger!
Messenger allows users to connect, chat, and keep up to date in more ways than just sending simple text messages and emojis to one another: there are options to have group chats, the ability to make 'phone' calls, chances to play video games through Messenger, and so, so much more.
Facebook Messenger - Free - Download Now (opens in new tab)
Here's absolutely everything you need to know about Facebook Messenger!
What's new with Facebook Messenger?
Check back here for the latest updates in Facebook Messenger news.
August 8, 2018 - You can now play video chat AR games with friends in Facebook Messenger
It seems that Facebook is taking yet another page out of Snapchat's ... er ... book. Today, the company announced in a newsroom post that users can now challenge their friends, family, and whomever else they video chat to fun little AR games, jazzing up the conversation with a little friendly competition.
According to FB's post, users will only be able to access two AR games at the moment, but more will be added in the future:
To start a game, all you have to do is find the person or people you'd like to compete with and tap the little video icon on the upper righthand corner of the screen. After that, tap the star button and select the AR game of your choice. Your worthy opponent will then receive a notification letting them know you'd like to play (and, presumably, completely decimate them). FB also notes that you'll need the latest version of Messenger to do this, so if you're planning on trying the feature out for yourself, make sure to update first!
March 21, 2018 - Facebook Messenger's new features make group chats easier than ever
Struggling to manage large group chats now that you can have up to 250 people participating all at once? Facebook announced today in a newsroom post that it's introducing some new, widely-requested features to Messenger to improve your group chatting experience.
Now when you start a group chat, you can have admin privileges — much like you could for original Groups pages before FB put the kibosh on them. If you're an admin, you have the power to approve new members before they join, remove members, and promote members to admin status (or, if you feel the need, demote them). That being said, if you don't want to mess around with admin stuff, you don't have to. According to the post, admin privileges work in the background, so if you don't feel that your chat needs to be controlled so intensely, you can opt out in your group chat's settings. Messenger doesn't force admin privileges upon you either — the admin approval for new members preference is off by default.
In addition to new management options, Facebook Messenger will now also allow you to create a custom joinable link to send to friends you'd like to invite to a chat. If admin approval settings are turned off, once an individual clicks a link they'll be added to the group automatically. However, if approvals are turned on, the admin will still need to approve the request.
All these new features in addition to the features FB added last year like reactions, @mentions, real-time voice and video calling, and group payments have essentially made Messenger a social force in its own right, putting it on par with other popular chat services like Skype.
December 13, 2017 - Facebook brings augmented reality to Messenger
It seems like augmented reality is everywhere nowadays, and Facebook has taken notice.
This week, the social media juggernaut announced that AR will soon be coming to its Messenger app through a feature called World Effects.
The new AR features will sport everything from 3D icons to pop-up phrases like "bae" (if you're not sick of that word already, that is), "miss you", and more — and it's safe to say that Facebook will be updating and adding more and more AR features as the weeks move forward, just like any other social media app with filters.
In order to access and add a World Effect, all you need to do is open the Messenger Camera from your inbox or directly from a conversation you were having. Then you can scroll, tap, and adjust your effect to overlay it on your image or video.
What exactly is Facebook Messenger?
Facebook Messenger is essentially an app that allows Facebook users specifically to chat, connect, and interact via group and private messages with one another.
Facebook Messenger (opens in new tab):
How does it work?
Using your Facebook friend's list as an address book, Facebook Messenger lets you send and receive messages, phone calls, photos, documents, GIFs, and so much more from whoever you're speaking to – you can even play games with them!
When you're having a standard conversation with someone, you can choose to send them video clips, your upcoming plans, GIFs, your location, photos, voice memos, and even quick responses like a thumbs-up if you don't have time to write something out.
Users can even access different Extensions to other apps and programs like Spotify, KAYAK the Food Network, Trivia Blast, theScore, Swelly, and the NBA to directly send things like recipes, stats, articles from the Wall Street Journal, and more.
You can either choose to have your conversation with a group of friends, over voice-chat with a couple of buddies, or even through a group video chat with family as you're on vacation.
You can even use Facebook Messenger as a Snapchat or Instagram Stories sort-of medium with one of Facebook Messenger's latest features called Messenger Day, where users can add different face filters, write and edit photos creatively, etc.
Facebook Messenger (opens in new tab):
What's up with the Homepage?
The Homepage on Facebook Messenger acts almost like a hub for everything in the app:
It shows updated Messenger Day stories at the top of the screen (similar to Instagram Stories), it shows your most recent conversations that are active, it shows who has a birthday that day and gives you the option to message them, it shows you additional Facebook friends who are active, and it shows you older conversations that you've had in the past.
From the Homepage you can also swipe down to access Messenger Day, manage and create groups and rooms, search for specific messages, compose a new message, and more.
How do I make calls?
Along the bottom of Facebook Messenger there are a bunch of icons including Home, Calls, People, and Games.
If you tap on calls, you'll be able to make voice calls (almost like a phone call) to a person or a group of people of your choice.
You can also make video calls with individual people or with a group of people effortlessly!
Are there different ways to connect with people via Messenger?
Besides adding a person as a friend and being able to direct message them, you can...
Choose to message someone you're not friends with and risk the message forever floating in Message Request Limbo.
Did you know that everyone has a Facebook Messenger code? (Think Snap code or old-fashioned Blackberry Messenger codes). You can access it through the People tab at the bottom of your screen and use it to effortlessly scan and add different people.
You can quite literally invite people to join Facebook Messenger if you can't get a hold of them: simply tap Invite People under the People tab and select who you'd like to invite to Messenger!
What does 'Creating A Room' mean?
Rooms are essentially like public groups where people who have liked a certain topic (ie, Cats in super cool hats) can get together and chat about said certain topic.
Facebook Messenger will sometimes suggest joining different rooms or creating different rooms based on events you want to go to or your other activity on Facebook.
I can play Games on Facebook Messenger?
Using Facebook Messenger, you can play games and compete against friends all from the comfort of Messenger!
There are tons of different games and game-types to play around with, from things like Words With Friends, to Solitaire, Bingo, 8 Ball Pool, and everything in between.
What the heck is Messenger Day?
Is it free?
Yup! 100%!
Where can I download the app?
You can download the Facebook Messenger right here (opens in new tab)![
Do you have any questions?
Is there anything we missed that you have questions about regarding Facebook Messenger? Let us know what you think in the comments below!
Updated May 2018: This article has been updated with the most current Facebook Messenger information.
Cella writes for iMore on social and photography. She's a true crime enthusiast, bestselling horror author, lipstick collector, buzzkill, and Sicilian. Follow her on Twitter and Instagram: @hellorousseau
How can I set Messenger available for someone from my contacts, or how can I turon it off for someone from Messenger? Or can this be done only from the web? Thank you! K.

Interesting and educational article. Is it possible to raise a question ?
In case you erroneously deleted a messenger conversation with a friend and thus cannot restore it, is there anyway your friend can invite you to see the old messages or even get them shared again on your device ?

What do you do if someone has phished your Messenger account?

On IOS , and you have automatic update turned on for Messenger, does it show you active when it is updating and inactive when the update finishes? My friends account shows her as active sometimes when she maintains she is not using her phone, and this could be the issue?

Sorry, I mean background app refresh, not automatic update.

Hi, in the fb messenger app, what does 1m mean? Even if i tap on the app without switching on the active button, will this "1m" thing show up against my name?

What happens if I type a message on ios messenger, but forget to press send?
Does the message get lost or saved and can it be retrieved?

I'm so happy to find a site that appears to be actually kept up to date! Things change on FB and Messenger, and it's disappointing to see so much outdated information in searching for answers. My question is: What could be happening that makes it appear that a friend has consistently signed out of Messenger only 1 minute before I signed on? I've searched to find how to automatically sign out when someone else signs on (which I think must be what's happening), but I can't find anything related to that question. The law of averages tells me that there's no way this person just happens to have closed out a moment before I come in. I don't care that it's happening - other than the fact that I'd like to be able to return the "favor".

Hi Cella ! First, excuse for my english, I'm french ;) Second, my question is: how to send a private message to all friends on a Facebook list ? Thank you for your help.

Is there a way to enable the Messenger pup-up on my pc when I am not signed into fb? Or when I am in another window/tab? I would like to have the pop-up appear onscreen no matter where I am on my pc. Thanks for any help you can give me.

A good article. I know of a hacker I met on dark web, should you need his services, talk to darkcracker@protonmail.com

This is very good article and comments are very helpful but why nobody mentioned the missing in app option for turning on or off auto updates?

If you need a hacker, I met one on dark web and he did a great job for me. Reach him on darkcracker20@gmail.com

Years ago when I had my Iphone 5s on the main screen my Messenger would show a number when I had a message, now since then on newer phones including my new Iphone X it does not show a number saying I have a message in Messenger, is there anyway to make this show a number so I don't have to open Messenger all the time, I miss this feature. Thanks

When I click on the search bar there is a "people" list that appears with icons of various people that i dont necessarily interact with. I have been trying to remove this by cleaning my cache, search history,uninstalling the app but it's still there. How do i remove it? Help please!

I have my bf messenger linked to mine, so I get his messages. Does he have access to mine too? Or does he have to link mine to his first?

Here it goes...
When I hover over my niece's profile picture to the right of my FB page (Where a list of my FB friends who recently used messenger appear), it says "Recently became friends with "so and so" and 3 other people. When I click on "3 other people", the names of those people appear.
When I hover over my boyfriend's picture, it says "Recently became friends with "so and so" and 3 other people too. Hovering over the "3 other people", it says Tim Smith, Judy Smith and 1 other person. When I click on it, only Tim Smith and Judy Smith's names appear.
I thought that it was not possible to hide one friend from your list to your other friends....
What the heck?
Could the person that doesn't show up under my BF's list be a person who for some reason has me blocked? The only person I have blocked on my FB is my ex husband

I want to know how I send all my text messages that I received from one person and send them all at one time to another person on messenger.

When I click on the contacts button on messenger it has usually three pictures of some friends on there and one will say for example " added from Facebook" or " added from phone contacts" what does it mean by " you contacted them" ? How long back does that record track if one persons picture is showing in the first three pictures underneath the word updates?

How do I find out who someone talks to the most on messenger

Where does it show up in messenger who you talk to the most
Thank you for signing up to iMore. You will receive a verification email shortly.
There was a problem. Please refresh the page and try again.