Facebook Messenger Kids: Everything you need to know!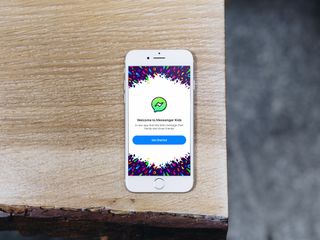 In this increasingly digital age, more and more children are utilizing tablets and smartphones. That's why Facebook has designed a messenger app that allows them to participate in all the fun of a chat client without actually subjecting them to the unpredictable, often unsafe nature of the internet at large. If you've been wondering about the ins and outs of Messenger Kids, we've got you covered.
What is Messenger Kids?
On December 4, 2017, social media giant Facebook announced in a press release that it was rolling out a preview for its newest standalone app, Messenger Kids. Messenger Kids is a version of the Facebook Messenger app specifically crafted to give kiddos under the age of 13 a secure, parent-controlled space in which to communicate with their family members and friends. \
How does it work?
Once a child downloads the app to their device, parents can set up a limited profile for the child and then link it to their own Facebook account. After that, kids can start one-on-one or group video chats with parent-approved contacts (grandma, their best friend, etc). When they open the app, it shows them the contacts they're allowed to talk to and which of them are online.
Parental controls are located in the main Facebook app in a specifically designated Messenger Kids controls panel. There parents can view each Messenger Kids account they've set up and choose who their children are allowed to contact and receive messages from. They can even sort their kids' contacts into groups.
Is it safe? Will there be ads targeted at my children?
According to Facebook's press release, there are no ads in Messenger Kids and your child's information isn't used for ads. It was developed with guidance from the National PTA, kids themselves, and "over a dozen expert advisors in the areas of child development, online safety, and children's media and technology." In addition, it complies with the Children's Online Privacy and Protection Act (COPPA).
What devices can I use to access Messenger Kids?
You can download the app preview for free, though it's only available in the United States for iPhone, iPad, and and iPod Touch at the moment. The actual app will be released sometime in the coming months, and Facebook promises it will remain free of charge with no in-app purchases. Get it here:
Facebook Messenger Kids (Preview) - Free - Download now

(opens in new tab)
What can you do on Messenger Kids?
As stated above, kiddos can use Messenger Kids to video chat with their approved family members and friends. They can also send photos, videos and text-based messages to their contacts, who, depending on their age, will receive the messages via their regular Messenger app or Messenger Kids. Like in the regular Messenger app, kids can also decorate their photos or enhance their videos with "a library of kid-appropriate and specially chosen GIFs, frames, stickers, masks, and drawing tools."
Questions?
Still have some Messenger Kids questions you desperately need answered? Share your queries with us in the comments below and we'll do our best to help you out!
Get the best of iMore in in your inbox, every day!
Tory Foulk is a writer at Mobile Nations. She lives at the intersection of technology and sorcery and enjoys radio, bees, and houses in small towns. When she isn't working on articles, you'll likely find her listening to her favorite podcasts in a carefully curated blanket nest. You can follow her on Twitter at @tsfoulk.
Thank you for signing up to iMore. You will receive a verification email shortly.
There was a problem. Please refresh the page and try again.