FileMaker 13 makes it easier to deploy databases to the Web and iOS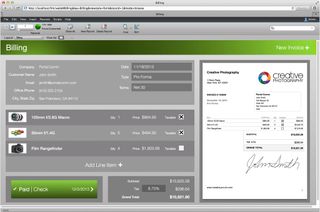 FileMaker on Tuesday announced FileMaker 13, the newest version of their database software for OS X, Windows, iOS and the Web. More than 50 new features have been added, including dramatically improved web deployment.
Describing FileMaker as a database tool really under-represents it: you can use it to track all sorts of data: inventory management, customer relationship management, invoice generation, report generation and much more.
Key features in the new release include WebDirect, which enables FileMaker administrators to deploy an HTML5-based FileMaker database without needing to know how to write web page code. iPad and iPhone layouts have also been dramatically improved, with support for slide controls, popovers and gesture-based scanning.
Barcode scanning is built in, custom themes and styles can be shared, and data fields can be dragged and dropped into design layouts. AES 256-bit encryption in FileMaker Pro 13 Advanced secures data. Many changes have also been made for FileMaker developers, and server administration is easier thanks to HTML5-based console tools.
FileMaker has positioned the new release as a platform - a line of products that work in tandem across multiple platforms. The product line consists of FileMaker Pro 13, FileMaker Pro 13 Advanced, which incorporates development and customization tools, FileMaker Go 13, a free app that provides iOS users with access to FileMaker databases, and FileMaker Server 13, which offers up database access to workgroups and mobile users.
FileMaker is offering the new software with a new licensing scheme, as well. While you can still buy the FileMaker Pro software outright for $329 ($179 to upgrade), FileMaker is also offering a monthly license model as well. FileMaker Pro costs $9 per month; FileMaker Pro Advanced costs $15 per month, and FileMaker Server is available for $29 per month under an annual license. Server concurrent connections cost $25 per 5-pack per month. FileMaker Go for iPad and iPhone remains free.
Get the best of iMore in in your inbox, every day!
FileMaker keeps getting better. I have FileMaker Advanced 10 but might be time up upgrade. Sent from the iMore App

Looks like some interesting new features but so far this looks to be a bit of a pigs ear of an upgrade unfortunately. A few points:- 1. With FileMaker Server Advanced 12 I can have up to 100 simultaneous IWP sessions, included with the product. FileMaker Server 13 promises 'FileMaker Server Advanced with FileMaker Server license(s) plus 25 concurrent connections.'. So 1/4 of the concurrent connections for my maintenance fee, or pay (a so-far unspecified amount) extra for more. Thanks FileMaker! 2. The awful layout object selection issues introduced in 12 remain and if anything seem even worse. Very infuriating. There still seems to be no way to select an object which is behind another object without selecting them both for instance. 3. No backward-compatibility with FileMaker 12 files, despite retaining the same file-type. FileMaker Server 12 cannot host FileMaker 13 files either. 4. With WebDirect there seems to be no way of testing functionality of a file without hosting on FileMaker Server, like there was with IWP. I could be wrong, but if you configure a 13 file for WebDirect it states 'This file must be hosted by FileMaker Server'. No local IP address is provided anymore. So it seems I cannot test how a FileMaker 13 file behaves with WebDirect in a browser without first installing FileMaker Server 13 and uploading the file to the server. This is, to put it mildly, really annoying.
Thank you for signing up to iMore. You will receive a verification email shortly.
There was a problem. Please refresh the page and try again.