Floorplans for iPad review: Design beautiful detailed floor plans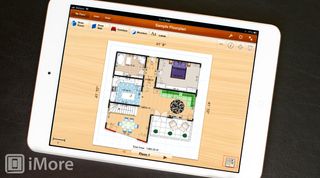 Floorplans is a powerful iPad app that lets you create floor plans on the go. It features an easy-to-use and intuitive interface that allows you draw walls, add furniture, and more.
Creating a floor plan is a breeze: simply draw the walls with your finger and add furniture with a tap of a button. You can also make detailed adjustments to item you add to your floor plan including dimensions, finishes, and flipping horizontally and vertically. This is awesome for people who are using Floorplans to help redecorate their home.
As you work on your floor plan, you can zoom in and see great detail. All the measurements will also be automatically calculated and added to the floor plan.
In addition to furniture and structural item, Floorplans lets you add labels, name rooms, and add flooring to individual rooms. Unfortunately, if you have an open-concept design, simply designate "entry ways" to split up rooms with different flooring. Though, if your entry ways aren't between walls, you're out of luck and can't separate the rooms. This is difficult for open-concept kitchens since you can't have an entry way between wall and counter.
In addition to creating new floor plans from scratch, you can also import and covert PDF and JPG files into Floorplans to be edited and manipulated with the app. It will also calibrate the dimensions of imported floor plans.
The good
Import existing files from PDF or JPG, including sketches
Calibrate dimensions of imported floor plans
Create new floor plans from scratch
Draw angled and curved walls
Add furniture and structural elements
Edit dimensions of items
Export as PDF, JPG, and Floorplans native format
AirPrint support
iCloud sync
Dropbox support
The bad
Not enough items (no bathroom counter with two sinks, for example)
Entry ways must be placed between walls.
Can't specify which items are on top when stacking items
The bottom line
I go through phases of obsession with HGTV, and that's what prompted me to download Floorplans. I've had a blast designing my dream home with it and can see how professional designers would find Floorplans to be a valuable asset.
Get the best of iMore in in your inbox, every day!
Former app and photography editor at iMore, Leanna has since moved on to other endeavors. Mother, wife, mathamagician, even though she no longer writes for iMore you can still follow her on Twitter @llofte.
This app looks like so much fun.

Only one review and one comment so, not the biggest sampling but I'm surprised to see the word "fun" associated with this moreso than "necessary" or "useful" even for non-professionals. For some time, I've wanted to visualize and try out different furniture arrangements without having to commit to them. This sounds really useful. Sadly, I think I've finished my redesign, already, and I don't expect to need this app, for some time. For $10, I just want to dive in but I also don't want it to just sit there. Bah. Bite the bullet. Maybe it'll be "fun." :-)

Dude. I think it's fun :) but I'm weird.

No doubt (the fun part, not the weird).

I will probably get this. My current PC based system is very out of date I am only need it for 1 more project so this might be better. As for the HGTV comment. Boy there are some great shows. But there are some train wrecks that provide some great comedy. Amitare DIY at its finest.

I think an app like this would be useful. We may be moving in the next year so to be able to input the floor plan and organize furniture placement in advance of the move would make moving easier. It would also offer and opportunity to see how different items would work in a room before you buy. Nice find!

This looks just...fascinating to me. I would love to rearrange my current floorplan, and or build the dream floorplan that will never materialize but that watching that damn House Hunters show always taunts me with.

Appears this app will need more updates to add the missing items listed in the review. Cool app and wish it did more than just homes. Great review!

Why would you pay for this software? You can try for example free version like on www.floorpad.com. it's quick and you don't pay anything. I did the floor plan of my apartment in that application, when I needed sell it :)
Thank you for signing up to iMore. You will receive a verification email shortly.
There was a problem. Please refresh the page and try again.