Papa Pear Saga now available for iOS, from the folks who brought you Candy Crush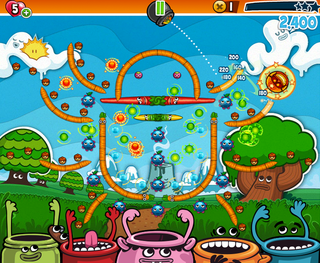 The latest title from King, the folks behind the smash-hit Candy Crush Saga, is now available to download for iPhone and iPad. Papa Pear Saga is another unbelievably colorful, and likely addictive puzzle game:
Tons of levels, fun gameplay and yes, in-app purchases sum up what we're to expect from this one, as if we'd expect anything less from King. If you're wondering what it's all about, there's an insanely long 'trailer' available to watch up top. Another winner or is it getting too much now?
Get the best of iMore in in your inbox, every day!
Looks like Plink, or whatever the game was called on The Price Is Right. Had to stop the video after a minute or so. Too much for me. Sent from the iMore App

No King, not another one. Don't you know that we people still need to go to work? Still got my hands full with Candy Crush (was recently updated with 30 new levels) and Clumsy Ninja, so I'll pass.
The bouncing ball gameplay is very similar to the game, Peggle. And yes, that's one looooong trailer. Sent from the iMore App

This game is not for me. Sent from the iMore App

I second this lol Sent from the iMore App

Because the world needs a crappy version of Peggle.

Here we go again. Gonna watch countless people on the bus playing this one, too. Sent from the iMore App
Thank you for signing up to iMore. You will receive a verification email shortly.
There was a problem. Please refresh the page and try again.