Free Wallpaper Friday: The "What You Get" Edition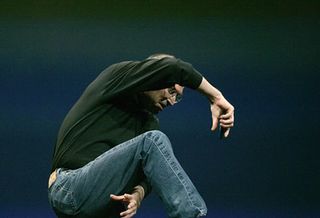 This is the first weekly wallpaper installment I've publishing without having first tested them on my own iPhone, because I seem to be ahem iPhoneless at the moment. So this week's gallery is a "What you get" release. I hope they look good. If you don't like them, keep your receipt and I will refund your... wait, what the hell am I saying? They're free!
(opens in new tab)
(opens in new tab)
(opens in new tab)
Get the best of iMore in in your inbox, every day!
Your source for all things Apple
Another site with iPhone wallpapers here : http://iphonepartyzone.com

Has anyone successfully downgraded and unlocked an iphone that shipped with 1.1.1 ?

That has to be the funniest pic of Steve I've ever seen. And it wasn't even Photochopped!

What's with the vapid looking chick with glasses? I really want to look at someone I don't even know every time I fire up my iphone? Hell, I don't even want to look at pics of people I *do* know. Weird man, weird.

stupid how do i get it bitch!!!

yeah i dont really get the chick with glasses

Months ago I nic named my iPhone Izzy, The pic with the girl at least gives me a face to go with the name....

About the chick with the glasses... I'd do her.

That chic as you call her is my spy. Someone has to keep an eye on you guys, and that wallpaper is the ultimate in spyware technology; the all seeing eye of Kent.

Please tell where did you get that jobs-goofy-posture.jpg photo. I really want it bigger size to put on my desktop screen.)
Thank you for signing up to iMore. You will receive a verification email shortly.
There was a problem. Please refresh the page and try again.