Next generation iPhone rumored to use new in-cell touch panel displays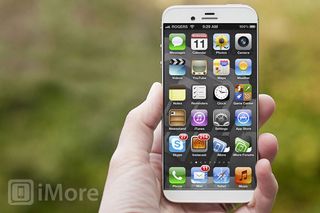 Apple's next generation iPhone is rumored to use a new display panel technology that could make the device not only thinner but lighter too. The panel technology which is called in-cell touch is currently being rolled out by Sharp and Toshiba. The rumors come from sources in Apple's current supply chain.
Current iPhone capacitive screens require a touchscreen to be fitted outside of the LCD, this means an additional layer of sensing glass which of course increases the thickness but also adds an extra step in the lamination process. Should Apple choose to use this new in-cell technology, it would offer better yield rates, reduced manufacturig costs as well as slimmer and lighter devices.
UK editor at iMore, mobile technology lover and air conditioning design engineer.
Why use that ugly mockup when discussing iphone 5 rumors?

Yawn.... another day another boring rumour.

That screen goes down way to low, you will never be-able to answer a call with just one hand.... Plus where is the I-mac hardware button?

It's a new feature. You shake the phone to answer. = )

UGLY! iPhone does not need a bigger screen it's fine just the way it is

Of course, anonymous sources close to the situation, say that Apple are currently testing brain implants to control the phone remotely. It allows remote control of the screen, all features and even acts like a bluetooth. It takes it's power from the electrical energy given off by your body.
The screen on the 'New iPhone' will remain 3 1/2 inches still, for those that are concerned, no to worry. The screen is only for those that are 'borrowing' the phone. For those with the mandatory implant, the screen will appear at will as a 'ghost image' in their vision in front of them, allowing them to see who is calling or play a game etc while they are doing other tasks. Quite like the heads up display in the cockpit of a fighter jet.
LOL

I've been waiting for brain implants for years. Bring it on!

Shut up and take my money!!

why does everyone use that ugly mockup!?

Bigger screens are spreading like wildfire in a market where people get bored-quickly. Just because Apple constantly boxes itself into a corner, does not mean that nobody wants anything different.

I wish we had some good iOs 6 rumors.

The in-cell technology that's being discussed here - does that also imply that with one less laminated-glass layer that the screen will appear nearer to the surface of the device? I'm pretty happy with the transition that was the 3G/3GS -> 4/4S, so if they're bringing it one step closer to eliminating the space between the surface of the glass and the actual pixels themselves, I'm a happy camper.
On an unrelated note, I couldn't help having a thought last night that I really would appreciate some haptic feedback in the next iPhone hardware/iOS software. I was trying to force-close an app in the switcher, but wasn't really paying a bunch of attention, and thought that it'd be nice to have a little haptic "bump" when the icons get wiggly. Even further, if they employed some of the new electrostatic films on the glass, it'd be AWESOME if they could actually "raise" the force-close badge. Not only would it make things infinitely more convenient for those trying to IRL multitask, but it'd be a huge step forward for the visually-impaired.

im sick of the concept that "thinner = better" it made sense when phones were really bulky in early 2000s but right now i honestly think that phones are thin enough! i already think the iphone 4/s is too thin to be used for typing comfortably. not to compare iphone with blackberry but for example the bold 9000 was an amazing phone.. it was just the right size for your hands to be able to type comfortably and hold it securely in any position!

Glad to see that I am not the only one who misses the feel of my BB Bold...I would never leave the iPhone now, but occasionally I miss the sensory touch of a clicking keypad.

If you need a bigger screen, get an iPad or Apple TV for goshsakes....

Ummm... what Apple TV screen?

I see the iMore forms app

How to turn a batch of rabid fans into smart allic douche wads..
Just MENTION a rumor about something.. Jebus.. Lighten up people.. That what we come here for. Info and rumors. If you want facts DON'T read the rumors.. Problem Solved.
Semper Fi

Bye the way, this phone will not come out until the 5th of october,2012

To be fair - if you're on a contract, then take an interest, but don't go crazy about it - you'll have to wait anyway... If you buy a new iPhone every year then you're either minted or you've got more money than sense!

I was suggested this web site by way of my cousin. I'm not sure whether or not this post is written via him as no one else realize such particular about my problem. You are amazing! Thanks!
Get the best of iMore in in your inbox, every day!
Thank you for signing up to iMore. You will receive a verification email shortly.
There was a problem. Please refresh the page and try again.