Gmail app updated with better gestures and a new actions bar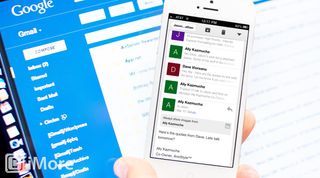 The Gmail app for iPhone and iPad has just received an update that adds quicker message handling functionality and a new action bar for moving, deleting, and archiving mail. Among these new features, there are also bug fixes and overall performance enhancements.
Instead of having to tap out and back into messages, the new gestures in the Gmail update allow you to swipe side to side in order to flip between messages in your inbox. Tapping on a message now also enables edit mode for quicker handling when clearing out messages. Just select the messages you'd like and the new action bar will then let you archive, delete, or move them where you'd like.
The update is available now in the App Store. Hit the link below to grab the app if you don't already have it installed.
Get the best of iMore in in your inbox, every day!
iMore senior editor from 2011 to 2015.
The only thing missing now is the ability to have emails from multiple accounts in one place.

This is what I want as well. I use the Gmail app for my business and school email accounts and I really find it inconvenient that I have to continually switch back and forth between the 2 to see the separate emails.

Better updating of the notification icons would be a start. I hit that all accounts drop down and it looks like no new mail on any account. But manually cycle through them and refresh and voila! New unread emails.

Well...not quite all. The other thing is for user-configurable font size so users with less-than-perfect vision don't have to use a magnifying glass to read their email. If Mail.app can do this...so can Gmail.

Because I have multiple email addresses (work, personal and projects) - only one of which is a Gmail account - I like to use the default email app on my iPhone. It can handle multiple accounts and I don't have multiple email apps on my phone. I don't think I would like jumping in and out of different apps to view different email accounts. Now if the Gmail app would also hook up to other mail servers other than Gmail... I might consider it.

I just hate that it has to connect every time you open it. That is the single most annoying part of the gmail app and why I switched to mailbox.

Good update since gmail is my main email account. The side to side gesture is one of the things I love about chrome and now is available in the gmail app. I'm sure the coming updates would bring new features, in the meantime instead of complaining here, send some feedback directly to Google, to help make it better and add those features you like.

This is needed update. I'm glad they added these features. The more updates they better for the users.

Love this app so far. Looking forward to future updates.

If they didn't create an option to increase the font then this update is useless to me and some other people.

Finally! I'm living by Mailbox right now, but I'll give the updated Gmail app a test drive. I'm thinking the Sparrow team may have had some influence here.

Thank you iMore now I will give the Gmail app another try. I have been using gmail for a while now but when using the app I just couldn't stick with it. I have downloaded and then deleted it on numerous occasions always going back the the standard Apple mail app due to it ease of use. The one thing I did like about the Gmail app was the ability to search for a certain email or addressee which most of the time the Apple app couldn't find even when searching on the server. I am going to give the new app a try.

This is better than "mailbox" in my opinion, since mailbox sort of disappointed me with that whole waiting list and turn out to be not as great as I thought, but this new gmail is wonderful

I'm somewhere around 30,000th person in line. If this app isn't mind blowing; I'm gonna be annoyed.

All together, this is perfect timing thanks to mailbox's recent success. Dropbox acquiring them proves that it could pick up. Exclusivity adds to the allure of mailbox. Just like when gmail used to be invite only.
Who remembers that...

i like the fact now you can swipe to go between messages, the older way was a pain

I tried the Gmail app, and I really liked it, but I REALLY need the unified inbox that the default mail app has, so if they add that, I plan on switching.

I loved GMAIL, but I hate having to select check boxes in order to delete and that is why I love Mailbox. This normally wouldn't bug me, but my Mail traffic is immense. The problem with GMAIL is that they are stuck with old fashioned mail system and I think Mailbox is breaking out of it. I would love to have my mailbox organize itself. You can designate emails to go to lists instead of all inbox. I know you could simply create multiple accounts, but I like organization. For work, I would like projects to go to their own list, emails from employees to go to a different list, but all unified in work email. I would love this feature to come to Mailbox. Though I bet I didn't explain my idea too well. :(
Thank you for signing up to iMore. You will receive a verification email shortly.
There was a problem. Please refresh the page and try again.