Gmail issues an update to their iOS app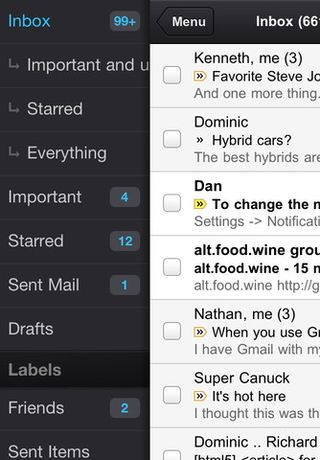 The official Gmail blog just posted a pretty lengthy entry explaining the changes to their newly updated Gmail app for iOS. While the update doesn't seem to be a huge one, it does bring some much wanted additions -
Nested Label Improvements
(iOS 5 only) A new custom sound for sound notifications
Mobile Signature and Vacation Responder, accessible via the gear settings icon at the top of the menu view
Numerous bug fixes and UI improvements
I personally have my Gmail account set up via the native mail app and that works fine for me. If you're a hardcore Gmail user that lives by labels and the "Gmail way" of handling mail, this is an update you'll most likely want to check out. The Gmail app for iOS is available for free in the App Store and the update is available now.
Get the best of iMore in in your inbox, every day!
iMore senior editor from 2011 to 2015.
Never had a Gmail account to be honest- hotmail since I was a kid, but I heard a lot of friends moaning about this app, so I guess they'll be pleased.

I like how they say they are working on our most requested features but isn't the most requested feature for it to be a native app instead of a thin wrapper around the gmail mobile site?

Perhaps this is a limitation set in place by Apple and not self imposed by Google? They might just be working within their allowed means...

They should really say so if this is the case.

As part of the App Store agreement, you are barred from discussing the process as it applies to any of your submissions.

Perhaps, but I think it less likely that Apple put any explicit limitations out here than that, given the App Store's history, Google has decided on their own they cannot allow Apple a say in the pace of development of a core Google product, gmail. The webapp shell is Google's way of keeping control over their own service, without the App Store process getting in the way.
This is why we can't have nice things (tm) -- because these two can't get along, and don't trust each other.
Thank you for signing up to iMore. You will receive a verification email shortly.
There was a problem. Please refresh the page and try again.