Google adds an undo bar to Gmail mobile web app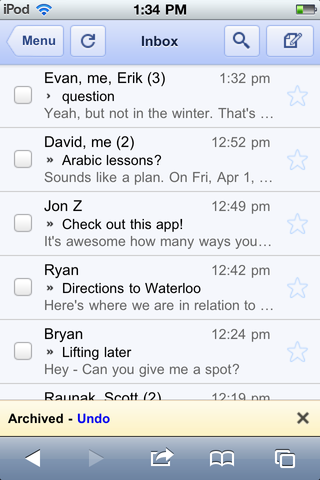 Google has announced a small improvement to its Gmail mobile web experience. Starting today you now have an undo bar that allows you to undo certain actions.
The four undo actions allowed are archive, delete, add or remove a label, or move a message / conversation. When you carry out one of the actions, Gmail will display a yellow bar at the bottom of your screen with an undo option. The bar stays in position even when you navigate to other screens within the Gmail web app.
Do any of our readers use Gmail in mobile Safari? Is this a handy improvement? Let us know in the comments!
Get the best of iMore in in your inbox, every day!
UK editor at iMore, mobile technology lover and air conditioning design engineer.
I use mobile Gmail on my iPhone because of the labels. This isn't a huge deal to me, but they keep adding handy features to their mobile version and I love it!

Native mail app all the way.

I have no clue why they keep bothering with these little additions. I they focus that energy on a native Gmail client for iPhone, it would be out by now. They released native Authenticator, Earth, Places, Shopper, Books, and Latitude. WHERE IS FREAKIN' GMAIL, GOOGLE???

Google might view a native gmail Pp as an Andoird advantage, but they slso dont trust Apple to allow it. Back in 2009, even apps that were safari shells around gmail were rejected for "duplicating existing functionality.". While Apple has relaxed a little bit since then, as far as I know, Apple has never formally rescinded this "duplicate functionality" criterion for rejecting submissions to the App Store. As long as that is the case, Google is unlikely to put forward an official native gmail app.

You're right, but on the other hand, even Google Voice got accepted after the drama episode Apple and Google had going on.
I think they will release it eventually, they're just taking their time, I hope.

I'm keeping my fingers crossed that you are right.

The UNDO wasn't there on my Gmail in Safari..

Nice addition! I agree with others that a native app would be awesome.
Thank you for signing up to iMore. You will receive a verification email shortly.
There was a problem. Please refresh the page and try again.