Google Makes Improvements to mobile web version of Gmail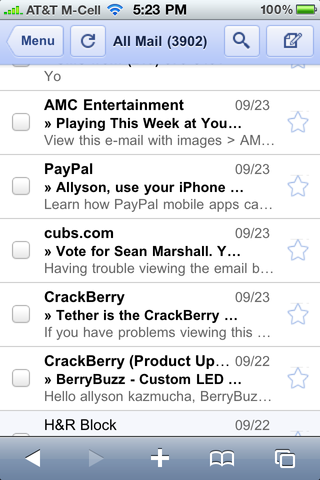 Google has posted an update to their blogger account notating some new changes to their mobile version of Gmail. From the looks of it, scrolling looks to be much improved as far as smoothness goes. Before the pages seemed to be a bit more choppy and the distance it would scroll wasn't always very accurate. That problem appears to be fixed.
They've also added a floating toolbar that will remain static even when you scroll. This should make it a lot easier to jump around your mailbox instead of having to scroll all the way back up a long thread in order to return to your inbox or another folder. Google is noting these updates are compatible with devices running iOS 4.0 and up.
They're also asking that if you have suggestions or comments, you should feel free to visit the Google Support Forums or tweet it and mention #gmailmobile. Do you guys use the web version of this app at all? I personally just have Gmail set up as exchange. Seems a lot less work to me. What do you guys think?
Get the best of iMore in in your inbox, every day!
iMore senior editor from 2011 to 2015.
Seems a lot faster now. But both the iPhone app and the Internet version still fail to allow you to be able to mark inbox as read. I'd like to select 800 emails and mark them all as read since i have my mail forwarded to mobile me. Which neither still allows me to do. It's smooth and fast though on the ip4. I'll give it that.

I would really like to make use of these scrolling panels in a web app, but there still isn't any well documented frameworks out there. Even SenchaTouch is poorly documented, and most of the controls don't seem to work with eachother (and the examples are done differently than the documented code).

I do agree that using Google through exchange is much easier. I do however like the search capability in the mobile app. The native email for iphone misses on a lot of searches especially when you continue searching on the server".

Deleting messages doesn't work in the stock mail app. It merely removes the inbox tag so it becomes unfiled instead of deleted.
You can't tag messages with multiple labels in the stock app since you can only 'move' the message which removes the inbox label and adds the one 'folder'
I have 4 (mostly small) issues with the web-app
1) No notifications. If I'm not on that page of Safari, I don't know about new emails.
2) Sometimes when I try to update it, it take forever and I have to reload the page to re-fresh my inbox
3) You can't pinch to zoom in most google mobile pages.
4) If Safari isn't already on your gmail page, launching the gmail webapp from your homescreen will open up another view in Safari instead of switching back to the original.

Deleting ornot deleting is an option in Settings, or you can move to the Deleted folder, if you setup as IMAP.

Another plus of using the web app rather than via the exchange interface is Google's conversation view, which doesn't require the other messages to be in the same folder/label.
Also, the Google Mobile app no supports push for email, so that can help.
Even so, I've switched back to using the Mail app most of the time.

Looks similar to the revamped century link mail on the mobile platform. Much better.

http://www.fizzl.com/vcforum/profile.php?mode=viewprofile&u=28983
Thank you for signing up to iMore. You will receive a verification email shortly.
There was a problem. Please refresh the page and try again.