Google refreshes its mobile web user interface to look more like its Gmail iPhone app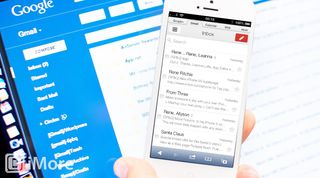 Google has announced that it has refreshed the user experience for its mobile web access to Gmail, Calendar, Google+, Web and more. The refresh has come about because of the positive feedback it has received since launching a revamped Gmail iOS app back in December of last year.
The refresh is certainly a very nice improvement when you are accessing the site from your iPhone's browser. The question is, does anyone actually access Gmail in this way? Surely it is much more convenient to either use the built in Mail app or use the Gmail app from the App Store.
Source: Google+
UK editor at iMore, mobile technology lover and air conditioning design engineer.
I use Google Apps and Office365/Exchange. I actually prefer the native iOS Mail App over the Google one. Microsoft just switched over their Office365 mobile web interface to the new Windows 8 style UI a few days ago, and that's something worth writing about. As I've put off upgrading to Windows 8, and don't use WindowsPhone 8, I had no idea just how well-designed for touch their UI is. Much nicer than Google's and a lot more intuitive than I was expecting. If Exchange would allow for multiple alerts for a calendar event, and handle contact birthdays/anniversaries as a separate calendar (like Google); I'd move everything over. Surprised not to have read much of anything about the new Exchange web interface -- Google's small modifications in no way come near the scope of change Microsoft has implemented. Actually has me wanting to keep a closer eye on their products in general -- 3rd generation Microsoft Surface tablets ought to be pretty hard to resist down the road ;-)

It is nice to see that they decided to change thier UI although I'm sure that they could innovate it a bit more if they put thier minds to it.

I've moved all my PIM data over to icloud. I just have my old gmail forwarding to my icloud address.
For the few google things I still use (G , Blogger, YouTube) there's decent apps available so no need for the mobile app.

The gmail app is beautiful. It's great to see the web version is improving towards that design.
It can be better though, with features like fast select all unread mails. Good job anyway.

Must say this does look great. I'm a sucker for design and this is great. Especially since I had a situation when my iPhone was out of battery and had to use an iPhone from my fried so its really easier to see familiar design when in safari.
Maybe they even plan to have the same design for Android as well. We shall see :))

In February 2011, I bought my first iPhone from Verizon. This was an amazing upgrade over the then Droid X whose battery was so bad it made you cry. The first thing I missed was how much it sucked to use a roundabout way to get instant push in your stock iPhone mail application, but I made it work. After switching to the Droid Razor Maxx, and hating how flawed the Android OS is with the constant opening of random applications, I switched back to my old iPhone 4 around late February 2013 and never regretted it. This time was different because I found a Gmail email client from Google which gave me instant push notifications. The UI was so beautiful and well functioning that it made me seriously question why it was of such higher quality than the Gmail client on Android. Honestly, it was like night and day. You would think Android OS would always have the superior version of Gmail, or at the very least be equal to the iOS Gmail version.

I have found this about several android apps on iOS. To me it just shows how little google is invested in the hardware and are more about software regardless of what device you use.

When I was on android, it seemed the iphone gmail app was always more attractive, faster, and had more features. Even now, the web version looks better than the version on android.

I'm a Gmail power user, but recently started using the Mailbox app and it revolutionized my approach to email. A lot more productive.

The mobile web interface is actually quite nice and simple to navigate, but I would prefer they have a clearly visible "Sign Out" option without hiding it inside another menu.

I tried the mobile app and don't care for it. The font is smaller, too light, and the page is smaller because of the border along the sides. I like the functionality of it but its too hard to read for me. Actually thinking of making iCloud my primary email.

I use alot of Google's products but I wonder why Chrome has gotten a bad wrap at least in the app store reviews. They have not been very good at all.

At least the mobile web will look better. How about some desktop love, eh?

Hopefully they'll enhance blogging using Blogger via Safari

I do like the design direction Google is headed. Some great apps but hard to trust them. Love and hate them at the same time.
Thank you for signing up to iMore. You will receive a verification email shortly.
There was a problem. Please refresh the page and try again.