Got a new iPad Air? Don't forget your free iLife and iWork apps from Apple!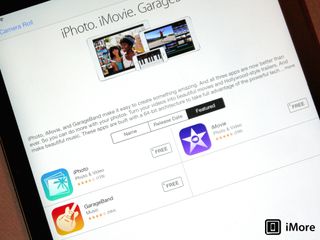 If you picked up a shiny new iPad Air today, be sure to drop by the App Store and download the free iLife and iWork applications from Apple! Recently made free with the purchase of a new iOS device, the collection of Apple applications is a great way to add productivity and creativity to your new iPad. And of course, with iCloud integration you get to share your content with respective applications on your Mac and iPhone.
So, grab them for yourselves using the handy links below, and if you're a first time downloader of any of them, let me know what you think!
i have the iWork suite on my iPhone 5S, and have iPhoto too.
They'll all be on my new iPad air as soon as I pick it up and begin the downloads. :-)

Bought a new iPad Air today but all the iWorks and iLife apps show a price when I tried to download them at the App Store.

Yep, dinosoar1, same here. I was that naiv to just download them from the App store, after having bought an iPad Air, and got the bills five minutes later...

You have to register the device on iTunes first I believe Sent from the iMore App

To be certain it's free you need to a) set up your iPad as new after pushing power button the first time b) connect it to iTunes c) download those apps from the store d) then use your backup to transfer old content. Foolproof method to get what is rightfully yours.

I couldn't download the apps for free. Raised a case with AppleCare, after an hour they told me as I had previously bought two of the free apps I wasn't entitled to the others free. I have left feedback with Apple but have heard nothing back. I rang the AppleStore and they just said I could return the iPAD. Only Apple eh?

Go to apple.com and register your device with your Apple ID. You may need to log out then back in on your iPad in the AppStore. Then look again. It should work. That's what I had to do when I got my 5S. Sent from the iMore App

Agree.. When I got my 5s it was not showing. After registering the device with my Apple ID the apps showed free (it may take a while for it process?). Downloaded to my new device first then able to download to all my older devices free too.

Thanks, Gsarfin, that worked!

I bought garage band and pages a while back- yesterday picked up an air and downloaded the others free without issue

Thank you everyone for your replies. AppleCare did get me to sign out and then back in but still no joy. But just now, I signed out, stayed signed out and then went to the AppStore and there was pop out which stated that all these apps were free and to get them to automatically download I had to sign in. They are now downloading!! I guess its just the way that you attempt to do it. Instructions!! Who needs them?

This worked out for me. Thanks for the post, I was trying to figure out how to get them on my new iPad Air without paying the $10... :)

I got mine for free awhile back

I got mine when I got my iPhone 4S the other day, not got them installed currently though, due to only having 8GB of storage. Roland

How do we download this free if we already have an existing iPad Mini?

I got it working. I have an older model iPad 1 i bought garage band and Keynote on and when i logged into app store via iPad Air it said i had to pay for all the new iWork apps etc. To fix this you do a couple things. On the New device which qualifies for free iWork apps 1. Go into settings and click "iTunes & App Store" tab. At the top will be your apple id.
2. Click on your apple id and then when menu pops up click "sign out"
3. Exit settings for the moment and return to home screen.
4. Open App Store App.
5. browse to the apple app you want for free and click install. It will prob have a price next to it. Don't worry about it as you have logged out of your apple account and cannot be charged. a new meanu will pop up asking for your apple ID. DO NOT PUT IT IN yet, click cancel.
6. return to home screen and reopen "settings."
7. Go back "iTunes & App store" tab and put your apple id back in.
8. Exit setting and return to app store on new device and you should see the apple apps are now free.
9 download and enjoy. All of these steps take place on the NEW DEVICE ONLY. There is no going to your mac or pc or whatever to get it to work. Just to clarify that.

Tried all this on my old Mini, and it still says 9.99. I've tried logging out of App store, then killing the App store from background, killing settings from background then rebooting, everything I can think of.

I cannot download on my new iPad Air too. What can I do?

Didn't work with iPad mini retina I just got. Did everything you said to do.

Ok I went back to http://www.imore.com/got-new-ipad-air-dont-forget-your-free-ilife-and-iw...
and clicked the links and it let me download for free. Thank you KaiserTroll.

Thanks for the reminder. I had forgotten and did not receive a notice from the App Store as I restored my device from a backup. I was able to download all iLife and iWork apps for free without any issues. Sent from the iMore App

One of the beautiful app necessary for your iPad is Colorbay. Its a beautiful app. Check it out
Thank you for signing up to iMore. You will receive a verification email shortly.
There was a problem. Please refresh the page and try again.