Hands on with the new iPhone 6 and iPhone 6 Plus video features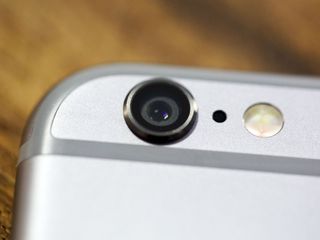 The new iPhone 6 and 6 Plus have a bevy of new videography features for those who enjoy shooting those fancy "moving pictures" on their mobile devices. I've been putting my iPhone 6 through its paces, and here's an overview of what you have to look forward to—in video form, naturally.
Shooting in "Selfie" mode
Though the iPhone's front-facing FaceTime HD camera hasn't received any boosts in megapixels, the sensor's now better at differentiating brightness and exposure; this offers you clearer, crisper 720p footage with fewer blown out lighting sources. (I dare you to avoid calling it "selfie video mode," though, as I've unfortunately taken to saying.)
High Frame Rates and Focus Pixels
Your iPhone 6 or 6 Plus camera will capture even more detail in your regular video-taking excursions than past iPhones, thanks to it shooting at 60 frames per second. Rather than trying to imitate the 24-frames-per-second look of film, Apple is instead embracing high-frame-rate video full-on. The result is clear, crisp video, no matter what you're taking. The company has also implemented its Focus Pixels technology to make sure your desired subject is always in focus, no matter how they or you move.
Let's do it in slow-motion
Apple first introduced slow-motion video mode with the iPhone 5s, and it's gotten a big boost in the 6 and 6 Plus: You can now shoot 720p video at up to 240 frames per second. At that speed, your video just looks extra-crisp; play it back at 30 frames per second, however, and you'll slow down that video to 1/8th of its original recording speed. You can do basic slow-downs in the Photos app, but Apple's iMovie app lets you have greater control over specific speeds, as seen here.
Because you're capturing more video frames in a single second, you'll need good lighting for your slow-motion videos. It's very difficult to shoot at 240FPS in a dark area, as you can see here. If you're having trouble, try downgrading to 120FPS mode to get more light to the iPhone's camera sensor. You can even still play 120FPS video back at 1/8 speed in iMovie, though it'll look choppier than full 240FPS.
Let's do the Timelapse again
Last (but certainly not least) is iOS 8's new Timelapse mode, which automatically creates point-and-shoot timelapse movies for you. The playback speed of that timelapse relative to real time depends on how long you shoot; Dan Provost has a great breakdown of this over on Studio Neat's website. The best timelapse videos involve keeping a stationary camera, though you can try moving along with your subjects as well. You can even manually slow down your timelapses via iMovie.
Get the best of iMore in in your inbox, every day!
Serenity was formerly the Managing Editor at iMore, and now works for Apple. She's been talking, writing about, and tinkering with Apple products since she was old enough to double-click. In her spare time, she sketches, sings, and in her secret superhero life, plays roller derby. Follow her on Twitter @settern.
Bylined! Boom! And these new video features are enough to make the iPhone not only a good camcorder replacements, but a leap forward from my old camcorder. Hell, my DSLR has pixels, but nowhere near these effects.

Awesome video Serenity, I was wondering, one question, she mentioned lessoning the shooting down and just shooting in 120fps for more light.. how do you do this?

While in Slo Mo mode just tap on the 240fps and it will switch over to 120fps. Sent from the iMore App

Yup, Nuttz is correct. This'll only show up on the iPhone 6 or 6 Plus; the 5s is stuck with automatic 120fps slo-mo shooting.

And, welcome, Serenity, Rene, I think you decided on the 6+ (is that right?). Which storage size did you go for?

Thanks! I'm not Rene, but if you like carrying apps and/or music and/or photography materials on your phone, bare-minimum the 64GB. I went with that, but came veeeeery close to getting the 128GB.

The camera blow me away when I switched it to 60fps. 128gb gold+ Sent from the iMore App

Great first article Serenity. Sent from the iMore App

Great addition to iMore, you can tell that she really knows what she is doing, great video, congrats!!

Thanks! Hopefully the first of many.

I LOVE the new Time Lapse feature!! I have some GREAT (& funny!) videos ! :D Sent from the iMore App

Great video. The camera has impressed me every time I have used it.

I'm set on commenting and showing support for Serenity and iMore so that there's no mistake that great writing attracts great readers :)

Thanks, dude! Much appreciated.

Historically, I have been always underwhelmed with the iPhone camera. I found other devices' cameras including HTC, Nokia, Sony, and even Samsung typically "better' than the iPhone. Additionally, with an Android device, you can adjust your camera resolution, not on the iPhone. Accordingly, I shy away from taking pics and almost never do video unless I have a 32, 64 or 128 GB storage.

I think iMore made a full article comparing the HTC one m8, Samsung Galaxy s5, and the iPhone 6, go check it out

YMMV, of course, but I definitely recommend checking out Ally's comparison article. Resolution-adjustment is really just a way to quickly save space at the cost of high-resolution images, unfortunately. There are a few third-party apps that let you save at lower resolution (Diptic is the one that comes to mind), but I generally recommend against it.

Apple does it again!!! Sent from the iMore App

Thanks for the review! :P

Good to have you on board, Serenity. Dope name. Sent from the iMore App

Grazi. My parents will be thrilled you think so. :)

Thanks for the tip about using iMovie to get better control for editing and adjusting slow mo. I have 3 x roller derby games all recorded in 240fps from last weekends competitions (we won!!) that I can't wait to edit now :)

I guess its hard to find things to write about on a site dedicated to just apple.... Sent from the iMore App

60FPS video recording is flawless even in the low light situations it does not make the video grainy which is seen on older versions , think the camera is the best feature of iphone 6 compared to the iphone 5s Rgds
kanuj
http://candytech.in
Thank you for signing up to iMore. You will receive a verification email shortly.
There was a problem. Please refresh the page and try again.