How to avoid using Facebook log in for your Spotify account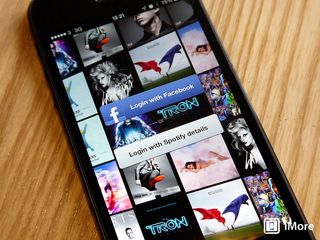 Spotify and Facebook are pretty close these days, with Facebook log in seemingly the preferred method of setting up an account. But, some of us don't have a Facebook account, or just plain don't want to use anything that makes us log into it in this way. Fear not though, because with Spotify there is another way. You just have to look beyond the iOS app to find it.
Opening up Spotify on your iPhone or iPad brings up the welcome screen we see up top. Login with Facebook, or login with your Spotify details. Absolutely zero options for signing up to a Spotify account here other than Facebook. To get around this, set down your iOS device, and head on over to the Spotify homepage in your desktop web browser.
Here, when you hit the log in option at the top, you'll be presented with a box that asks you for your Facebook details, or your Spotify details, and in this case, offers you a "Sign Up" option should you not have an account. Go ahead and click here.
As if by magic, it gives you the option to sign up to a Spotify account in the good, old-fashioned way; with your Email address. Enter your details, hit sign up, and you should be good to go. Once you've completed any necessary verifications, head back to your iOS device, enter your credentials, and you're away. Totally Facebook free!
Why go to your desktop? Can't you do it from a browser on an iOS device? When I go to spotify.com on an iPad and tap on the "Find out more" link, then tap on "Log In" on the next screen, it brings me to that same thing where it offers me the option to sign up. I didn't actually create an account at that point -- does it fail for some reason?

Because it makes it easier to differentiate for the purposes of this how to between the iOS app and the website :)

Only problem you now have is adding friends
You can't add them on any mobile version of the app, and I don't want to be forced to download the desktop version to make it work. why can;t I just search my contacts on my device to see if they are users, or email, or add them by user name? seems stupid to block this, spotify.

On the iOS and Desktop app type your Spotify username without the email ending... because in the rare case that the password you just registered in Spotify is the same you use for Facebook, loging in with the full email as username will have you loged in as a Facebook account.

Yeah well that idea works if you know your password. Try to get your password without being repeatedly sent to facebook. If you have two spotify (one for example free and one paid subscription) and 2 facebook accts-one public and one personal-best of luck with this "spotify loves facebook" mess. And good luck cancelling your paid spotify acct. Because even though they wont answer an email or provide a phone number-they will bill your cc forever! Im ending mine and warning all my friends to do the same-if ever I can get my password from the morass spotify getting into bed with facebook has caused. I get it-spotify wants to use my friends and facebook to grow their business... but bad service can also be share via that same facebook acct.-oops!

I managed to cancel my own paid Spotify account quite easily with minimum fuss in my account settings (I moved to Deezer because it was cheaper). If you're having password issues then that's bad news and you're right to highlight bad service. Facebook was the reason for this how-to in the first place. Because Facebook sucks and you should never be "required" to use Facebook for anything.

Look forward to being corrected and/or educated on these points
Thank you for signing up to iMore. You will receive a verification email shortly.
There was a problem. Please refresh the page and try again.