How fast is your iPhone 5s or iPhone 5c data? Show us your speed test results!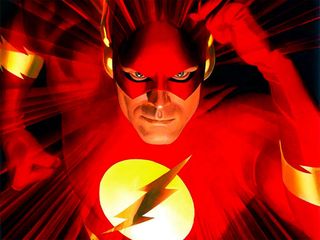 The iPhone 5s and iPhone 5c support the more LTE bands in more places than ever before. And if you're living in an area without LTE, they also support DC-HSPA+, HSPA+, and EVDO Rev A. That's a lot of alphabet soup acronyms that, if shaken out, spell FAST. But how fast is the new fast? What kind of speeds are we getting from our brand new iPhones? We're running our usual tests now, but we'd love to see what you're getting in your area. So here's what to do:
Download the free SpeedTest.net app from the App Store

(opens in new tab)

Make sure you're not on Wi-Fi but on LTE (or DC-HSPA+ or whatever is fastest in your area)
Run your speed test
Upload a screenshot of your results to our: iPhone 5s speed test thread or iPhone 5c speed test thread, and make sure to note carrier and location!
It helps us get a far wider - and frankly, smarter - ranger of results, and helps more people know what kind of results they can expect in their area. So thanks, and test away!!
Rene Ritchie is one of the most respected Apple analysts in the business, reaching a combined audience of over 40 million readers a month. His YouTube channel, Vector, has over 90 thousand subscribers and 14 million views and his podcasts, including Debug, have been downloaded over 20 million times. He also regularly co-hosts MacBreak Weekly for the TWiT network and co-hosted CES Live! and Talk Mobile. Based in Montreal, Rene is a former director of product marketing, web developer, and graphic designer. He's authored several books and appeared on numerous television and radio segments to discuss Apple and the technology industry. When not working, he likes to cook, grapple, and spend time with his friends and family.
9 Mbps around Plano, TX. Sent from the iMore App

11 down / 3 up .. Medford NY Verizon LTE on iPhone 5S

My carrier doesn't have support for 4G/LTE yet, however on a 3G connection I managed to get 12 down yesterday :-) http://www.speedtest.net/my-result/i/640027956 Sent from the iMore App

50 and 15
http://www.speedtest.net/my-result/i/641648706 Sent from the iMore App

I'm from Tulsa area and I'm on the Bixby server too! Unfortunately, I only get around 26 down

These speeds blow me away. Meanwhile, I have a garbage DSL connection at my house (upload @ 750Kbps). These ISP's need to get their butts in gear to keep up.

15 with last years model iPhone 5! Flagstaff AZ on VZ. Sent from the iMore App

12/8 Sent from the iMore App

24/13 on AT&T LTE in Carlsbad, CA on the 5s

50 down 15 up on Att LTE, Tulsa Ok http://www.speedtest.net/my-result/i/641648706 Sent from the iMore App

Down town Sydney Australia 79.7Mb down 20Mb up

Where about in Australia? A friend's gotten 74 down in Lidcomb before Sent from the iMore App

San Jose, CA - speeds vary wildly for me. After about 15 tests on T-Mobile LTE, my results range from 7 down/2 up to 25 down/10 up.

http://www.speedtest.net/my-result/i/641717542 Outside Baltimore Sent from the iMore App

My iphone 5 is faster than my brothers new iphone 5S
We also tested it against his girlfriends iphone 5S and it's also faster, all 3 phones are on tmobile lte network and all have tmobile 15.1 carrier update
Only thing different is mine is factory unlocked.
With iOS 7 on my iphone 5 and iOS 7.0.1 on the iPhone 5S
Also I'm getting 10 times better battery life now with iOS 7, glad I didn't update Sent from the iMore App

24 / 8 in Indy http://www.speedtest.net/my-result/i/641742932

Forgot to post my speed test for my unlocked iphone 5 iOS 7 on TMobile LTE in Lewisville Tx
Here it is;
http://www.speedtest.net/my-result/i/641743756 Sent from the iMore App

http://www.speedtest.net/my-result/i/640910586
My 5s results were very good.

Not a 5S or 5C, but iPhone 5 on iOS 7: 26.10/6.91 Irving TX (Dallas area for those unfamiliar)
AT&T LTE

iPhone 5c sprint
http://www.speedtest.net/my-result/i/641823681

5.62 down and 1.71 up this morning on Verizon LTE in Broomfield, CO. This sounds slow compared to others, but is my first experience with LTE.

39 down with 10 up in Mesa, AZ. Average for AT&T in the area. The 5s does seem a little more consistent with the faster speeds though.

5S
Verizon Wi-Fi: 11.97 down /4.15 up
AT&T LTE: 24.70 down/4.44 up Staten Island, NY

54/11 Boston att iPhone 5s! http://www.speedtest.net/my-result/i/642506143 Sent from the iMore App

Orlando Florida. 65 down 21 up. Sent from the iMore App

Rhode Island = 30.25 download 11.42 up. Amazing since I pay 40$ month for home data that is half 1/3 the speeds... AtT 5s

Darn, all those speed... My connection at home is not even at a constant 1mbps.

Avg. of 18/12 on 5s 7.0.1 but jumping from 3/1 same signal but on iphone 4 with only 3G network radios and on ios 6.x seems a lot for me now. http://www.speedtest.net/my-result/i/643914985

35 down, 15 up ping 57 ms. iPhone 5S on T-Mobile southwest side of Las Vegas.

March 27,2014
2:10 am
Download 2.13 Mbps
Upload 0.56 Mbps
Ping 256 ms
Server location Cincinnati , Ohio
Credomobile service by Sprint

71.40 Mbps down / 25.90 Mbps up
Ping 33ms. Using iPhone 5S in my home (Petaling Jaya, Malaysia) Network: Celcom 4G

I am in Seattle. IPhone 5s, 25 gb available storage, using AT&T LTE. My phone has seemed slower recently so ran tests. Here are my results Download .48
Upload. .51 And yes, those decimal points are in the right place. WTF?? My wifi is 12.6 and 5.35 Any ideas why so low?? Please help! Thanks!!

http://www.speedtest.net/my-result/i/854940454 Why am I sooooooo slow in Seattle? .5? .49???? On AT&T LTE? Any advice? Please???

http://www.speedtest.net/my-result/i/906783234
52 Mbps down, 20 Mbps up
MegaFon
Russia, Samara
Get the best of iMore in in your inbox, every day!
Thank you for signing up to iMore. You will receive a verification email shortly.
There was a problem. Please refresh the page and try again.