How to stay connected in a storm: A MrMobile guide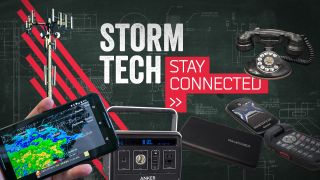 APOCALYPSE! Well, maybe it's not that dramatic, but when your power goes out it can feel like one, especially in our connected world. If you haven't prepared, you might not be able to check your Twitter for HOURS. That's too much for some to bear.
I'm Michael Fisher, alias MrMobile, and I spent yesterday in one of New England's dreaded Nor'easters, preparing for the worst (which, in this case, was a cup of hot chocolate and uninterrupted electricity). But if you find yourself in the path of a storm, this video guide will help you get set up for whatever's incoming!
Stay social, my friends
Get the best of iMore in your inbox, every day!
Those items, to me, are basic common sense. Nevertheless they're good reminders. Having said that, when the ice storm shut down Georgia & South Carolina in February 2014 I kept my items (at the time an iPhone, Note 3, Android pad, couple flashlights) charged with a solar panel I got from Amazon a year or so prior. I also charged them in the car. They don't pull much juice but I cranked the engine anyway for just a few mins. The power was out for exactly 3 days but the dogs and I got along just fine!!