iBooks vs Kindle app- Which one should you use?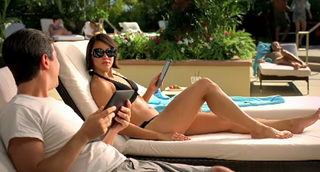 Ever since the iBooks was announced, this is probably the single biggest issue an avid ebook reader will ultimately have to deal with: Kindle app or iBooks. What should you pick? Well, no one can tell you that for certain, but I hope to give you a little insight that might help you decide.
The fundamental difference between the two is the Kindle app has a very large ebook selection by comparison. 750,000 ebooks on Kindle and 60,000 books at iBooks launch (Apple has not released exact numbers). To me, this is the differentiating factor. Both applications support landscape view with two columns and a built-in dictionary as well as syncing of bookmarks, highlights and notes. Let's look at some of the differences of each app beyond how many books they have.
(You can get our quick review of the Kindle app here and iBooks app here)
Kindle
The Kindle app is a free universal app so you can run it on any iOS device. You can tap the left or right of the screen to turn pages and tap the top right corner to bookmark a page. You have several levels of font sizes and colors to choose from to help create your reading experience as good as it can be. You can even sync your annotations to other devices that support Kindle, that includes any iOS device, Mac, PC, Android and BlackBerry as well as Amazon's own Kindle.
There are a couple of innovative features that the Kindle has brought to the ebook table. First the Kindle app displays popular highlights in a book via underlined text while you read. You can easily see what other people have highlighted, quotes or whole passages. Second is data supplied by Shelfari. This content includes summary, character, spoilers and more; not a bad benefit. On the iPad, you can turn on a page turning feature similar to iBooks, but it is not has smooth or pays as much attention to detail as Apple's iBooks. On iPad, you have to different ways to view your library; big icons that can use pinch to zoom to resize as needed or an alphabetical list. I like both options depending on my mood, but what is lacking is a manual arrange function; You only can sort by Recent, Author or Title.
Since Kindle books are in the cloud, there is no need to sync your book on any desktop. Simple navigate to the archive in Kindle and redownload your book and it will then sync your bookmarks and other annotations.
iBooks
iBooks is a free download from the App Store for iPhone/iPod Touch and iPad. You can immediately tell the difference in aesthetic quality between the two apps. When reading with iBooks, it "feels" like a book. In portrait iBook's pages look like they are laying on a bound book. When you turn a page, you can see the print on the other side. Also, one of my caveats with the Kindle app is resolved in iBooks; I can manually arrange my books in any order. One of the other benefits of iBooks is the very nice PDF reader that is built it. You can easily search within PDFs and bookmark pages. For later reference, you can even filter to just view pages you have bookmarked. This is a very nice feature to have for free.
These are all very nice touches iBooks. The look, feel and options are fantastic. However, content is king, just like available software for a platform and regretfully, iBooks falls flat on its face. 9 out of 10 books I search for on iBooks comes up empty. This is very disheartening. I remember in the early days of the Kindle, they only had a 100,000 ebooks or so and are now approaching one million. Sadly, iBooks is not even up to 100,00o yet. I have hopes that Apple will forge the relationships needed to foster a growing library.
Alas, at this time, Kindle really is the better choice for content and iBooks is a much better app. In the end, what s more important to you; books you can actually read, or a pretty application?
[gallery link="file" columns="2"]
Get the best of iMore in in your inbox, every day!
Software trainer, blogger and mobile technology enthusiast living in the suburban Midwest.
Kindle. All the way. (we have a 1st Gen)

i have a problem with ibook telling me , configuration error , and i want to download it , what should i do ??? help me waiting for your reply this is my facebook account together4everlove@hotmail.com

Personally, I use both ibooks and the kindle app on ipad. However, as mentioned above, the UI on ibooks is a lot more appealing than the kindle. However, since, there are more books available on kindle, I purchase more books through kindle. My first choice is always ibooks, but if the book Im looking for isn't there, the Kindle App most likely has it. In addition, I like the idea that the kindle app is across multiple apple and non apple devices. As ibooks, it's only on the iPad, iPod, and iPhone. It would be nice to see if Apple releases ibooks across other devices (i.e: Windows, Mac OSX, Blackberry, Droid, etc).

Neither, as neither carry any of the books I have wanted to read recently. I've got me some paper copies instead, inconvenient, but I had no choice.

iBooks, but only by default. I wish GoodReader supported epubs.

I use both. I buy books from Kindle but I use iBooks for epub books from any source (free books, O'Reilly, etc).

I use Kindle and Nook applications. While I love iBooks user interface, the Kindle/Nook apps are usually cheaper and both have a better selection.
I bought my mother a Nook recently and now use the Nook app more because we can lend books to each other. A feature that neither one of the other two have as of yet.

I much prefer iBooks user interface however so far I have found only a handful of books on it I can find, even on new release day so I usually check for it on iBook and then go buy it on kindle store

Both. iBooks for all my epubs, and Kindle for everything else.

I almost exclusively used iBooks for my ebook reading. My wife bought a nook recently, and we don't like buying books twice, so now when I buy a new book I try to buy on nook, and when I get one free I still use iBooks.

I like the Kindle app, haven't had any problems with it really

I use both on an Ipad. Kindle is good and have more choice, but the books are nearly available only in English. I am French And like also to have some books in French, and in that field Ibook is much better.
Ibook ia also more appealing as an application.

I use both for reasons stated above, but I also like that Kindle books can be read on multiple devices. As far as I know, iBooks are only available on to me on the one iDevice that I own - the iPad.

I use both. So far, every book I've looked for in iBooks store has been there and for the same price as the Kindle version (I shop around). I prefer the interface on iBooks, but like the cross-platform aspect of Kindle (not that it matters since I only use it on iPhone/iPad anyway).

I much prefer iBooks myself, but only because of the feeling of reading a book in iBooks. I know the content is king, and I know that Apple is working on the content.
However, the experience is so great in iBooks that I do not read Kindle books on the Kindle iPhone app anymore. If I am to read any Kindle books at all, I'd rather read on the computer apps (Kindle for Windows or Mac depending on your preferred OS). Unless (or until) iBooks makes a Mac OS X version (Mac App Store maybe?), I'm sticking with Kindle on Mac and iBooks on iPhone.
BJ

iBooks cuz I like the interface better. I've only bought two so far, but nothing beats perusing the aisles at the bookstore and buying an actual book.

The biggest issue for me is that Kindle books can be moved around between devices. I don't like being locked in. If I decide to get a Windows phone (gasp, I know), or an Android phone, or a blackberry for that matter, in the future, I'll be able to take my books with me. Also, I found that the little bit of lag(maybe that's not fair to call it lag) that I experienced with ibooks was annoying, even though it was much prettier.
The big thing for me is the device support.

I think most people make a similar point. Why does it have to be one or the other? Seems like people are managing just fine using not only both, but even other eBook readers.

Use both. To me it would be the price. If it's cheaper to buy, I go for the price.

I love to use iBook on my iPad. But the kindle device is far bater then iPad. The battery life is amazing. And I never have to worry about charging when I travel, I can easily read books under direct sunlight, and it's lighter and easy to carry around.

Nook and Kindle. The reason being that then I have several devices I can read from instead of just an iDevice.

iBooks. Can't go wrong wit dat der realistic page flippin.

Absolute bunk. Besides, any idiot who would rather be reading than talking to the babe in the lounge chair is too lame to own an Apple product.

I use both. Depends where the content is, which app I will open.

Maybe I missed it, but you completely skipped over DRM issues. Kindle is EXTREME DRM....

I use both, but iBooks combined with Instapaper is cool. I can grab as many web pages as I like, including books from sites such as Gutenberg, the Instapaper converts to ipub and ready to run into iBooks.

We have a kindle, and read all our book on it. I don't like reading on the ipad, it's too heavy and akward to hold compared to the kindle or a real book. It's nice that I can read on the ipad if I want to, or my wife is using the kindle, but it's never my first choice, apple needs to realize this. The ipad should not be sold as a primary ebook reader, just like a pc isn't an ebook reader, although you can read books on it if you wanted. If you have 2 kindles you can read the same books on both, or on a kindle and an ipad, no need to buy books twice, why would you buy a nook if you have an ipad and then complain about having to buy books twice?

I personally use Kindle as I already have a large library and more importantly, it seems everytime there is a title I am looking for, it is not available for iBooks (technical books)

Why chose when you can have both if you have a kendel use the kendel app, but because this is tipb I am guessing most of you don't and because the iBooks is a much beter experience I would start their and look for the book you want then if you can't find it look to kindel for even NOOK not that hard to disced what to do.

NEITHER!!! CAUSE NEITHER FREAKING HAVE HARRY POTTER!!

Here in Australia the iBook store has just started to show premium titles at printed book prices prices... Outrageous!! I will be sticking to the kindle App

Kindle.. Works on anything and I can share books with all my devices, plus my parents can access my books on their devices and we all share.

I prefer Kindle because they make apps for android and blackberry so if I ever switch all my books will be there. I probably will have an iPhone for years to come but you never know.

Kindle all the way. As everybody else pointed out, iBooks has the more attractive UI. However, your books are locked in to Apple products and Kindle has an open device policy. I think long term, building your collection in Kindle is the sound choice.
If the new Android OS ends up being mind blowing, I can jump ship but still have my book collection come with me.

Someone said it doesn't matter that Kindle is cross-platform since s/he only uses it on an iDevice, but if one should ever decide to drop Apple, that's content you'll lose and/or have to repurchase.
I'd prefer that not be the case...just in case.

Odd that no one else mentioned this. On old equipment (e.g. a 2 year-old iPod touch), the Kindle app is fast and seamless--iBooks is annoyingly sluggish.

I use both apps but prefer iBooks as a more polished product and experience. My problem with Kindle books using the Kindle app is to do with the way the ebook is often prepared - huge spacing between paragraphs, hard carriage returns in the middle of sentences, no sense of widow/orphan management, etc. I take the view that Kindle titles are not prepared with as much care as those for iBooks. Of course, I've only read about a dozen for each app so far but the fact is that given a choice of download I'll go for the iBooks version because the reading experience is better. Does this that the ePub format specification is superior to that for Kindle? Someone must know, surely?

iBooks all the way! The reason is because I read ePubs. I get my books from a variety of sources. When the iBookstore doesn't have what I want I check Audible.com as I prefer audiobooks first. The iBookstore wouldn't suck if Random House would just play ball with Apple. I have no illusions when it comes to book portability. In my mind it's a myth and it will remain so until all books are DRM-free. Just ask all of eReader/Fictionwise customers. I have been reading ebooks for 10 years starting with a Handspring Visor. I can remember when eReader was called Peanut Press and Palm Reader. As you might imagine I have large eReader/Fictionwise libraries with several books missing from those libraries.
Another reason why I'm sticking to iBooks is because I can share books without any stupid time limit. I'm not a library so why should I be forced impose a stupid limit on someone who's obviously a friend or family member? I realize Kindle can't share books yet but it's coming so that's why I'm mentioning it. iBooks will also sync my place between my iPad and iPhone even though my content didn't come from the iBookstore. Kindle's Whispersync won't do that at all. Hell you can't even add personal content to the Kindle app without jailbreaking.
My final reason for using iBooks is it's prettier. LOL!!!
This is my first comment posted via my iPad!!!!

I think it's pretty simple, If you just want to read books, then go for the kindle.

I purchased a $30 photography book using Kindle, because iBooks was lacking the inventory, only to find out that the Kindle version was in black and white, rendering many color examples in the book useless. When I wrote Amazon support about this to ask if/when color books will be available for the Kindle iPad app, they responded with "you can return the book within xx days."
Amazon obviously formats ebooks for their own black-and-white reader, and not for color screens like the iPad. I'll purchase using iBooks in the future or, when selection is lacking, a hard copy.

Wait, so this isn't about the girl in the bikini?

I think both are great, since they released FULL COLOR Kindle.
But I prefer the iPad because its a tablet computer, and you can do more than just read books.

I wonder if you people even know that this article is talking about apps on the iPad, not debating the different hardware devices. LOL at the guy talking about Kindle's battery life. Can you read?

LOL...You made me laugh. I was thinking the same thing.

But can't the iPad "read" Kindle books?

Sorry Sherri, it can't. That would be really cool if it did though! They are completely different formats. iBooks used ePub and Kindle uses .mobi with different DRM.
I would like to see Apple partner with Kindle to make that a reality though. I would be very happy with that solution.

I somewhat disagree about the portability of Kindle. With purchased books, you can only download it a few times 3-5 times. I have an iPhone and a Kindle. I'm on my third iPhone and second Kindle. However, some books I bought with the first kindle. But after upgrades of each device, I have run out of downloads. If I try to download a book, then it says the maximum number of downloads has been reached. This sucks... my first kindle I broke by dropping it, and my past iPhone was stolen. So both of those had downloaded books, and now I can't download them onto my new devices.
This is a very critical issue because I once believed if I purchase a book for the Kindle, I would have it for life. That's only the case if I don't upgrade the hardware. But who's going to keep the same hardware for more than a few years?
I don't know how it is with iBooks, but this is a SERIOUS flaw with Kindle.

I hate to be a jerk, but please invest in a proofreader, Chad. Some of that article was downright confusing!

I am see lots of difference between kindle version ebooks and ibooks. is it due to the app or something else. i dont think that natively there is any kind of difference. Same topic is discussed here also. (http://forums.techarena.in/ebooks/1456693.htm)
Thank you for signing up to iMore. You will receive a verification email shortly.
There was a problem. Please refresh the page and try again.