iBooks vs Kindle app- Which one should you use?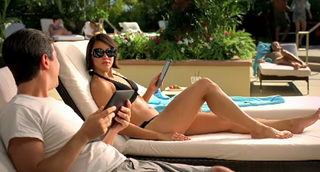 Ever since the iBooks was announced, this is probably the single biggest issue an avid ebook reader will ultimately have to deal with: Kindle app or iBooks. What should you pick? Well, no one can tell you that for certain, but I hope to give you a little insight that might help you decide.
The fundamental difference between the two is the Kindle app has a very large ebook selection by comparison. 750,000 ebooks on Kindle and 60,000 books at iBooks launch (Apple has not released exact numbers). To me, this is the differentiating factor. Both applications support landscape view with two columns and a built-in dictionary as well as syncing of bookmarks, highlights and notes. Let's look at some of the differences of each app beyond how many books they have.
(You can get our quick review of the Kindle app here and iBooks app here)
Kindle
The Kindle app is a free universal app so you can run it on any iOS device. You can tap the left or right of the screen to turn pages and tap the top right corner to bookmark a page. You have several levels of font sizes and colors to choose from to help create your reading experience as good as it can be. You can even sync your annotations to other devices that support Kindle, that includes any iOS device, Mac, PC, Android and BlackBerry as well as Amazon's own Kindle.
There are a couple of innovative features that the Kindle has brought to the ebook table. First the Kindle app displays popular highlights in a book via underlined text while you read. You can easily see what other people have highlighted, quotes or whole passages. Second is data supplied by Shelfari. This content includes summary, character, spoilers and more; not a bad benefit. On the iPad, you can turn on a page turning feature similar to iBooks, but it is not has smooth or pays as much attention to detail as Apple's iBooks. On iPad, you have to different ways to view your library; big icons that can use pinch to zoom to resize as needed or an alphabetical list. I like both options depending on my mood, but what is lacking is a manual arrange function; You only can sort by Recent, Author or Title.
Since Kindle books are in the cloud, there is no need to sync your book on any desktop. Simple navigate to the archive in Kindle and redownload your book and it will then sync your bookmarks and other annotations.
iBooks
iBooks is a free download from the App Store for iPhone/iPod Touch and iPad. You can immediately tell the difference in aesthetic quality between the two apps. When reading with iBooks, it "feels" like a book. In portrait iBook's pages look like they are laying on a bound book. When you turn a page, you can see the print on the other side. Also, one of my caveats with the Kindle app is resolved in iBooks; I can manually arrange my books in any order. One of the other benefits of iBooks is the very nice PDF reader that is built it. You can easily search within PDFs and bookmark pages. For later reference, you can even filter to just view pages you have bookmarked. This is a very nice feature to have for free.
These are all very nice touches iBooks. The look, feel and options are fantastic. However, content is king, just like available software for a platform and regretfully, iBooks falls flat on its face. 9 out of 10 books I search for on iBooks comes up empty. This is very disheartening. I remember in the early days of the Kindle, they only had a 100,000 ebooks or so and are now approaching one million. Sadly, iBooks is not even up to 100,00o yet. I have hopes that Apple will forge the relationships needed to foster a growing library.
Alas, at this time, Kindle really is the better choice for content and iBooks is a much better app. In the end, what s more important to you; books you can actually read, or a pretty application?
[gallery link="file" columns="2"]
Master your iPhone in minutes
iMore offers spot-on advice and guidance from our team of experts, with decades of Apple device experience to lean on. Learn more with iMore!
Software trainer, blogger and mobile technology enthusiast living in the suburban Midwest.