Iliad to increase offer to buy T-Mobile, sets deadline for end of October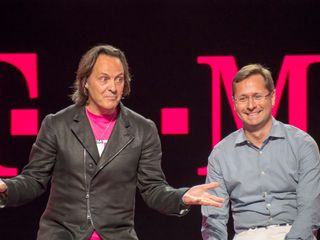 Following up on an earlier bid from July that was promptly shot down, French telecom Iliad is set to take another swing at buying T-Mobile. Rather than sweetening the price, which T-Mobile saw as too low last time around, Iliad is in discussions to simply increase the share of the company it's willing to buy. Previous deals were structured to buy up just 56.6 percent of T-Mobile, but this new deal in the works is set to be much larger.
Iliad is in loose talks with Deutsche Telekom, which owns over 66 percent of T-Mobile, about a revised deal that could take more of T-Mobile off of its hands even though the price per share may not reach DT's expected $35. On Iliad's side, the French company is in talks with financial institutions to raise as much as $5 billion more to put towards a T-Mobile buyout.
For all of the regulatory issues that previous T-Mobile buyouts ran into with AT&T and Sprint, it will be interesting to see how the government feels about this one coming from Europe instead. Iliad has put a self-imposed deadline of the end of this month to reach a preliminary agreement with Deutsche Telekom, so we shouldn't have to wait long to see some movement between these two companies.
Source: Bloomberg
Keeping you up to date with mobile news and analysis since 1989.
I like t Mobile the way it is right now. I think it would be better if Deutsche Telekom just assumed responsibility of t mobile and invested in it a little more. I could definitely see t mobile becoming the second largest behind verizon. It has great deals. It has the fastest. LTE network and if deutsche telekom really invested in it It could develop the best 5g network. At least I hope that if someone takes it over it doesn't become worse. And they definitely need to keep legere he's a crazy genius that t mobile needs.

Second largest behind Verizon, lol. Wishful thinking. Posted via iMore App

Well they are gaining costumes by the millions. And they already passed sprint. Sent from the iMore App

Yeaaa.. TMo and Sprint have about 50m or less customers each, ATT and Verizon both have well over 100m subscribers.. They've got along way to go

Yes. They do have a long way to go but if they keep this up they will pass them eventually. And By the way they have over 55 million customers.

That remains to be seen. They're showing an incredible growth in subscribers but not in profits, meaning they're not monetizing those customers yet, this is most likely because of their giving buckets of data away, their expensive ETF reimbursement plan and their aggressive network upgrades and expansion. I'm on TMo right now so I hope they find a suitable long term plan too.

Exactly. If they make it it'll take them at least 5 years probably a lot longer. But the more customers they get the more money they'll make and the better plans and extra benefits we'll get. And then verizon and at&t will have to do more too. So in the end it'll be just like with apple and samsung. We the customers will win.

Yeah, T-Mobile is pretty fast in my area, and about half the price of Verse. Posted via the Android iMore App!

Amazingly T-Mo has "survived" several mergers (yay!). Let's hope, for consumers' sake, it'll avoid another puddle.

T-Mobile (at least the pre paid phones) suck in Alabama. Sent from the iMore App

Throw in some Brie cheese and you got yourself a deal. Posted via the Android iMore App!
Thank you for signing up to iMore. You will receive a verification email shortly.
There was a problem. Please refresh the page and try again.