Giveaway: iMore Picks of the Week for January 7, 2012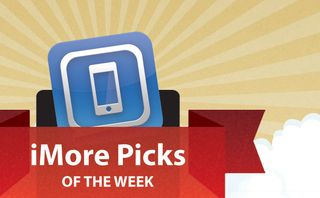 Every week a few of us from team iMore will bring you our current favorite, most fun and useful App Store apps, WebApps, jailbreak apps, even the occasional accessory, web site, or desktop app if the mood strikes us. As long as they're iPhone, iPad, or iPod touch related, they're fair game.
To see what we picked, and to tell us your pick, follow on after the break!
I was so excited this week - I was going to pick CloudOn. But it was pulled from the App Store within hours of my installing it. Big bummer!
So my number two choice this week is Talkatone, a free app that works with your GoogleVoice account. Talkatone leverages some of the most useful features from GV and brings them to your iPad.
Yes, with Talkatone, you can make and receive calls directly on Your iPad. If you were hesitant to start using GV, this is a good reason to start, and if you were using it before, this will help you take advantage of all the features and get even more use from it.
You can text and talk using your WiFi connection (or data if you have a 3G iPad). So your iPad finally really becomes a big iPhone! You do, of course, have to use the speakerphone when using Talkatone on your iPad. And in case I neglected to mention this before, you can use Talkatone on your iPhone too. (It's just cooler on the iPad!)
While Talkatone is free, there are several tiers of in-app purchases that will allow you to do things like add multiple Google accounts. This is something that I particularly like since you can't use the same phone number for multiple GV accounts, so only one of my accounts ever rings/texts through - the others always go to voicemail/email.
This is a great, GREAT utility for any GV user.
Rene and I are both huge fans of Air Video [$2.99 - App Store link] for streaming all manner of differently formatted (read: non-iTunes) visual content around our homes. It's a fantastic app, and can handle almost anything you can throw at it. Except using it with non-iOS devices. Since I also have a few other things I like to toy around with (most recently the Kindle Fire), I was looking for a similar solution that would work across multiple devices. I found it in Emit.
Emit is very similar to Air Video in that it relies on a streaming component loaded onto a Mac/PC and then outputs video to your mobile device. The big difference here is that it also works with Android devices, and soon Windows Phone 7 devices too. The server software can run on Mac OS X, Windows or Linux, so it's as equal-opportunity as you're going to get right now. I downloaded the free server app and the Amazon Appstore version of the mobile app as well as the universal iOS app to test out.
Interface-wise, it's pretty barebones. Not exactly the kind of eye candy we're often accustomed to on iOS. But when it comes to watching videos, quite frankly, I'll put up with a lot less in terms of app design if it does the one thing I want it to do (stream my videos however and wherever I choose) successfully. Emit got that part right. Videos over my home wi-fi network on both iOS and the Kindle Fire were streamed very smoothly and I didn't run into any connection issues. I've yet to set up the internet access (to watch videos away from home), and I'm hoping that it's a similarly good experience.
Whoa, hold up... just realized something else. One additional really cool feature is that there is also a built-in web app at the app's site that allows you to watch videos right in the browser! That's pretty awesome. If you'll excuse me, I'm going to have to go and try this out. If you've got a lot of different content to watch, and more than just iOS devices on which to do it, give it a look. There's a free version available on Android too if you're not sure about ponying up right away.
Not going for an app this week but the backup feature of iCloud. I try and backup my iPhone 4S every night when I plug it in to charge so my backup file is always reasonably up to date. Today, I went to the Apple Store to try and get a replacement iPhone 4S as mine was behaving a little strangely.
Everything went well as usual at the Apple Store and I got my new iPhone. This time instead of taking it home to sync with iTunes I just input my iCloud information and used the Apple Store WiFi connection. Half an hour later I was all set up with a new iPhone that had everything that the old one did. All of my apps installed and all in the correct folders. All of my text messages, emails, contacts, you name it. It just worked!
The only negative was my music, I have iTunes Match and all my music is stored on iTunes in the Cloud. To get that back I had to download everything again manually. That is not the Apple way and I expect that to be automated very soon too.
My pick of the week is the sequel to one of my favorite causal games of all times – Zombieville USA 2. Zombieville USA 2 brings back the same basic game play (side scrolling action, killing zombies) but adds a few unique twists from the first game to make it an entirely new experience. Zombieville USA 2 allows you to have three weapons at a time (with different buttons controlling each one), and there are plenty of weapons to choose from. You can also upgrade weapons, as well as upgrading skills with the money you earn. The side scrolling action has been expanded somewhat, so allow a 3-d movement. Lastly, and perhaps most important of all, you can now have multiplayer action! Two people can team up to shoot, stab, blow up, and obliterate zombies before they have a chance to eat your brains!
2012 International CES App - @iMuggle
With CES upon us, I've been looking for a good way to browse through all the different exhibits and events at CES to figure out which ones I want to check out. Then comes the organizing them part. While I have most of my stuff in iCal, the official app allows me to add tracks easily and share them with other friends that are attending.
Besides just adding tracks you can view maps, photos, videos, and even see who is tweeting about CES. It's a great way to actively stay up to date with what's going on around you. I plan to really test it out this week while in Vegas.
AccuWeather for iPhone - @bla1ze
Yeah, it's a weather app. There is a lot of weather apps in the iTunes App Store, many are free and many are paid. AccuWeather for iPhone is a free, ad supported app with a lot of features and a few, you'd not really expect from a simple weather app but are included in this one:
iCloud Support - Settings and saved locations sync to AccuWeather apps through iCloud.
Notification Center Support - View today's forecast in the Notification Center drop-down.
Calendar Integration - View 15-day forecasts in your calendar.
Social Sharing - Share weather information with friends and family through Facebook, Twitter and email messages.
View Contacts on weather maps – Place contacts of your choice on the radar weather display and "pin" them on the map to see current conditions for that contact.
Normally, I tend to not bother with Weather apps because well, I find it easier to look out the window but with the added features of AccuWeather for iPhone, I've learned to enjoy both -- looking out the window and checking in the app to see a longer forecast.
Want to know how to say something in another language on-the-fly? Well, Google Translate won't do exactly that, but it comes pretty darn close. Just speak what you need translated and tap 'GO' and, well, it'll translate your input into whatever language you desire! You can even have it speak the phrase aloud to you to help make sure you're saying it correctly.
Google Translate has some other really great options as well. For starters, you can star specific phrases for quick reference, change the language input selection (Chinese, English and Spanish are all supported with regional variations included) or type out your phrase instead of using voice input if you're so inclined.
If you've been trying to learn a new language, or even if you're heading on a trip to another country, then it's almost guaranteed that Google Translate will come in quite handy! Google Translate is available for the iPhone, iPad and iPod touch as a universal binary app.
Triple Entendre - @llofte
Triple Entendre is a very difficult riddle game and I am so addicted! I've literally lost sleep over it. It's hard to really say much about it in terms of a description, except that each level contains clues and photos for either the answer or question to the riddle. You cannot progress until you get the answer right.
Most of these levels are extremely difficult and will likely drive you mad. However, we've got a thread in the forums dedicated to offering hints to fellow players. So go pick up the app and join in! If you think you can handle it - that is.
So begins a the annual cycle of trade shows, with CES 2012, pretty much the biggest, baddest one of them all, starting the year off with a bang. Since it's far from home and I'm far from organized, I need every little app and accessory I can to get me through it.
If you haven't already, go watch or listen to Georgia and Phil Nickinson's fantastic ZENandTECH episode this week for a ton of useful tips and picks for frequent travelers, because I'm only going to echo one of them here -- Tripit.
Tripit is a web service with a universal app for iPhone and iPad that helps take the tedium and trepidation out of travel. You make a reservation for a flight or a hotel, Tripit takes it in, breaks it down, and gives you back a humanized agenda that clean on the surface but jam packed with details just a tap away. You can either manually forward confirmation emails to Tripit or set it up to monitor your Gmail address for instant updates (enter security vs. convenience argument here).
There are social networking features, so I can see where, for example, where friends and co-workers are going, and if you pay for a pro membership, which I do, you can create an inner circle for those closest to you so they automatically have all your travel info at hand. Tripit Pro will also email and/or SMS you any changes to flight schedules, gates, etc. which pretty much makes it worth it's weight in gold. (If binary bits had weight, that is.)
If you or those around you travel frequently or even occasionally, get Tripit.
Tell us your pick, enter to win a $10 iTunes gift certificate!
Those were our picks, iMore Nation, so now it's your turn! Tell us your pick of the week below. Give us the name of your favorite app, site, or accessory, and tell us why it made your life more productive, more informed, more entertaining, or just plain more fun. We'll pick one of you and send you a shiny $10 iTunes gift certificate so you can start stocking up for future picks! Contest starts now and ends next Friday, January 13 at 12pm PT.
So what are you waiting for? Jump into the comments and let us know your pick of the week!
Get more iMore in your inbox!
Our news, reviews, opinions, and easy to follow guides can turn any iPhone owner into an Apple aficionado
Former app and photography editor at iMore, Leanna has since moved on to other endeavors. Mother, wife, mathamagician, even though she no longer writes for iMore you can still follow her on Twitter @llofte.