iOS 8.1 is out, and here's everything that's changed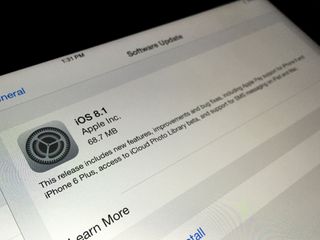 iOS 8.1 was released a short time ago. Among the hallmark features are the addition of Apple Pay support for iPhone 6 and iPhone 6 Plus, along with new features and functionality like MMS/SMS Handoff support on supported Macs. There's a lot of other stuff besides. Here's the complete list, according to Apple's release notes:
Apple Pay support for iPhone 6 and iPhone 6 Plus (U.S. only)
Photos includes new features, improvements and fixes

Adds iCloud Photo Library as a beta service
Adds Camera Roll album in Photos app and My Photo Stream album when iCloud Photo Library is not enabled.
Provides alerts when running low on space before capturing Time Lapse videos

Messages includes new features, improvements and fixes

Adds the ability for iPhone users to send and receive SMS and MMS text messages from their iPad and Mac
Resolves an issue where search would sometimes not display results
Fixes a bug that caused read messages to not be marked as read
Fixes issues with group messaging

Resolves issues with Wi-Fi performance that could occur when connected to some base stations
Fixes an issue that could prevent connections to Bluetooth hands-free devices
Fixes bugs that could cause screen rotation to stop working
Adds an option to select between 2G, 3G or LTE networks for cellular data
Fixes an issue in Safari where videos would sometimes not play
Adds AirDrop support for Passbook passes
Adds an option to enable Dictation in Settings for Keyboards, separate from Siri
Enables HealthKit apps to access data in the background
Accessibility improvements and fixes

Fixes an issue that prevented Guided Access from working properly
Fixes a bug where VoiceOver would not work with 3rd party keyboards
Improves stability and audio quality when using MFi Hearing Aids with iPhone 6 and iPhone 6 Plus
Fixes an issue with VoiceOver where tone dialing would get stuck on a tone until dialing another number
Improves reliability when using handwriting. Bluetooth keyboards and Braille displays with VoiceOver

Fixes an issue that was preventing the use of OS X Caching Server for iOS updates
Have you updated? Let me know in the comments!
Get the best of iMore in in your inbox, every day!
I updated! Sent from the iMore App

Any word on whether we're able to use Apple Pay with the credit card on file (for iTunes / App Store) for Canadian "Tap to Pay" terminals?

"Apple Pay support for iPhone 6 and iPhone 6 Plus (U.S. only)"

Apple pays not yet available in Canada so no Sent from the iMore App

Updated iPad Air, iPad Mini Retina, iPhone 5 and Apple TV 3rd gen all went very smoothly and loving the benefits of Continuity on my iMac and iOS devices. Sent from the iMore App

I updated and want to try iCloud Photo Library but I'll wait until others have success with it because with my luck it'll start uploading my 5GB of photo over cellular. It would be really cool if iCloud Photo not only stored my stuff in folders but also let me download them in folders in tact. Nothing is more pointless, in my opinion, of sorting photos in folders that are useless when I have to remove them to my PC (unless I'm just a numb skull & I'm doing it all wrong which is very possible).

You can disable cellular updates in settings. :-)

I activated it and it wouldn't upload any photos until I connected to WiFi so I think you're data plan is safe.

Just updated and just ecstatic to see my Bluetooth working properly now! Also love being able to send/receive SMS on my MacBook Air, iMac and iPad. Sent from the iMore App

Why would Apple released a new feature that's not available worldwide they only think of the US when they release a new feature Sent from the iMore App

Maybe because it takes more time to negotiate the accesses and licensing needed to provide those services?

Because they have to make deals with other companies and that takes time. Besides, when it comes to your country, the kinks will already have been worked out.

To be honest, Apple is pretty good at getting features to the UK shortly after the US (and usually Canada). After all, we speak the same language (nearly) so normally it's just hardware difference between North American and European models and associated legal issues that slow down the process of getting things to new countries. As long as it's short term, I don't think the majority of users mind too much. Just don't keep us waiting for too long Apple, Samsung is still the powerhouse in Europe and I'd like to see that change..

They've been pretty good with giving the UK a lot of things after the U.S, but over a year later and we still don't have iTunes Radio so it'll be interesting to see whether that arrives before Apple Pay

Doesn't the UK have iTunes Radio? I thought that you got features before Australia, and we have had it since February.

Nope, you've got it before us. Probably won't see it here til at least 2015 the way things are going :/

iMore should do a story on why Apple releases new features for US only and not other countries Sent from the iMore App

You posted the same thing twice.. Stop whining and wait it out.. It will come to you eventually... PS I live in the US and can't even use Apple Pay yet because PNC Bank doesn't support it yet..

It's easy for someone living in the US to say "Stop whining" isn't it? Lol.

My iPad Air updated fine.
My iPhone 6 seems to be stuck in the "Preparing Update" cycle or the progress seems really slow. iPad Air got through it pretty quickly.

Update complete. It scared me for a second when it came back up. The dialogue was similar to when you do a restore. But everything seems to be fine.

Happy to see expanded Continuity. I'll get a lot more use out of messages now I can use any device. Sent from the iMore App

My iPhone 6 is finally moving along and now installing

Guys; anyone using 8.1 on iPad 3rd gen? I have jailbroken 7.1.2 does it worth to upgrade? I know that it was laggy in 8.0.0 8.0.1 8.0.2 but maybe it will be like from 7.0 to 7.1.

None of my credit cards are compatible with apple pay. UGG

Only a few issuing banks were approved. I have a Disney Chase Visa that was added to my passbook because Chase is one of the approved issuing banks. Sent from the iMore App

Are you Canadian because you can't use Apple Pay yet in Canada Sent from the iMore App

No I'm in America. All of my credit cards are from USAA and they are not supported.

I have USAA too and they will be supporting Apple Pay on Nov 7th. Heres a link: http://9to5mac.com/2014/10/09/apple-pay-launch-partner-usaa-says-support...

That's good to know. I have USAA too Sent from the iMore App

FYI, My Apple TV has also started installing a new update. Anybody got any news on the changes? i'll report back once it's installed if nothing has been said

Fixed wifi!!!! Thank you! I'm downloading as I type this.

No 2G/3G/LTE button.
Only 4G on/off.
iPhone 6 unlocked. Sent from the iMore App

Same here dont have an option fir 2G or 3G or LTE Sent from the iMore App

No 2G/3G switch on my iPhone 5S either.

Also missing that option here. iPhone 5s (AT&T network) and iPad Mini running on T-Mobile network.

Same here i don't have this option! Airtel please make this option for iPhone owner's

Did they fix the 3rd party keyboard scrolling issue in Messages? Please say they fixed that....

They did. Now I can actually use Swype. That and the constant switching of keyboards between third party and stock seems fixed.

I updated to 8.1. Using the personal hotspot feature is working on Mac, but the problem with enabling the personal hotspot on the iPhone from iPad remotely is still there

you have to initialize the access point for personal hotspot in cellular data first
then it will show the personal hotspot automatically

Luckily or unluckily I'm having sinus issues so I need to run to Walgreen's. Will test out Apple Pay there.

Just updated IPad mini with retina display and iPhone 6, all working perfect. Sending text messages from my IPad to Android device and working great. Had to input a code in my iPhone for it to work. Love it, very convenient.

i've updated, i tested the bluetooth a little bit to see if it was fixed or at least not broken again as so far so good. i didn't re-pair my devices but i likely will just for good measure and suggest that others do as well.

Updated to 8.1 (iPhone 6 Plus) but seeing text forwarding option in messages menu

Updated to 8.1 (iPhone 6 Plus) but not seeing the text forwarding option in messages (Settings > Messages > Text Message Forwarding)

It should be right under the iMessage option. Do a hard reset.

So no update for the share sheet resorting itself? What about the camera app showing previews of deleted photos in that little corner window?

That sucks! I specifically remember reading that they were going to fix the sorting issue. Booooooo! Why would they go through the trouble of allowing you to sort if it never sticks?

I upgraded :) Sent from the iMore App

I upgraded :) Sent from the iMore App

No. 2g/3g/LTE toggle for me. Unlocked T-Mobile iPhone 5s. No sms relay either.

Not seeing any way to send an SMS from Retina IPad Mini. iMessage only still. Don't see any changes in settings on my 5s either.

It should be right under the iMessage option. Do a hard reset.

Thanks. It worked after hard resets.

Sadly not a single credit or debit card I have is supported by Apple Pay. They need to get out there and do a better job of getting buy-in from more banks and card issuers. Their is no reason why one of the largest Southeast based banks isn't on-board with this.

Are you Canadian if so it is a Canadian issue problem Sent from the iMore App

Bruh, we get it....let it go & chug some maple syrup or whatever it is you guys do up there to relieve (unnessecery) stress

iPhone 6 and iPad Air updated smoothly.

Apple pay says my citi debit card isn't supported. pretty disappointed bc that's why I updated. -.- thanks apple. Sent from the iMore App

Are you from another country that's not US if so there's your issue Sent from the iMore App

Apple pay worked fine at my whole foods. I touched the top of my iPhone on the nfc reader and the Apple pay came up and asked for my Touch ID. I pressed my thumb on the Touch ID button and it had a check mark and the transaction was approved. The cashier was pretty impressed! Used Chase debit as a credit card. Sent from the iMore App

Awesome. Certainly beats the duffle bag of cash I need to hump into my local Whole Paycheck to get some quality food.

Lol! I tell my wife that all the time but she swears it is the same as other grocery stores...

I updated and now my carrier reads "Extended" and I am not sure why that is. I even went to Settings > General > Reset > Reset Network Settings and it still reads "Extended." I'm using an iPhone 5s on Verizon Wireless.

Same here, Extended service with iPhone 5s and Verizon.

It means that it's not their home network, but a leased network. Used to be roaming but now have agreements to share towers.
So, still IN network. VoLTE probably not available in extended areas.

I have the same issue, thanks for the suggestion of resetting the network settings...unfortunately that did not work for me either.

I used Apple Pay at McDonald's, and it worked very well. Really fast. I usually have issues swiping my card at McD's, having to swipe twice or so. This was much faster.

Hey ano it's not available in the UK yet but the Mcdonald here have wireless payment capabilities does that me NFC from the iPhones then I take it? Sent from the iMore App

Used it at Whole Foods for a lunch break. Quick and easy as expected! Let's hope they get this to every retailer!!

Any performance improvements on older devices? iPhone 4s, iPad 2 etc? Sent from the iMore App

Works pretty well on iPhone 4S. But it was working pretty well on 8.0.2. It's slower than it was on 7 but not excruciatingly - mildly noticeable if I think about it.
On the other hand, I'm waiting to update my iPad 2. It was crippled on 8.0 to the point of being unusable. Luckily I was able to downgrade to 7.

It is saying I am upto date Sent from the iMore App

Now I have an invalid SIM card. 5S.
:(

A quick reset network settings fixed it.

Thanks for life saving tip! pulling my hair out.
Trust Apple to not test in "older" iPhone 5 and 5s, stupid, really.

Mine says the same thing. Says I have to get a new one

Looked and looked, cannot figure out where i can turn on iCloud Photo Library. Any help?

Settings | Phone & Camera | iCloud Photo Library (Beta) (on 5s anyway)

That got it. Thanks so much!

Settings >iCloud>Photos >Toggle on

Got it, thanks for the tip!

I don't see the feature enables us to answer phone calls from our iPhone from the MacBook via the speakers... Sent from the iMore App

It's under Settings>Facetime>iPhone Cellular Calls. Toggle it on.

updated. it's ok. still no stand alone app for iCloud drive, unless I am missing something. lame if you ask me, and very non-intuitive. no personal hot spot button. probably carrier dependent.

Went to 2 stores today that support Apple Pay and I tried SEVERAL times to use Touch ID to pay and it would not work....then it would ask to pay with passcode........anybody else run into this problem? I have iPhone 6 btw Sent from the iMore App

how do you get the new features to work?
iPhone 6 Plus and brand new MacBook Pro both on the same wifi but nothing happens and I can't find anything in the settings...??? even downloaded the guide from iBooks but there's nothing about the new features there...
anyone? And where on icloud.com do I see the photos???

Ok. I'm in the US. I have an iPhone 5s 32 gig on TMobile. I updated to iOS 8.1 about an hour ago and have tried everything I can think of but cannot get SMS forwarding to setup. After a little digging and finding screen shots I can see that I don't even have the option to enable it in my message settings on my iPhone. Restart didn't help. It's like I don't have the feature but I haven't read anything about this being a feature only on the iPhone 6. Anyone know anything about this.
Thanks in advance.

I'm working fine on a 5s (to iPad Mini and MacBook Air). On your phone check Settings | Messages, there should be an option for Text Message Forwarding. Tapping that should give you a list of authorized devices on your iCloud account. I would assume if you're not seeing that it's because you don't have all your devices set up using iMessage on the same iCloud account.

I found the problem. I had everything set up correctly on all devices but on my iPhone,.. I thought being signed into my iCloud/Apple ID on my iPhone was enough but under Settings>Messages>Send & Receive I only had my phone number as a number and/or address to be reached at. I had to add my Apple ID there also. Once I did that the "Text Message Forwarding" option appeared in the Message settings. Smoothing sailing after that...and the best feature of iOS 8 in my opinion. Thanks for the response and I hope this thread helps someone else.

Updated to 8.1 hoping my phone will pair to my factory Bluetooth in my ford truck with Sync. Had issues with saying no service but would receive calls and as soon as I answered it would drop the call to my iphone only or drop it completely. Only happened once I upgraded my phone from 5 to 6 plus so hoping this fixes this issue as it really was a safety thing for me while driving. Hopefully I can update anyone with this known issue in the future!!

Just updated 2 iPhones 5s no issues. Everything running smoothly. Tested call feature on my iMac, very nice. Yosemite rocks!!!

I don't have camera roll back but apple pay and everything else works ?? Where is my camera roll !!?? Sent from the iMore App

Try a hard reset. Hold the top power/sleep button and the home button at the same time until the Apple logo appears, then release.

I had the same problem even after a hard reset. Apparently, enabling icloud photo library removes camera roll:
http://www.cnet.com/how-to/where-to-find-your-camera-roll-on-ios-8-1/

Just updated five iPads and three iphones....smooth as the gravy my mom use to make.

Messages app still freezes up some. It's been doing it off and on since updating to iOS 8.

I don't see the Camera Roll album!?? Sent from the iMore App

Updating, stuck on preparing update Sent from the iMore App

This list actually addresses most of the issues I've had since 8. I still have one rather annoying bug:
When using Siri to send a text message, she often doesn't the read back the message, even though I Feedback enabled, even with the phone unlocked. Happens both when connected to bluetooth in my car or not. Sent from the iMore App

Updated 6 Plus. Phone was still plugged in from charging the might before was at 100%. Now battery meter says 99% instead of 100. Did hard reset, toggled battery meter in settings on & off. Unplugged & replugged in. Still at 99. Ugh! Drives me crazy. Sent from the iMore App

So what does this mean: Adds iCloud Photo Library as a beta service
Adds Camera Roll album in Photos app and My Photo Stream album when iCloud Photo Library is not enabled. Is this similar to before ios 8?

My understanding is: IF you choose to use iCloud Photo Library it's different to before (a new way of thinking - ie your photo collection now lives in the cloud). But if you choose NOT to use iCloud Photo Library, it should be similar or the same as before iOS 8 (the old method - ie "camera roll" waiting to be imported into your computer etc, Photo Stream photos in the cloud but only the last 30,000 photos or whatever it is, NOT your whole collection, just the most recent ones)

Updating now Sent from the iMore App

I've been trying to update since 10:00 am and my phone keeps saying I have the latest software even though I have 8.0.2. What gives Apple???

I updated my 6 Plus to 8.1.. The photo stream isn't showing up. I did a hard reset twice with no success. Any ideas?

Just updated now works fine in the UK
When will UK get Apple pay?? Sent from the iMore App

i updated to 8.1 still no 2g,3g,lte toggle its still the same lte any ideas ?

Updated over the air. Took about 45 minutes; no problems whatsoever. Then again, I DID have about 70 gigs of free space haha... Sent from the iMore App

Since updating I can't watch any video in landscape mode. Sent from the iMore App

Why is it that in Dropbox I have about 5gb of photos and videos, yet it is only taking up 100mb on my iPad, while on the new iCloud Photo Library I have under 2gb of photos and videos, but it's taking up 1.4gb of storage on my device?

Sending sms from my iPad is great Sent from the iMore App

Just updated hoping to change mobile network to 2G as both 3G and 4G are not the best where I live but unfortunately no availability on my iPhone 6. (Tesco/o2) UK :(

Updated 8.1 but no change in settings and No Adds an option to select between 2G, 3G or LTE networks.. Only LTE on/off.. Iphone 5s Sent from the iMore App

You have to turn on cellular data then the button to switch between LTE and 3G will appear. Sent from the iMore App

For me, I LOVE the SMS capability from my iPad Mini. It's like it should have always been there, so I am sure the "novelty" will wear off fast, but I will still appreciate it greatly. Also, so simple, but I love having camera roll back. And my iPad Mini 1 seems zippier with 8.1 than with 8.0.2 so that's VERY good in my book.

I updates to IOS 8.1 but I am still not seeing any option to switch between 2G and 3G data..anyone else also facing the same issue??? Sent from the iMore App

I updated but now my Bluetooth keeps cutting out when I am on a call in my car. Grrrrrrr! Sent from the iMore App

3rd party keyboards are still buggy which is a disappointment. Sent from the iMore App

Any option to disable the irritating shrinking address bar?

Can anyone suggest ANY cloud app that appears in then "Photos" share sheet? Or for that matter show up in most apps that need the ability to push a file to the cloud. On Android my normal process was to push photos straight into Dropbox when needed, and then harvest the file from someplace else (Desktop). Since getting the iPhone 6 Plus, Dropbox is nowhere to be found in share sheets. The only access to Dropbox is IN Dropbox. It seems to have preferences to allow Photos access to Dropbox. But the only cloud app I see there is Evernote. I must have 5 different cloud service apps installed, but none appear in the share sheet.

Wanting to live dangerously on the bleeding edge, I updated my 5s and iPad mini within minutes of the update becoming available Monday. I did the 5s over-the-air and the iPad mini tethered to my iMac. The 5s was done much sooner than the iPad and I have had no issues and no regrets. Sent from the iMore App
Thank you for signing up to iMore. You will receive a verification email shortly.
There was a problem. Please refresh the page and try again.